A "Microstep Practice" For When You Feel Completely Out Of Whack, From Deepak Chopra's Daughter
mbg Editorial Assistant
By Jamie Schneider
mbg Editorial Assistant
Jamie Schneider is the Editorial Assistant at mindbodygreen with a B.A. in Organizational Studies and English from the University of Michigan. She's previously written for Coveteur, The Chill Times, and Wyld Skincare.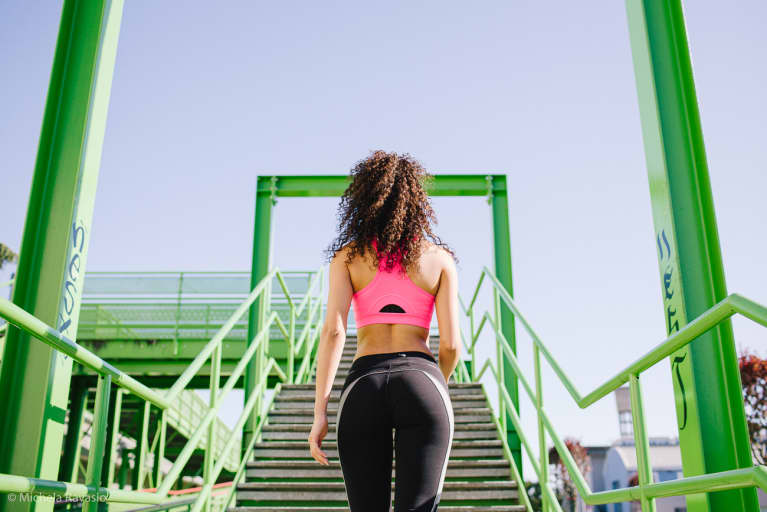 Setting intentions for the new year, let alone for your life, can feel a bit overwhelming, to say the least. That's why we consulted the famous Deepak Chopra's daughter, Mallika Chopra, on exactly what we should do during this time of transition—when we're feeling inspired to start a mindfulness practice but might not know where to start.
As an entrepreneur and author on the topic of mindfulness, Chopra, it's safe to say, has some expert advice on the matter. In fact, she believes that the best way to balance your life is to accept that some aspects of your life are unbalanced.
Confused? Fear not. Below is Chopra's "microstep practice" that will help you figure out how to navigate your life's woes. The key, as Chopra says, is setting an intention for your deepest desires.
First, what is a "microstep practice"?
To put it simply, Chopra's "microstep practice" is exactly how it sounds: taking small, "micro"-steps toward one of your goals. The key is, however, to feel content with that microstep and accept that other aspects of your life may remain unbalanced—and that's totally OK!
To start, figure out your intention by looking at all aspects of your life. Chopra states on the mindbodygreen podcast: "Am I getting enough rest? How am I eating? How am I moving? Do I feel financially secure? Do I like what I do every day? How are my relationships in my family and my community? Do I laugh and have fun? Do I have a spiritual connection?"
Those are just some of the questions Chopra wants you to ask yourself in order to assess your intention and what you truly want to change. The next step, according to Chopra, is to break down those questions and assess whether you're struggling, surviving, or thriving in those areas of your life.
While it may sound like a tedious process with incessant questions, Chopra assures us that this process can actually help calm any anxiety associated with those areas. "Breaking everything down helps that feeling of being overwhelmed by everything," she states. The idea, then, is that you can tackle those areas one by one until you feel satisfied.
Here's where the "microstep" portion comes in.
It's important to note that you might not be able to tackle all of the unbalanced aspects of your life at once. In fact, Chopra encourages you to take them on slowly and focus on one or two things at a time to feel better.
"I think at different stages in life there are different things that are out of balance," she says. For example, "At a time in my life, I realized that my sugar addiction was bad, but I was sleeping. I could move more. I was really happy with what I was doing professionally. But I wasn't laughing, and I had lost a sense of intellectual stimulation."
In terms of setting her own microstep practice, Chopra started a book club with a few friends (yes, it was as simple as that!).
"We'd get together once a month and talk about a book, open wine," she says. "It became an excuse to just have fun, laugh, and have a community."
According to Chopra, taking this small action helped her fulfill her intention of increasing the laughter and intellectual stimulation in her life (the sugar addiction, she realized, was ultimately due to the stress and pressure from releasing a new book).
Joining a book club is just one of the many small things, Chopra realized, that can have a significant impact on our minds. "It was a very small thing, but it had a dramatic shift in bringing more joy in my life," she adds.
The New Year can encompass heavy promises and large-scale resolutions, but sometimes taking small steps toward fulfillment is a better way to reach your goals—and can make you feel less anxious in the process.
Whether it's joining a Chopra-esque book club, finding a new hobby, or setting your alarm 30 minutes earlier, find the microsteps that work best for your personal journey toward mindfulness. This microstep practice can help you find realistic, tangible ways to reach your goals, and it might help you discover what truly matters to you. Take it from Chopra—after all, if there's one person to take mindfulness advice from, let it be the daughter of the famous Deepak Chopra, himself.