A Future Without Coffee? Study Finds 60 Percent Of The Species Are At Risk
mbg Contributor
By Elizabeth Gerson
mbg Contributor
Elizabeth Gerson is a former mindbodygreen intern and a student at Stanford University studying Psychology and Communication with a specialization in Health & Development.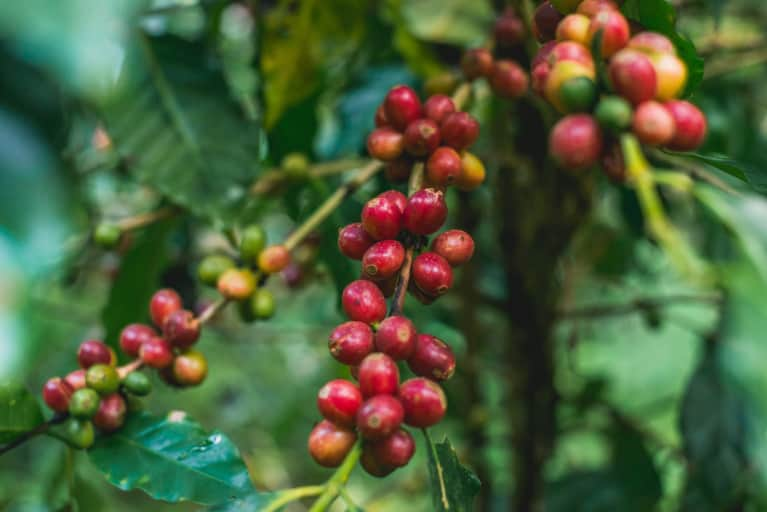 January 16, 2019 — 19:13 PM
The future of your morning meeting may be compromised: New research shows that about 60 percent of wild coffee species are at high risk of extinction.
The first of its kind, a study out of Queen Mary University of London completed a comprehensive review of all 124 coffee species on the planet to determine what the future of our morning brew looks like. Unfortunately, they weren't able to reach a very optimistic conclusion.
No one trigger has contributed to this high level of risk, but rather a combination of environmental changes has put pressure on the plants. The researchers cite habitat change—such as land loss due to agriculture, timber farming, settlement, and land development—as the main offender, which is only exacerbated by impending climate change.
Aside from the whopping 60 percent (at least) that face extinction, 45 percent of coffee species are not maintained in "germplasm collections," or special environments where seeds of the coffee plants can be kept alive and bred—just to put it in perspective, the global extinction percentage for all plants is 22 percent, comparatively much smaller than that of wild coffee.
These germplasm collections are essential to the survival of plant species but can be difficult and expensive to maintain, according to the study authors. Most plants will be able to thrive in low-temperature, low-moisture environments. Coffee plants, however, must be kept at precise high temperatures and humidity levels, which can prove to be a challenge for farmers.
So what can we do about it? Unfortunately, not much on a personal level. The study authors advise making sure our future includes these germplasm collections and that they're properly maintained to continue breeding. It also advises putting natural areas, such as regions in Africa where lots of wild coffee is grown, under special protection for wild coffee to grow.
No matter the action, it has to be urgent: "The use and development of wild coffee resources could be key to the long-term sustainability of the coffee sector. Targeted action is urgently required in specific tropical countries, particularly in Africa, to protect the future of coffee," says Aaron Davis, lead author of the paper.
This future could look bleak for morning coffee drinkers, but with the help of farmers and scientists, our cup of joe can be protected.