Intermittent Fasting, Natural Beauty & Hormone Balancing: A Day In The Life Of A Holistic Fitness Trainer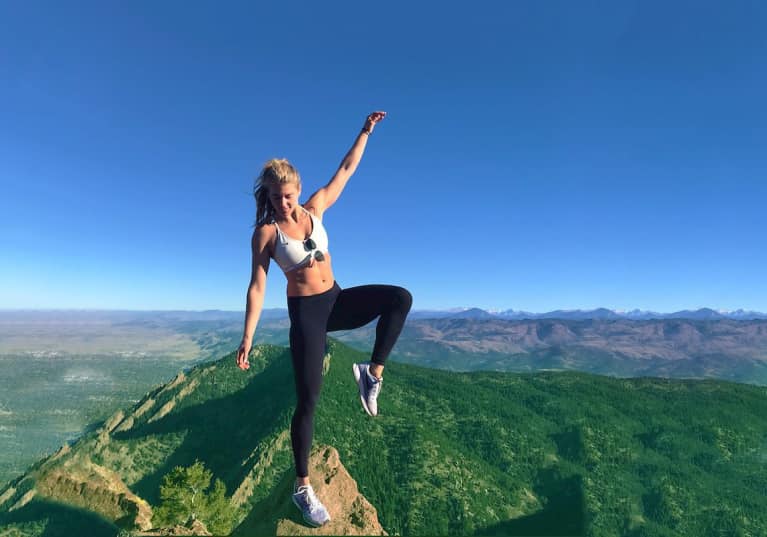 Our editors have independently chosen the products listed on this page. If you purchase something mentioned in this article, we may
earn a small commission
.
When it comes to being a fitness trainer, model, and instructor, no two days are alike. But I've landed on some semblance of a routine that keeps me happy, healthy, and grounded—something that took a while to master. I found out the hard way that my tendency is to go-go-go without taking a break, which can wreak havoc on your skin, energy levels, hormones, and overall mental state. After working with a naturopathic doctor, who is also a nutritionist, I was able to strike a balance of productivity, self-care, and teaching. Here's what works for me:
1. Gratitude practice and meditation.
At 5:45 a.m. the alarm goes off; I take a moment to stretch in bed, then reach for my notebook. I've made a ritual of writing down five things I'm grateful for every morning. I started a gratitude practice this summer when I felt lost, and it's evolved week after week. Now I love to reflect on what I was thinking about then. Soon after, I reach for the phone and open my Headspace app (notifications can wait!). I started meditating for 10 minutes every morning to help set the tone for my day. It makes you feel productive first thing, and that's always a win.
2. Warm-ups and collagen coffee.
I take a quick shower to warm my body up and throw the moka pot on the stove to make coffee while I stretch. Around 6:30 a.m. I head out with my functional coffee—with MCT oil and grass-fed collagen peptides—and CitiBike to the gym to train a few clients. I also drink water nonstop. I carry a Klean Kanteen and occasionally drop in an electrolyte tablet (I like Nuun) to keep my levels up!
3. Natural beauty routine.
This summer, I transitioned over to a natural beauty routine. I make efforts to live a toxin-free lifestyle in my food and how I work out, so it made sense to finally switch. I swear by Dr. Bronner's tea tree oil Castile soap for face and body wash. I'm often asked about my hair! I shampoo twice a week max to keep it hydrated and condition it three times. In between, I let it live. To keep it fresh, I either lightly wash my roots with water and re-blow-dry or spray in some dry shampoo. I have a lot of hair, so my natural oils don't typically show for a few days. Day two is my jam.
I began going to a holistic dentist early this fall and am beyond excited they care about my nontoxic beliefs as well! He gave me a whitening system that uses turmeric. How cool is that?
Tula is my go-to when it comes to facial products. They're designed by dermatologists and include probiotics in all of their products. For my hands and lips, I use Lucas' pawpaw ointment. I get my brows tinted and wear Tarte's primer with SPF. That's it!
After training clients, it's time to get my own workout in. Some days I work out twice, and others I have time for only one. I occasionally do fasted cardio in the morning if that's the only time I can work out that day. But I know myself—I'm not great at morning cardio. My numbers always prove to be better in the late afternoon, so I plan accordingly. With this knowledge, I dive into a strength-based workout or gymnastics.
5. Meetings at the office.
I head into the office for a couple of hours and dive deep into our project. I'm excited to share what I've been up to since the summertime—but it's under wraps till the new year!
6. Break the intermittent fast (at lunch).
I've been adhering to two eating philosophies: If It Fits Your Macros (IIFYM) and intermittent fasting (IF). IIFYM means following a personalized macronutrient diet. Mine was devised by a nutritionist who took labs, analyzed my energy output, and made a custom plan. What you eat matters, but I've also discovered, for my body, when I eat matters almost as much.
IF is a period of time each day your body relies on its own stores for energy versus utilizing nutrients coming in from foods you're eating. I do 16-8 (one of the 5 types of IF), which means I break my fast after 16 hours (yes, this includes sleep) and eat the remaining 8 hours during that day. That said, IF is not for everyone and if you're interested in it, do some research, a lot of it, or contact your nutritionist before you start this type of diet!
If I'm traveling or off my routine for any reason, I typically spread out my meals, choose nutrient-dense foods, and time my carbs around my workouts.
7. Workout No. 2 and a protein-packed snack.
If I have time for another workout, this is when it happens. My post-workout snack of choice is Greek yogurt or another source of protein. It helps repair muscle tissue and keeps me strong and prevents injury from possible overtraining. I could drink protein shakes all day (many trainers do), but I've realized that eating well is the foundation of feeling good. This allows us to become accustomed to receiving nutrients from food without any fillers, additives, or substitutes.
8. Physical therapy, active recovery, and self-care.
I look forward to physical therapy in the midafternoon almost as much as my workouts. Injury prevention is the best way to not get injured—very important when your career and well-being depend on it.
Seeing my physical therapist is always an enlightening experience. It helps me figure out how my body is responding to my workouts and stress, giving me ideas for corrective exercises, strengthening exercises, or movement patterns I need to add into my workouts.
9. Cortisol-balancing break.
When it comes to balancing hormones, I have my levels checked regularly enough that I can usually feel when something is off and can fix it. All it takes is a food, exercise, or sleep adjustment—and sometimes a few episodes of This Is Us for a good cry. One thing I've learned from my nutritionist, and that works for me, is a diet rich in good fats helps improve your brain and balances hormones, which are produced with the help of fat cells!
Another tactic I use to calm down. Music. I make specialized playlists for every possible situation: morning, night, runs, cleaning, stretching, writing, working, etc. I also find my body calms itself when the environment I'm in is relaxed and I can tuck away from the craziness of the city.
10. Dinner, wind down, and yes, wine.
Time to go home, one last check of emails, calendars, blogs, whatever is left on my to-do list. After dinner, I try to wind down.
I eat sauerkraut before my dinner daily to aid in digestion; Hawthorne Valley is my favorite. Dinner is usually an animal protein with lots of veggies. I love roasting squash and cauliflower with rosemary and either a flaky white fish (five nights a week) and either a grass-fed burger, lean steak, or New Zealand lamb shank the other nights.
Dessert? Sometimes I'll make a peanut butter crunch: It's a mix of peanut butter protein powder, raw cacao powder, and organic chocolate cereal puffs. It tastes just like brownie batter and satisfies my sweet tooth. Or, occasionally I have a glass or two of red wine too. I'm Italian and love red wine!
My philosophy is always quality over quantity—ever since making several small shifts this summer, I've noticed a huge difference in my body (bye, bloat!), mind, and spirit. It's easy to get overwhelmed, but breaking it down into each individual choice is a realistic way to make better choices. When you start to see results, it makes every choice even easier. My best advice is to remember that when you're just starting out.
Love this and want more? Check out her active recovery regimen.