The One Thing You're Not Detoxing (But Should Be)
Founder of Common Good
By Sacha Dunn
Founder of Common Good
Sacha Dunn is the founder and CEO of Common Good, a Brooklyn-based company that makes sustainable soaps and cleaners with plant-based ingredients.
Our editors have independently chosen the products listed on this page. If you purchase something mentioned in this article, we may
earn a small commission
.
I always liked to live minimally, but then life happened and two kids overtook my house. These days, my last remaining piece of Zen is my clothing rack and my one foot of hanging space is my own private, organized oasis. It's my happy place, so I'm super mindful of what 20 items make my closet cut.
Twenty items may be a little drastic for first-time declutterers, but there is room in every closet to be a bit more conscious. And with summer in the air, now is the perfect time to detox your wardrobe. Here's exactly how to do it:
1. Analyze your lifestyle.
The first step is to make a map of your lifestyle and the clothes you wear. Do you have five vintage tea dresses but always find yourself out of gym clothes? Or perhaps you have a soft spot for clogs (guilty!), but your days are spent in Converse. Make notes about what you usually wear to work, to the gym, and on the weekend to see if your wardrobe accurately depicts that lifestyle.
2. Set yourself a number.
You probably only really wear a small collection of your wardrobe, so set a number to work toward. You could try Un-Fancy's capsule method, which involves 37 highly curated items every three months. Whatever your number is, think of it as a way to gamify the whole process.
All you need for a detoxing mission is two bags. One for consignment store, and one for recycling. It is now time to Kondo that closet. Some people are evangelical about the Japanese organizing consultant Maria Kondo's method of decluttering. Other's roll their eyes, but there is something to be said for handling every item you own (well, let's start in the closet) and asking yourself if it sparks joy. If it does not, thank it for its service and put it in one of your two bags. Most things I haven't worn for a year don't bring me much joy, nor do items that come with a preface of "when I am bit thinner…" Purging feels incredible, so the bigger the mountain of clothes, the better the detox.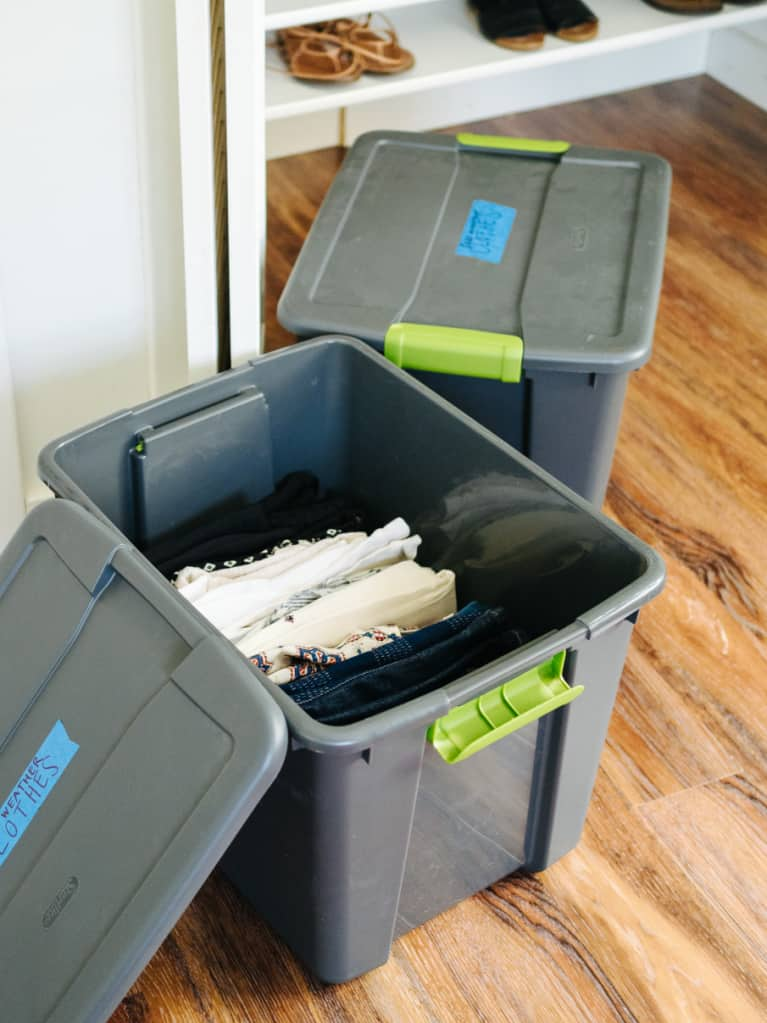 According to the EPA, Americans throw away over 12 million tons of textiles a year; more than 85 percent of that eventually goes to landfill. Synthetic materials take years to biodegrade. Nylon takes 30 to 40 years; polyester over 200 years. Consignment stores do not always accept rejected clothes, so it's best to divide your clothes between old gym T-shirts that no one will wear and your label items that are in good condition.
For the "consignment" bag, Thred-Up is an excellent option if you are strapped for time. They send a bag to fill with your sellable goodies (excellent condition and recognizable labels) and you get paid once sold on-site. If you are not looking for compensation, nonprofits such as Dress for Success and Career Gear accept gently used clothes to help people get back on their feet. You can also reuse your online shipping boxes through Give Back Box which is a convenient and hassle-free way to donate to charities.
Now for the "recycle bag" of worn gym leggings and your dad's ripped jeans that somehow turned up in your wardrobe. Madewell has a program that turns preloved jeans into housing insulation for communities in need—and gives you $20 off new ones. Organizations such as Grow NYC, USAgain, and Planet Aid recycle unwanted textiles, turning them into wiping rags, stuffing in cars, or insulation.
Now that you have divided and conquered your wardrobe, it is time to deep clean, vacuum, and dust. Give your remaining clothes an instant refresher with a spritz of linen spray. (I'm a little biased but my company, Common Good, makes a great one.) If you are revamping your hanger collection, bamboo is a more sustainable option than plastic or wood since it reproduces every five years. You can also upgrade your simple wire hangers with this lovely DIY makeover project.
Your closet detox is complete! But like all detoxes, in order not to put on all that weight again, it's important to keep it minimal in the long run. Try making a seasonal Pinterest board with key pieces to streamline future purchases. When you do go shopping, go with retailers that are transparent about their ethical production processes. Some of my go-tos are Everlane, Tribe Alive, Nislo (for shoes), and Eileen Fisher (and oldie but goody).
Ready to tackle the rest of your house now? Here's a decluttering guide and deep-cleaning routine to get you started.