9 Ways To Support Your Gut And Improve Your Diet Post-Holiday
Contributing Food Editor
By Liz Moody
Contributing Food Editor
Liz Moody is a food editor, recipe developer and green smoothie enthusiast. She received her creative writing and psychology degree from The University of California, Berkeley. Moody is the author of two cookbooks: Healthier Together and Glow Pops and the host of the Healthier Together podcast.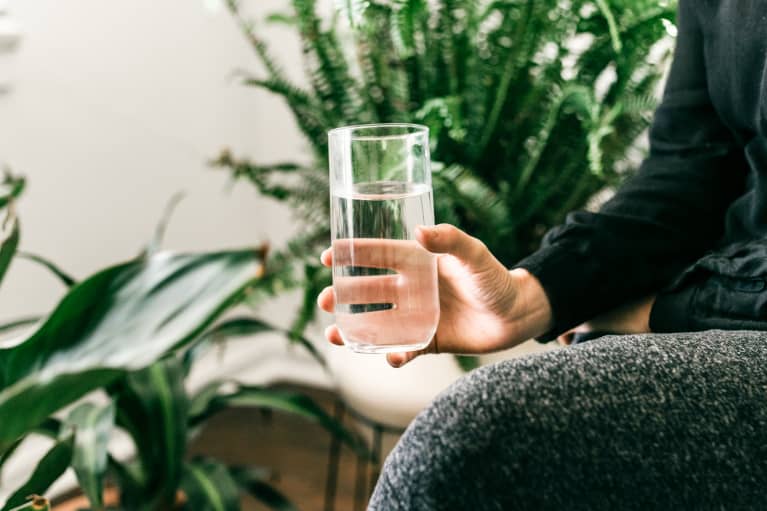 Our editors have independently chosen the products listed on this page. If you purchase something mentioned in this article, we may
earn a small commission
.
Last updated on July 2, 2020
Summer holiday weekends are filled with joyous memories and tasty food galore (hot dogs! tasty sides! ice cream!). While there's nothing wrong enjoying all the tasty treats summer has to offer, you may notice your body feels a little...off after those festivities.
mbg believes in a life filled with balance, rather than restrictive detoxes or a deprivation-based mindset. That said, it can be an act of self-care to gently nourish your body after a weekend of not-so-healthy food. To help you support your body, some of the country's best health experts share simple ways they like to promote a healthy gut and diet, particularly post-holiday:
1.
Focus on fluid and fiber.
2.
Incorporate a probiotic.
"If you're experiencing digestion or bloat issues, consider taking a high-quality probiotic each morning with [a] breakfast smoothie, and consider rotating your probiotic every six weeks to maintain some bacterial diversity. Choose a supplement with at least 50 billion CFU (colony-forming units), to help regulate your digestion and build a healthier gut microbiome."
—Taz Bhatia, M.D., mbg Collective member and board-certified physician
"I always try to make sure we're drinking enough water. We often mistake dehydration for hunger, so staying adequately hydrated can actually curb excess food intake. Not only that, but it also flushes out the system, getting rid of unwanted materials. I aim for 1.5 to 2 liters of water per day. The best way to drink that much is to keep a large refillable canteen on me at all times to sip throughout the day. I aim to refill it as many times as it takes to hit my water intake goal."
—Allison (Aaron) Gross, M.S., RDN, CDN, founder of Nutrition Curator
4.
Make a cleansing drink.
"My favorite thing right now is bubbly cleansing mineral water. Make or buy sparkling water, and put a dropper-full each of chlorophyll and trace minerals in there. It's a really easy way to get your minerals in, support the liver, and get hydrated! I love to sip mine throughout the day for a gentle cleansing effect."
—Courtney Swan, M.S., and founder of Realfoodology
5.
Cut back on sugar and focus on mindfulness.
"I love to energize and revitalize my system with a gentle cleanse, by abstaining from sugar and processed foods. During my cleanse, I stock my kitchen with everything I need and make sure I'm prepared whenever I leave the house, and practice daily mindfulness. Two minutes of meditation a day can aid in making rational choices, being more in touch with your feelings, and will improve your willpower."
—Sophie Jaffe, mbg Collective member and founder of Philosophie Superfoods
"If I am feeling like I need to get back on track after some summer indulgence, I keep a few fundamental tactics in mind: hydration; more home-cooked meals; low-inflammatory, whole foods; and blood sugar balance. That involves healthy fats, moderate protein, high-quality carbohydrates. As long as I stay nutritionally aligned with these principles, I know I can't go wrong. A question I have also started to ask myself before eating is, 'Will my body be grateful for what I am about to put into it?' Not only does this help me look at food through the lens of nourishment, rather than restriction, but bringing more intention and mindfulness to my meals helps prevent the cycle mentality."
—Sara McGlothlin, holistic nutritionist, founder of SaraMcGlothlin.com
7.
Clean out your pantry.
"My favorite way to reset is to do a pantry and/or fridge clean-out. Toss that cereal that's been sitting in the back of your cabinet, and make room for new healthy foods. Setting yourself up with the right products is half the battle. After all, if you don't have healthy foods readily available, you're not going to eat them!"
—Leah Silberman, R.D., founder of Tovita Nutrition
8.
Take a break from not-so-healthy foods.
"Because fresh produce is always at its most swoon-worthy in the summertime, I usually stay pretty healthy with my weeknight eating. Weekend or holiday drinks and dessert, on the other hand...not so much. My favorite way to reset is by giving my liver a little break by removing its three biggest vices—sugar, alcohol, and caffeine—for a week."
—Phoebe Lapine, mbg Collective member and founder of Feed Me Phoebe
"Since your gut is the foundation of your health, I try to work on boosting my microbiome health. While healing your gut is a journey, I jump-start it with a bone broth cleanse. By sipping on bone broth or doing a period of bone broth fasting, otherwise known as brothing, I give my gut a break from irritating foods and provide it with super-healing nutrients like collagen, which works to repair the gut lining. When I'm done with the bone broth fast, I sip a cup of bone broth with every meal and up my intake of probiotic-rich foods like sauerkraut to get in more good immune-boosting bacteria."
—Will Cole, D.C., mbg Collective member and author of Ketotarian