8 New Ways To Exercise Outdoors While The Weather Is Still Beautiful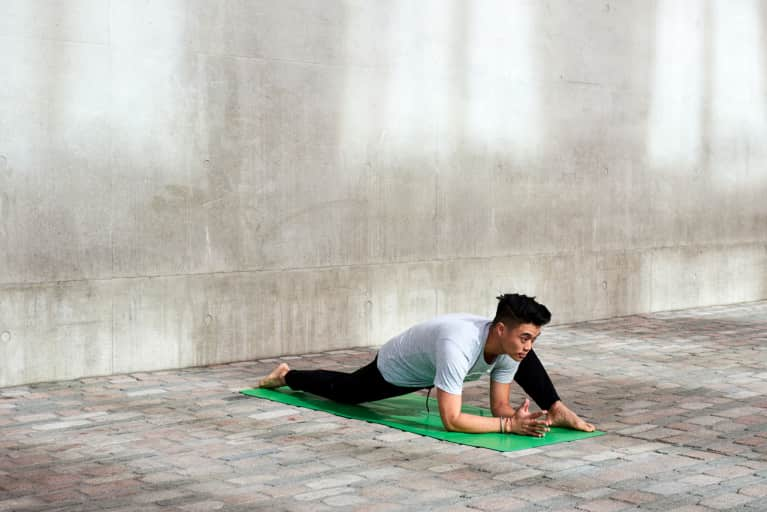 As we head into the colder months of the year, it's easy to move your workout routines back inside the gym and studio. But don't overlook outdoor exercise as a great way to stay fit, healthy, and happy this fall—the right kind of activity is both a workout and a "work in," and makes you feel good inside and out. So this fall, as the leaves start to change color and the air becomes crisp, take a chance and change up your routines and keep your workouts outside.
Here are some fun, invigorating workouts you can do outside this fall. Take your pick!
Running the mean streets isn't anything new, but doing it with new and old friends is something you've just got to try. In places like Los Angeles, San Francisco, and New York, there are street running social clubs like Electric Flight Crew that are hitting the streets every week to heat up the night. Make your workout a social activity and you'll love it that much more.
Every city or town in the world has stairs, and usually lots of them! Why not make them part of your workout? Pick a number, any number, and head out for a walk or jog and start counting. It sure beats counting sheep. If you're new to the game, start with 100. If you're ready to pound the pavement, take it to the next level and go for 1,000.
For West Coast people, fall is the time when the beaches start to cool down and the tourists start to head back home, so it's the perfect time to take your practice back to the beach. SUP Yoga, or Stand-Up Paddleboard Yoga, combines the balance and flexibility of a yoga class while finding your center floating on the calm ocean waves. The crisp air and fresh ocean water will keep you on your toes and give "boat pose" a whole new perspective.
Fall is a time when the leaves start changing and the city skyline is turned a beautiful shade of autumnal tones. So get out there and explore. Color is said to inspire our creativity, so put aside the neon lights of the gym and head out to get inspired. Use this great afternoon or weekend activity with family and friends to explore your city, town, or the mountains nearby. The more foliage, the better!
Grab your oldest sneakers and head out for a trail run or a countryside cruise and hit the mud puddles—there's a lot of joy in getting down and dirty! Not only is it a great way to keep fit, but it's the best reminder to stay young and have fun.
What's better than climbing stuff? Rock climbing is a classic outdoor activity that is both exciting and a great workout. These days there are rock climbing gyms popping up all around town, and many of them have outdoor climbing or bouldering walls. So grab your gear and give it a go—it's a guaranteed way to get the blood pumping.
Grab a line and two trees and try your hands and feet at slacklining. It's a great way to work out your strength, flexibility, and balance in a fun way and challenging way! As the season turns, spend some time with the trees and enjoy the ride.
Walking is great for you, and clean walking is great for the environment. Sadly, in most urban cities, there is trash everywhere—so why not combine your walk with a little service back to your local community and pick up where you walk? Grab a bag, grab a friend, and head out for your walk and don't come back until the bag is full. This will easily be the most rewarding walk of your week.
Whatever you do this fall, get outside and have fun. The best workouts are the ones you enjoy, because you'll do them again and again, and that's what it's all about!
Ready to take your workout outside? Here are six science-backed reasons outdoor exercise is so much better for you.