8 Ways To Use Nature To Recharge & Disconnect — Even When It's Freezing Out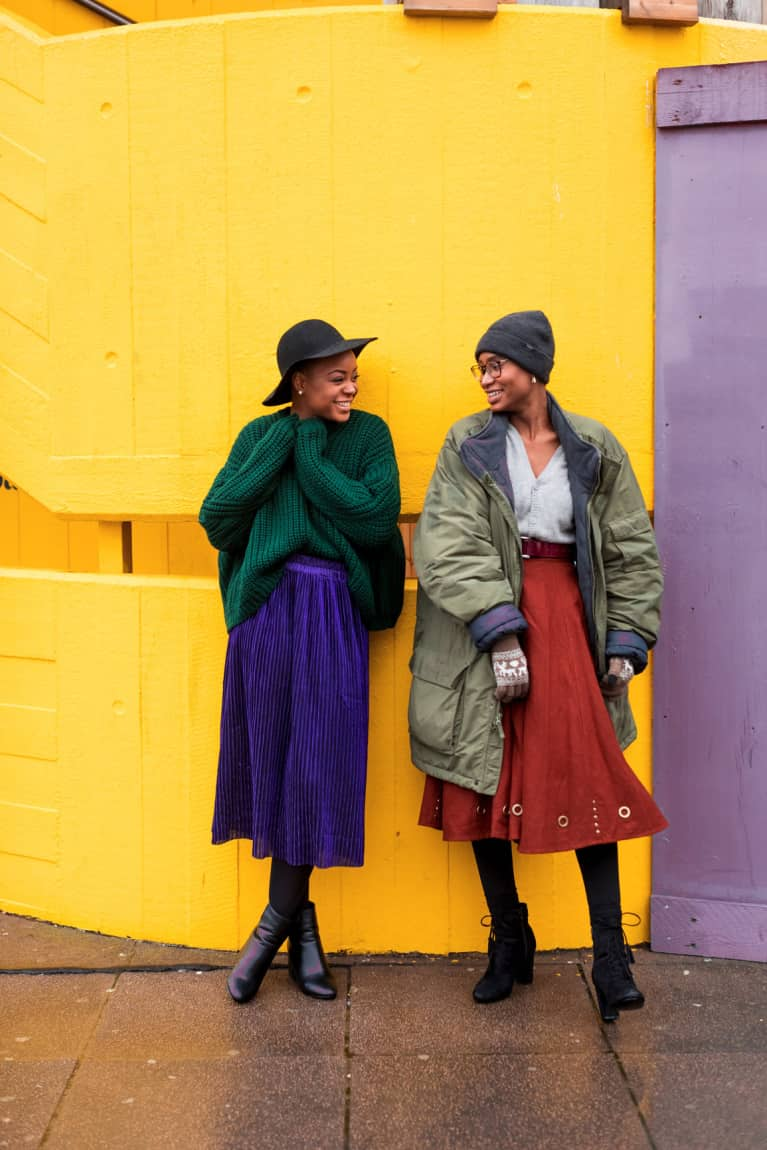 Cold winter months have long been synonymous with curling up on the couch, eating hearty comfort food, and hitting snooze on the alarm.
While it's no secret that time outside is good for you, the benefits of nature just don't feel as accessible during dark, blustery days. It's all too tempting to trade the light of the sun for the glow of screens through the season, but doing so leaves us simultaneously drained and anxious.
I've spent the last few years talking with women on my podcast about how the outdoors inspires them throughout the year. Those conversations have deepened my appreciation for time in nature, and inspired me to write the upcoming namesake book, She Explores, available in March. I've found that while there's no one guaranteed way to continue to tap into nurturing perks of the outdoors during winter, here are eight tips that might help you let more fresh air into your life:
1. Warm up around the block.
It might be a stretch to run your typical 6-miler outside, but you can probably jog your warm-up mile outside before hitting the gym. Taking in the elements for 10 minutes is enough to keep you connected to nature and energizes the rest of your workout.
2. Take your work break outside.
Daylight is limited this time of year, so why waste it sitting in front of a computer? Spending time in the outdoors doesn't have to be an all-day endeavor—it can be as simple as sneaking out for a post-lunch walk to invigorate your work for the rest of the day.
Depending on where you live, there are a whole host of winter activities you probably haven't tried yet. Sure, it's intimidating to be a novice, but trying new things is a great way to break up your routine. Grab a friend and rent cross-country skis, take a winter surfing lesson, pick up ice climbing, or join the free skate at your local outdoor rink. If there's one way to get outside of your own head, it's with the childlike focus of becoming adept at a new activity.
Meeting up with a group boosts your motivation and accountability when it's all-too-tempting to stay in under the covers. Wherever you live, there are likely hiking groups that cater to your interests and skill level, whether you're a mom and want to bring the kids along or a single woman in search of community.
5. Learn the secrets of layering.
If you want to hike in variable temperatures, layering is the key to staying safe and comfortable. Make sure you choose synthetic, wool, or fleece layers—never cotton, as it doesn't dry quickly. Wet clothing lowers body temperatures, leaving you vulnerable to hypothermia. If you're heading into the mountains, check the forecast, but don't let it change what you pack. It's better to carry a little extra weight than to be caught without a shell if the weather turns.
If you're going to take a winter hike, whether it's on an urban path or a mountain trail, the right footwear is also essential. Depending on trail conditions, simple microspikes provide stability on icy rocks and sidewalks. For a more intense endeavor (think ice climbing or mountaineering), crampons are a worthy investment. Most snowshoes have built-in traction for versatility.
7. Commit to an overnight trip.
8. Bring the outdoors in.
Don't have a space in your home that's 100 percent devoted to relaxation yet? Winter is the perfect time to craft one. Maybe it's a reading nook or the table where you eat your breakfast. Wherever it may be, ideally it's a phone-free zone. Slowly add low-maintenance houseplants to green it up and detoxify the air.