7 Toppings You Can Make At Home To Make Any Meal Pop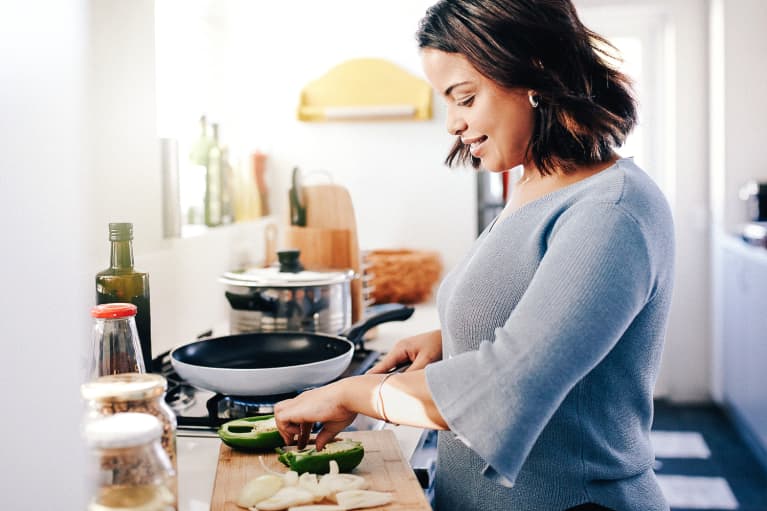 Our editors have independently chosen the products listed on this page. If you purchase something mentioned in this article, we may
earn a small commission
.
From canned goods to frozen vegetables, there's a fair chance some of us may be getting tired of the same dishes on repeat while we're staying close to home. But meals don't have to be dull with these seven toppings you can make yourself. Dip, spread, and smear your heart out—and spice up everything you're eating.
This sauce is perfect for burgers, burritos, sandwiches, and honestly anything else. If you've ever had chipotle ranch, this is a similar idea. All you need is vegan mayonnaise (regular works too if you're not worried about it), chipotle peppers in adobo, smoked paprika, lime juice, and garlic. You could even thin it with a little water for a chipotle salad dressing! Just be warned, it may become your new favorite condiment.
2.
Candied Cauliflower Bites
These cauliflower bites from the cookbook Cauliflower Power are perfect if you want to use up any cauli-remains in your fridge. Sweet but still healthy, they're slow-roasted to crisp and tossed in a sweet cinnamon sauce. They make an excellent topping for smoothies and smoothie bowls, chia pudding, and other sweet breakfasts. If you enjoy a candied crunch in your salads, you could toss them in there as well.
Emeril Lagasse's recipe for homemade Greek yogurt couldn't be easier, and it's super healthy, too, packed with probiotic goodness. Yogurt has a place in a ton of recipes, from smoothies, to curries, soups, dressings, and more. Any dish you want to give a touch of creaminess to will be well-served with a dollop of this yogurt. (Bonus points as it doubles as a light meal itself with fresh fruit and nuts.)
4.
Pickled, fermented garlic (aka manuel jjangachi)
Since keeping our immune systems strong is top of mind right now, this is a great time to get your garlic in. And what better way than with this pickled, fermented garlic recipe? Jean Choi, author of Korean Paleo, enjoys manuel jjangachi as a condiment every day to help keep the immune system strong. Best part is, it keeps in your fridge forever, so make a big batch.
Apple cider vinegar is a powerhouse when it comes to healing our guts, and it's actually incredibly easy to make yourself. If you have eight apples, sugar, and water, you can make this apple cider vinegar recipe from the Southern From Scratch cookbook. And you wouldn't believe how many uses there are for ACV in cooking, from marinades and dressings to achieving perfect, fluffy rice.
6.
Ginger Tahini Dressing
For another sauce that you can put on practically anything, reach for this ginger tahini dressing. It's super simple, comes together quickly with little effort, and is a great addition to noodles dishes, quinoa or rice bowls, salads, roasted vegetables, and anything else you can imagine that could use a sweet but savory, ginger flair.
7.
Vegan Cashew "Cheese" Dip
This vegan cashew "cheese" dip is a great, easy recipe to try for any vegan missing cheese (or anyone curious about trying a dairy-free alternative). We'd recommend using this dip on your favorite Mexican food, as a pasta sauce, a spread on sandwiches or wraps, and even in your favorite bowl.
Quarantine cooking doesn't have to be boring by any means—and with these seven easy additions, your next meal will be anything but!