7 Surprising Facts About Shalane Flanagan, The First American Woman To Win The NYC Marathon In 40 Years
mbg Contributor
By Leigh Weingus
mbg Contributor
Leigh Weingus is a New York City based freelance journalist writing about health, wellness, feminism, entertainment, personal finance, and more. She received her bachelor's in English and Communication from the University of California, Davis.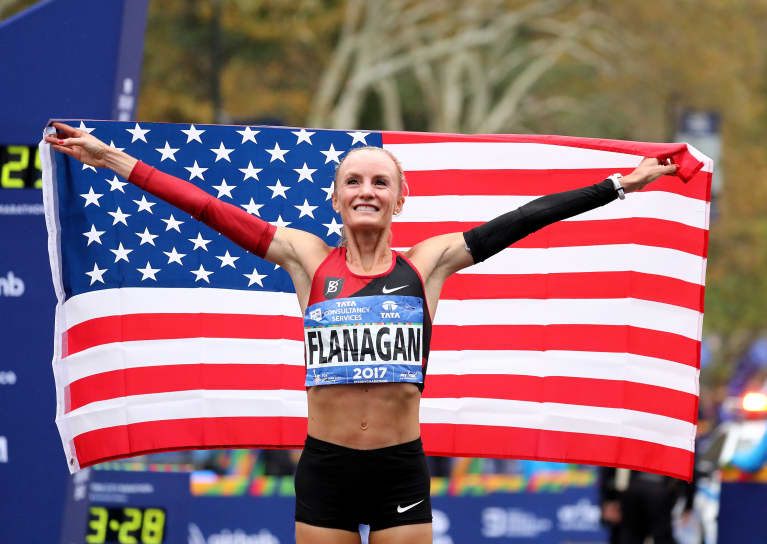 November 6, 2017 — 18:00 PM
On November 5, 2017, Shalane Flanagan became the first American woman to win the New York City marathon since 1977. With a time of 2 hours, 26 minutes and 53 seconds, this is a moment the four-time Olympian has been dreaming about since she was a kid. "My coaches told me that it was possible—the training I put in was the best I've ever put in," Flanagan told the New York Times. "These are the moments we dream of as athletes. This is going to feel good for a really long time."
As Flanagan states, her accomplishment was not without a tremendous amount of hard work. Here are seven things you need to know about the athlete, from her first experience with running to what she hopes other women will take from her win.
1. The first time Flanagan ever ran competitively, she ran ridiculously fast.
Shalane had no idea she was a fast runner until she was asked to run a mile for her school's physical fitness test. She ran it in under six minutes, outrunning every boy in her class. "That was just natural, raw talent. I never trained for it or ran before," she says. "That's when I realized my passion and desire to be a runner."
2. Flanagan didn't think she could ever turn running into a career, so she majored in history.
Flanagan went to college at the University of North Calrolina at Chapel Hill, where she majored in history. Although she was a track star there, she never thought she could have a career as a runner. "I just thought I would work some side job to accommodate my dream. I didn't know what professional running was or that it was possible to make a sustainable income off of it."
3. A bad injury may have actually been responsible for her win.
When Flanagan injured her iliac crest in 2016, she was forced to withdraw from the Boston marathon. But her setback only made her come back stronger and more determined. Knowing that she only has so many years left in her career as a runner, Flanagan said winning a major United States marathon was a big goal of hers. "How my career ends is super important to me," she told an ESPN reporter—and according to that same reporter, she kept emphasizing how determined she was to win over and over again. Talk about the power of positive thinking!
4. She fuels up within 30 minutes of a tough workout.
In order keep her performance strong, Flanagan makes sure to fuel up on something healthy within 30 minutes of hard effort— and she makes sure to eat a healthy, balanced diet. "My go-to meals and snacks all incorporate proteins, fats, and carbs," she said in one interview. "A typical lunch or dinner has a lean protein like fish, turkey, chicken, eggs or bison with vegetables, fruit, nuts and a grain like quinoa or farro. My snack is typically a piece of fruit with a KIND bar because I am focused on recovery and keeping my energy levels high."
5. Her recovery tactics include foam rolling and yoga.
Especially after her injury, Flanagan takes recovery very seriously, going to yoga and swimming on rest days, and utilizing recovery methods like foam rolling and massage. "For really deep tissue work, I see a physical therapist or massage therapist. If I am particularly sore or fatigued I will also take an ice bath or swim; I find the hydrotherapy to be helpful in flushing out toxins in the legs," she says.
6. She absolutely loves coffee.
The one thing Flanagan can't live without? Coffee. And she says she's hardly alone in her love of the caffeinated beverage. "Maybe it's mental more than anything, but I don't know an endurance athlete that doesn't have a cup at least a couple hours before a race," she says. "Personally, I wouldn't go to the line without a cup of coffee. On our team, we joke that coffee is our PED [performance-enhancing drug]. We think it makes us a little bit happier more than anything."
7. She hopes her marathon win will inspire other women to be patient and persistent.
Flanagan's victory didn't happen overnight—it happened with a lot of effort and patience. "I've been dreaming of a moment like this since I was a little girl," she says. "It means a lot to me, to my family. Hopefully it inspires the next generation of women to just be patient. It took me seven years to do this. A lot of work went into this one moment."
Want to start running but don't know here to begin? Here's a beginner's guide to running.