8 Things Our Health Editor Always Brings On Vacation
mbg Health Contributor
By Gretchen Lidicker, M.S.
mbg Health Contributor
Gretchen Lidicker earned her master's degree in physiology with a focus on alternative medicine from Georgetown University. She is the author of "CBD Oil Everyday Secrets" and "Magnesium Everyday Secrets."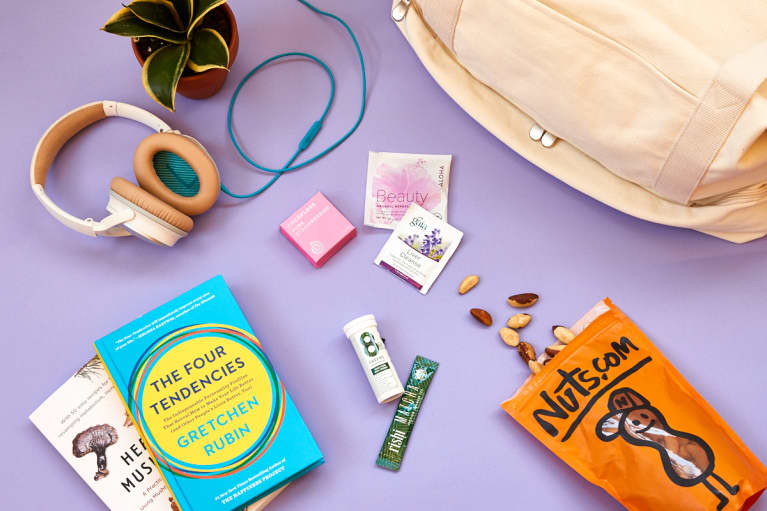 I like to think of traveling as a test. A test that tells me just how deeply integrative wellness is in my life. In other words: If I change my surroundings, will everything fall apart? If I get thrown out of my routine, will I quickly abandon the things that keep me in tiptop shape?
The answer is somewhere in the middle, as I'm not someone who's going to turn down a pain au chocolat and cappuccino should I find myself in the South of France. But over the years, I have curated a collection of items that keep me feeling well while I'm traveling, in a way that doesn't feel like a drag:
1. My favorite weekender.
I'm the kind of person whose skin reacts to everything. You name it: laundry detergent, bug bites, and even IKEA furniture—I've gotten rashes or hives from all of them. Therefore, I try to buy natural fabrics and materials as much as I can. This Lo and Sons Catalina Deluxe Weekender ($138) is made from organic material and is dye- and chemical-free. You can even see pieces or organic cottonseed, and it's the perfect size for a long weekend.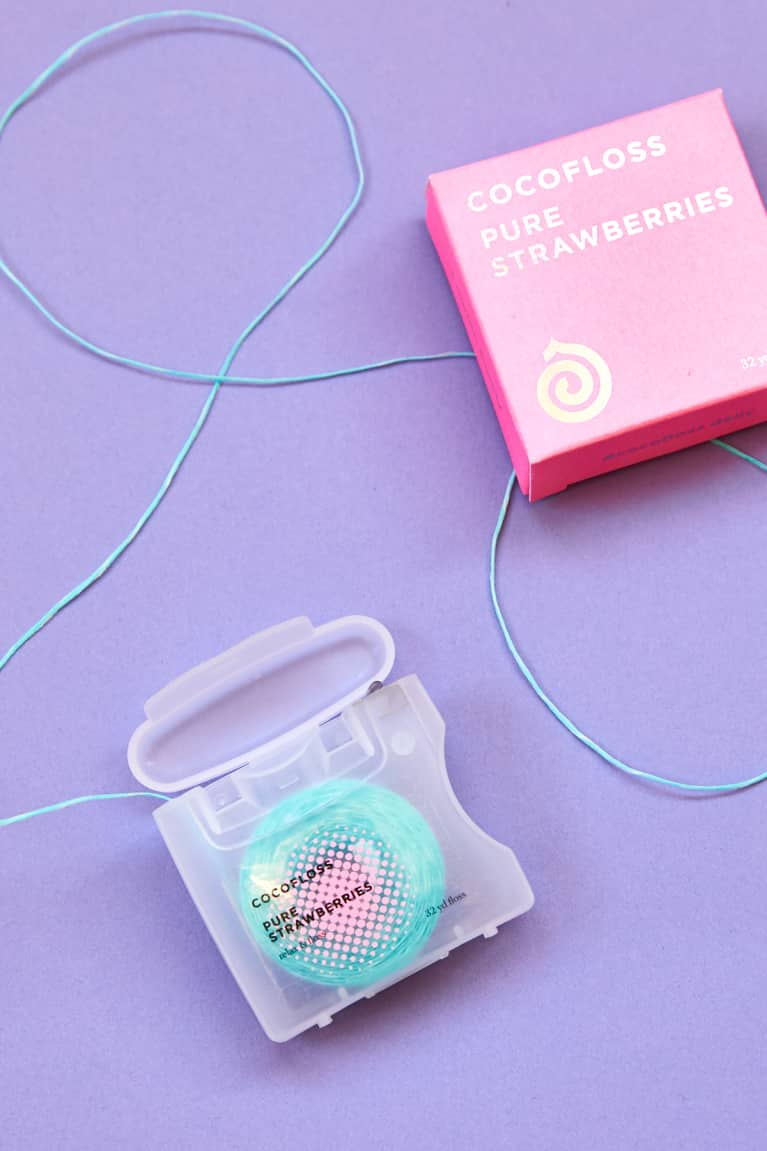 Is it too dramatic to say that this floss changed my life? I don't think so. I was terrible at flossing before I discovered their amazing-smelling strawberry floss—with added coconut oil to help fight bacteria. Once flossing was enjoyable, I finally started to do it regularly, and I'm not about to ruin my progress, so it's always coming with me on vacation. Cocofloss Single ($8).
Herbal teas are central to my wellness routine, so whenever I travel, I bring a baggie full of assorted teas. My current favorites are the Aloha Sleep Tea ($5), which I drink before bed (or a flight!) and Rishi Matcha Travel Packs ($19). This saves me a ton of money when I travel, since hot water is free, and I usually have my insulated reusable water bottle with me, so it stays warm. There's nothing better than sitting down in my seat, turning on my Bose Noise Canceling Headphones, and sipping on a hot tea before takeoff.
A handful of pumpkin seeds or cashews is hands down my favorite snack. They are full of healthy fat and protein, portable, and I'm always in the mood for them. Nuts.com has an amazing selection of sprouted nuts and seeds that make the perfect gut-friendly travel companion. I always have a bag in my purse when I'm on vacation in case I get hungry and can't find something right away. Nuts.com Sprouted Almonds ($17.99).
5. Magnesium—in one form or another.
I love my magnesium, and I need it even more when I'm on the road or in the air. It helps keep me calm and my digestion regular—two things that can easily get out of whack during a trip. I love Pure Encapsulation's Magnesium Citrate ($23.20).
6. An easy way to hydrate.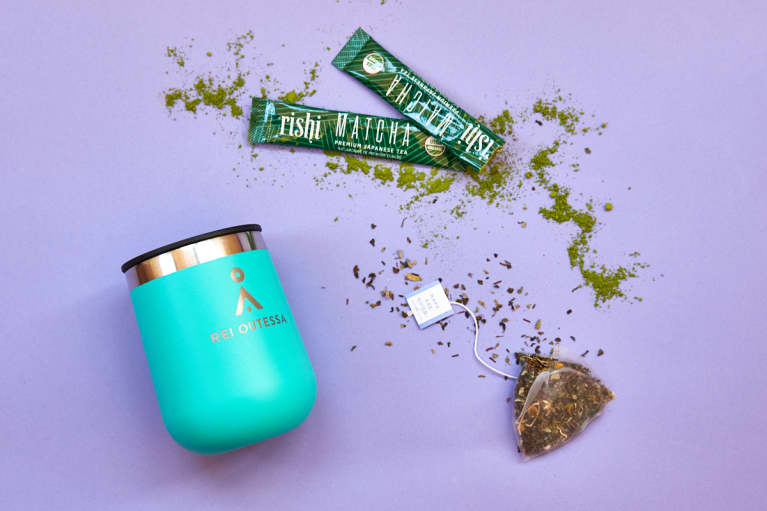 Whenever I bring a water bottle on a trip, I feel like it's a plague on my existence. It's heavy, takes up a bunch of room in my carry-on, and then I drink so much water I have to get up and pee twice every hour. (Apologies to anyone I've ever sat next to.) But on a recent trip to REI Outessa, I was gifted something pretty amazing. It's a baby Hydroflask insulated tumbler ($29.95), and it's actually designed to hold wine, but it's also the perfect size for bringing on trips to refill at water fountains for a few gulps of water.
7. Mess-free coconut oil.
I use coconut oil for makeup remover, and until these packets came out, it was such a pain (and a mess!) to scoop into another container to bring with me. The best part is that coconut oil doubles as a moisturizer for tired, dehydrated skin and can be used to do some oil pulling if you are feeling less-than-ideal after a long flight. Trader Joe's Organic Extra-Virgin Coconut Oil Packets ($3.99)
8. Lots and lots (and lots) of greens.
I'm a huge proponent for a giant green juice, salad, or green smoothie every day while I'm on vacation, but let's admit it: It can be easy to fall behind on your intake of greens when croissants and cheese plates everywehre you look. If I'm not getting my daily dose of green, my energy levels, digestion, and mood really feel it. When I discovered 8-greens tubes ($14) it was a game-changer. They come in a cute little tube, and I can plop them directly in my water bottle with cold water—they taste great; I promise!
Interested in natural remedies? Here are the items our health editor always has in her medicine cabinet.