6 Ways To Overcome Some Of Life's Hidden Chaos
Written by
Bethany Londyn
Bethany Londyn is a coach and author of Man-Erisms: Being a Success in a Masculine World. She received a Bachelor's Degree in Business Finance from Portland State University.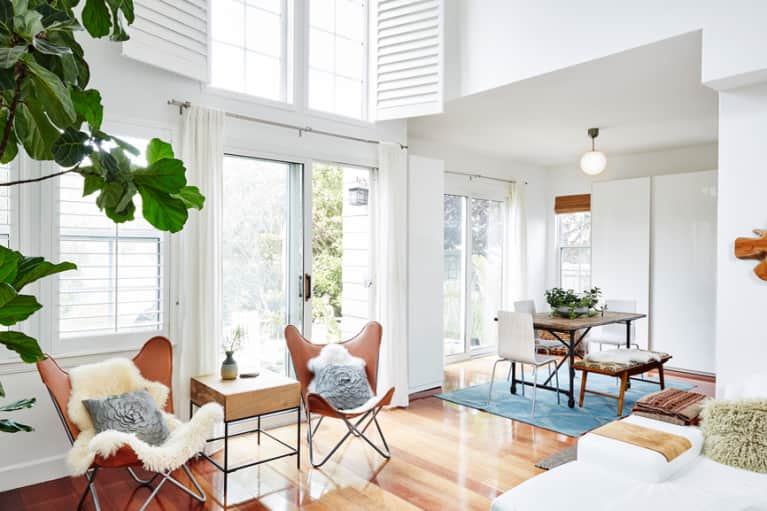 Our editors have independently chosen the products listed on this page. If you purchase something mentioned in this article, we may
earn a small commission
.
Chaos breeds more chaos, so we need to put our foot down at the first sight of disorder in our lives. Mental and physical clutter creates blockages that keep us from connecting to our intuitive guidance, our inner compass.
These are the tips that I give clients in my spiritual healing practice to help them steer clear of unnecessary distractions and come closer to a calm, harmonious existence. They touch all aspects of our lives—from our workout routines to our bedroom design—to find the areas where a simple tweak goes a long way in creating more order and inner peace. When you begin living a life without chaos, you'll start to notice the guidance that lies beneath it all:
"If you want to change the world, start off by making your bed,'' U.S. Navy SEAL William H. McCraven recently told the graduates of his alma mater. While it may sound silly and inconsequential, taking the time to make your bed every morning can actually help you live out the rest of your day with more care and intention. Try doing so if you're not already, and see if anything changes for you.
2. Clear out the clutter.
Clean, clean, clean! It all comes down to the feng shui philosophy that getting junk out of your physical space will help you clear it from your personal life as well. In fact, one of my coaching friends always asks his clients one question right off the bat: "Is your bedroom clean and tidy?" If they say no, he tells them to take care of their room and then call him back if they still need him. Guess what? They rarely call him back. Typically, by the time they have cleaned up their space—even if it takes only five minutes—the situation has been resolved.
3. Turn off electronics at night.
A good night's rest is a key to a clear mind, and keeping phones in the bedroom is a proven way to throw off your sleep cycle. A lot of people don't realize that fans can do the same. In fact, it is a feng shui no-no to have a ceiling fan. One of my good friends swore by her fan because she loved the slight hum. However, when she finally took my advice to heart and shut it off, she let me know about how much more refreshed she felt when she woke up.
4. Put your oxygen mask on first.
You've heard it a million times, but it is so important to put yourself first, to take a moment to breathe when you need one. Take a note from the book The Miracle Morning and craft a morning self-care ritual. Even if you need to wake up 10 minutes earlier to have time to meditate, journal, or say your affirmations, you'll be starting your day off with new vigor. I personally exercise what I call the "Power Hour": An hour to focus purely on me. I fuel up my love tank so that I don't feel that I need to get it from anyone else.
Throughout the day, you can also take two-minute "reboot breaks," similar to restarting a computer, in which you stop, close your eyes, and focus on your breath. This simple exercise is enough to reset you for the next experience of your day.
5. Spend your time wisely.
It's a funny phrase, isn't it? In all seriousness, though, how you spend your time is up to you. You do have a choice, even when it feels like you don't. Be selective about who you surround yourself with, and don't spread yourself too thin. Take this idea to the next level by approaching your social feeds and TV from the same lens. Are you getting value from this, or is it purely a distraction? There is such a freedom in your power to make decisions, so do so wisely.
We humans were not meant to be sitting around staring at a TV or computer all day. Our bodies are meant to move and reap the physical and mental benefits of action. Some of my biggest personal breakthroughs have come to me amid movement, whether I was punching a bag during a boxing class or doing downward dog in a yoga session. Many times when clients are stuck in a mental tornado, I encourage them to get outside and into nature. The simple act of a walk outside can create some major clarity.
Read on to find out how your physical clutter is affecting your mental health, and learn how decluttering her daily routine helped one mbg editor find major happiness.