An Interior Designer's Favorite Tips For Making Your Home Cozy This Fall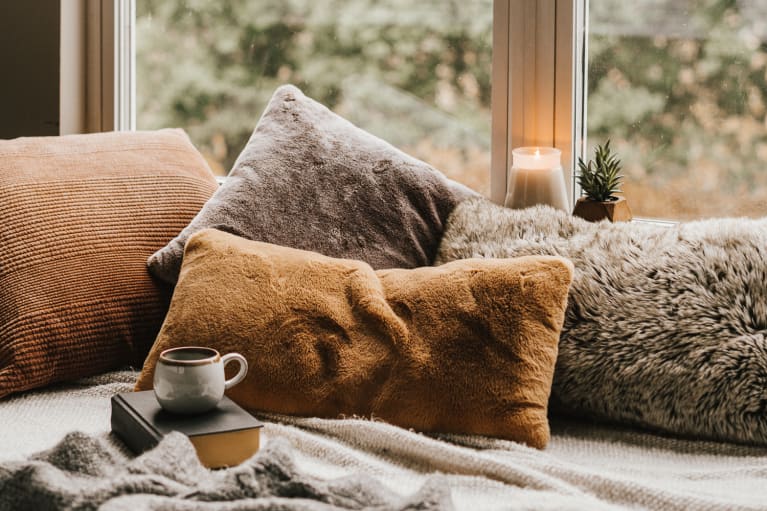 Our editors have independently chosen the products listed on this page. If you purchase something mentioned in this article, we may
earn a small commission
.
The best thing about the weather outside getting colder? It's an excuse to make your home that much cozier. As proved by the great hygge phenomenon of 2017 (that's somehow still going strong), people worldwide crave all things comfy and candlelit—especially when seasons start to turn.
Alessandra Wood, Ph.D., a design historian and VP of style at online interior design service Modsy, thinks the craze may have to do with our increasingly private lifestyles. "Culturally we're seeing this shift where people are using their homes as a source of comfort because they're spending more and more time there," she says. Online shopping, an increase in remote workers, and the rise of the self-care movement mean that Americans are spending days more at home per year, on average, than they did at the turn of the century.
We picked Wood's very design-savvy brain for ideas on how to make your entire home feel like a warm hug this fall and winter, and her tips have us dreaming of turmeric pottery, flannel sheets, and vintage accents.
In every room: Embrace the season's fresh palette.
"I love what's happening with color this fall," Wood says. "The colors that are really everywhere are these saturated, earthy tones like terra-cotta, rust, and turmeric." Since these shades are saturated but not too aggressive or distracting, they can be used almost like neutrals. Bonus: They have an earthiness to them that's reminiscent of a pile of fall leaves.
In every room: Cluster your candles.
Lighting candles when it's cold and dark out may not be a groundbreaking idea, but Wood has a smart new tip for emphasizing your sensory collection: "Cluster candles together and light a few at a time to mimic the aura of a fireplace."
In every room: Say "in with the old."
Wood has noticed that antique portraits and vintage furniture are having a resurgence in the design world. While there's really never a bad time to invest in antiques (they're typically super well-made and more sustainable than buying new, after all), fall feels especially fitting. "I think antiques add beauty and warmth to a home. It makes your space feel a little more layered, with a special note of tradition," she says.
In the living room: Bring on the texture.
"Textured elements like velvet, fur, cashmere, and flannel create a cozy vibe in your space," says Wood. She especially loves the look of velvet accent pillows and drapes in deep, rich shades and cashmere pillows and throws. "Layer these on your sofa or even your bed for a cloud-like experience... If you get into the routine of putting these elements away when it starts to get warm, you'll create a ritual of creating a cozy space when the season changes."
In the bedroom: Swap out your sheets.
Wood says that flannel is the perfect material to make your bed a cozy haven through winter: "You don't have to opt for the traditional plaid if that's not your style, as you can get neutral-colored flannel sheets for a more sophisticated look."
In the kitchen: Roll out a patterned rug.
In the quest for a cozy home, kitchens are too often neglected. Add a layer of softness to the otherwise stark room with a rug (yes, a rug!). Just be sure to go with a darker, patterned option that can conceal food spills. "I'd also layer in dish towels to add softness to the space," adds Wood. "Hanging pots and pans is another French concept that feels cozy somehow."