6 Transformative Truths That Empowered Me To Love Myself On MY Terms
mbg Contributor
By Shannon Kaiser
mbg Contributor
Shannon Kaiser is the best-selling author of 5 books on the psychology of happiness and fulfillment including The Self-Love Experiment, Adventures for Your Soul, and Joy Seeker. She has a B.A. in Journalism and Communications from the University of Oregon.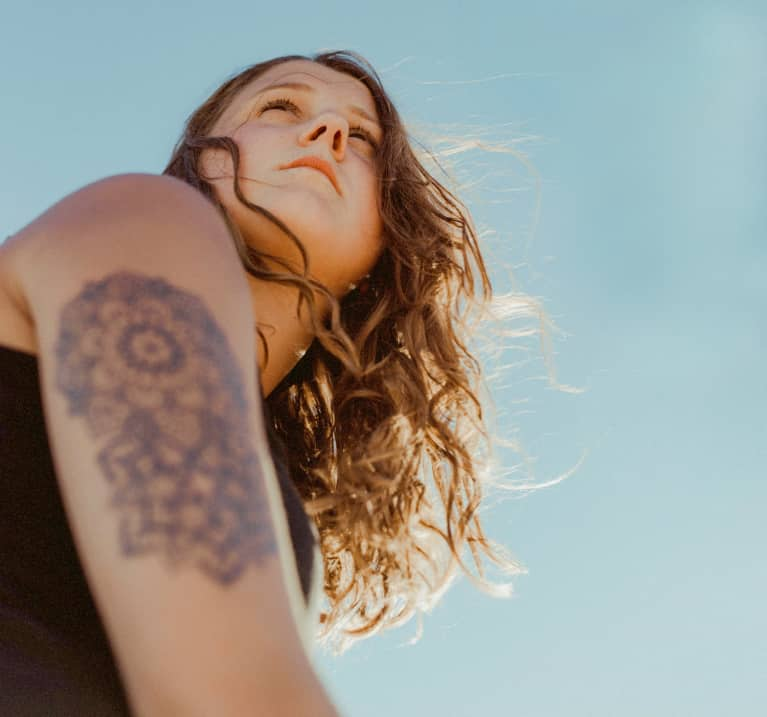 Our editors have independently chosen the products listed on this page. If you purchase something mentioned in this article, we may
earn a small commission
.
Self-love can be elusive for all kinds of reasons. Some of us worry it is egotistical or selfish; some of us just can't seem to find the time. Real self-love is caring for yourself and making empowered choices—and that's worth finding time for. So, what does self-care actually look like?
I used to think self-care meant being a kick-ass wellness warrior, ticking off every box on the checklist: drink green juice, work out, stay under calorie count, and so on. But, in truth, this way of life was exhausting—I didn't feel cared for at all. And I always felt like something was missing.
I was trying so hard to control everything around me—my schedule, my weight, my habits—a place for everything and everything in its place. But, it turns out, I had it all wrong. I hated my job at the time, and I was silently suffering from drug addiction and body dysmorphia. I was diagnosed with clinical depression. That's when I started to see that what was missing was me. I was trying to fit into someone else's idea of fitness, healthiness, and happiness, not mine.
So, it seemed that if I wanted to be happier and healthier, I would need to get to know me—the real me. Unlike most people, I didn't start small. I went on a three-year journey to dig deep into my own truth, into the nature of self-care, and into the question of why we find it so hard to appreciate ourselves.
Eventually, I decided to turn my research into a book. A big part of that process was reaching out to wellness coaches and true scions of self-care to learn how they learned to love themselves and to get their insights on what we all need to achieve lasting self-love. Here are seven of their transformative secrets:
Emma Mildon, author of The Soul-Searcher's Handbook, reminded me that we have to be compassionate with ourselves at every stage of the journey. She believes that we can get ahead of ourselves if we try to do it all. The daily demands can be excruciating if our inner critic is in the driver's seat. If we forget to check in with ourselves, we become exhausted, overwhelmed, and frustrated. To be compassionate on your journey to discover self-love means being kind to yourself, especially through transitions. In my own self-love experiment, I discovered the life-changing benefit of being compassionate with myself no matter what challenges I faced.
2. Self-love begins with simply honoring your needs.
When I was in Bali, I met Mel Wells, the author of The Goddess Revolution: Make Peace with Food, Love Your Body, and Reclaim Your Life, and we became fast friends. That same day, she was going to join me for a dance class but during breakfast expressed that she needed to listen to her body and take it easy. I understood completely and respected her choice. Real self-love means you have to take care of yourself and protect your energy. Sometimes self-love is saying no to others so you can say yes to yourself.
3. Loving yourself translates to prioritizing joy on a daily basis.
4. Like all love, self-love begins with trust.
Emily Nolan, a model-turned-wellness-blogger and body activist, says, "There isn't one diet, one exercise regime, one magical mermaid shampoo that is going to turn you into Better You 2.0. Better You 2.0 comes from listening to yourself before anyone else and trusting that you already know the answer." When I read her blog post on the topic, I was deep in my own self-love experiment, coming to realize that wellness is not a one-size-fits-all proposition.
We try so hard to make ourselves fit into the box someone else has made—the eating plan that works for our BFF, the meditation style our neighbor swears by—but learning how to trust and listen to yourself is the key to real health and wellness. Everyone has different needs. You cannot truly care for yourself until you understand yours.
5. Journaling deepens self-knowledge.
Kathryn Budig, self-love advocate, is a major proponent of journaling as a tool for self-discovery. She says, "Getting a journal and writing about your feelings is an excellent way to learn more about yourself and process emotions." Her book even has a section on writing out your feelings, which totally inspired me. In it, she says, "The key to journaling is to keep it real and be honest with yourself. It is a safe place you can let go of your fears."
6. A self-love transformation is incomplete until you can reclaim beauty.
We can choose to hate our bodies, or we can choose to love them. The amazing Jes Baker, who wrote Things No One Tells Fat Girls, says the way we view our bodies affects the way we participate in the world, and I've found that to be so true in my own self-love experiment. I was reading Jes' book when it clicked for me that real self-love has nothing to do with how you look—but it is related to how you feel about how you look. If you are able to reclaim your beauty, regardless of outward opinions or influences, then you are well on your way to true, lasting self-love.