Feel A Fight Coming On? Here Are 6 Tangible Tips To Quell The Anger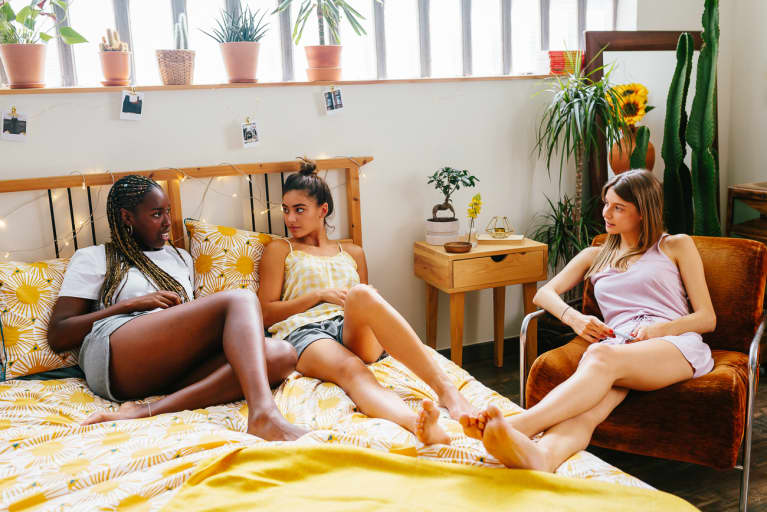 Our editors have independently chosen the products listed on this page. If you purchase something mentioned in this article, we may
earn a small commission
.
The longer we spend cooped up with roommates—whether they're friends, family, or partners—the more likely patience will grow thin and arguments will arise. The best thing we can do for our relationships right now is to become aware of our emotions and learn skills to help calm them.
"Every couple I know said they fought after going to the grocery store last week. Even one that went separately," a friend of mine told me. "And it makes sense because the grocery store scene right now is really scary, and people don't realize they're feeling fear; they push it all to anger."
When tensions run high and we find ourselves fighting with the very people we love more than anything in the world, we need to stop and reflect on what's happening inside.
Try these six tips when a fight starts to break out:
1.
Identify what you are experiencing.
Call a timeout for self-reflection. Are you scared? Frustrated? Sad? Anxious? Jittery? Feeling sick inside, alone, or uncared for? Whatever feelings you have, just stop and validate them. There's no wrong way to feel, only wrong ways to behave.
Ask yourself, "Am I hungry?" Or "When was the last time I ate?" For a lot of people, anxiety can suppress any hint of an appetite, but we must eat to keep our mood from plummeting.
The next thing to ask is, "Am I tired?" It's natural to have trouble sleeping or to sleep a lot when stressed. Knowing if you are tired is important so you can understand your mood. Let your loved ones know that you're not angry at them, and they did nothing wrong. You are just tired.
3.
Come into the present moment.
Ask yourself this question as a reality check: "Am I or is anyone I love in danger right this minute?" You might be afraid of the future, but that is not the question. Are you physically OK right now, besides feeling scared, anxious, bored, and cooped up?
Most of us are "OK enough" right now. Just acknowledging this (with a nice long, deep breath) can offer some relief.
While we all need to self-quarantine in order to care for ourselves, our loved ones—and to be good citizens—most of us will be fine. Allow yourself to relax into that, and remind yourself that this situation is temporary.
4. Use grounding and breathing exercises.
Do breathing exercises frequently whenever you feel tense, jittery, panicky, overwhelmed, or angry. These days, I ground and breathe at least four times throughout the day to calm my mind and body. Even a little shift for the better is a big deal.
5.
Change your environment.
Get outside when tensions run high. Go on a run, count birds, learn the names of different trees, prepare a garden bed for planting. From games to art projects to dancing, kids and adults should play as much as possible!
6.
Make a list of simple things that calm you.
Look at this list in times of tension, and do them one by one. Here are things that work for me and others, but add whatever brings you joy:
Take a long hot shower or hot bath.
Make yourself and others tea. It's nurturing.
Practice a meditation to calm fear, promote self-compassion or self-parenting.
Video chat or phone a friend.
Watch a TV show.
Read or listen to books alone or with your family.
Scanning your mind and body from head to toe to find and name your core emotions will help you share how you truly feel with the people you're living with. Chances are, they might be feeling the same way. It's amazing how talking about feelings openly transforms a bad feeling into something better.
Each time you want to say something mean to the person you're living with, don't. Instead, validate your underlying fear, sadness, or other emotions. Then, actively shift into compassion, kindness, care, and love both for yourself and those around you.
Adversity provides an opportunity for change. I hope you will challenge yourself to work with your emotions wisely, rather than taking it out on the people you love. You can do it!