6 Things I Learned By Doing The 10-Step, K-Beauty Regimen For 2 Weeks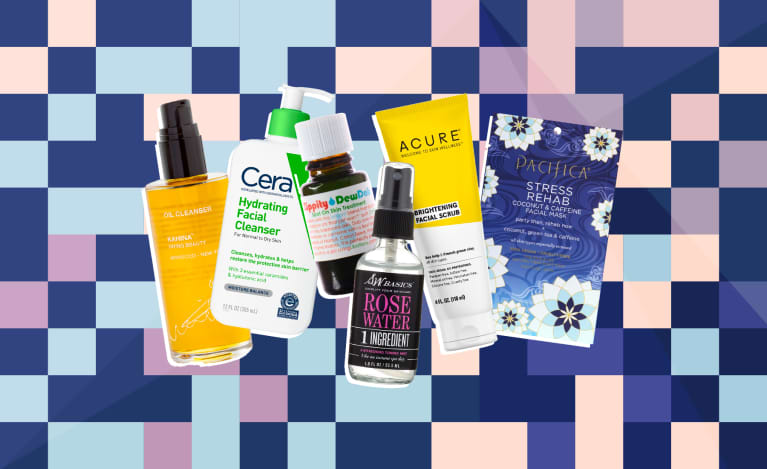 Our editors have independently chosen the products listed on this page. If you purchase something mentioned in this article, we may
earn a small commission
.
A 10-step skin care routine, two times daily, does not sound appealing by any stretch of the imagination. In fact, I subscribe to a less-is-more skin care philosophy, so anything more than three steps (cleanse, tone, oil) is in direct contrast to my intention…and my time constraints. But I've long been curious about the benefits of sticking to a regimented K-beauty routine.
Many people claim that it's changed the appearance and feeling of their skin, especially when it comes to texture and hydration. I've been struggling with some uneven skin tone, redness, and mild dermatitis (irritation and inflammation bumps) and wanted to experiment: Would 10 steps help or hinder my skin issues? Here's what happened, and what I learned, from my two-week, 10-step commitment.
Here is the short version of the 10-step K-beauty routine, which is excerpted from this comprehensive guide to K-beauty:
Oil cleanser: Use an oil-based cleanser to remove all oil-based impurities.
Water cleanser: Follow your oil cleanse with a gentle, non-stripping water-based cleanser.
Exfoliator: This is an extra and doesn't have to be every day—it's based on whatever your skin needs.
Hydrating toner: Use a hydrating toner to balance pH and kick-start hydration.
Essence: Essence is primarily geared toward amping up hydration.
Face oils, serums, ampoules: These are the most personalized steps of your routine, which is all about targeting the specific issues you want to address.
Masks: This could be sheet masks or other hydrating masks but doesn't have to be every day.
Eye cream: Eye cream comes next.
Moisturizer: Then seal it all in with a moisturizer.
Sun protection: In the mornings, always finish up with SPF.
I took some liberties in constructing a product regimen I knew would work on my skin, integrating serums and cleansers that have done my skin well in the past. I followed this guide to Korean skin care by Peach and Lily's Alicia Yoon and put mbg's signature natural-ish spin on each product category. Yoon says that it's not about doing every single step every time (two masks a day might be hard on the skin!) but picking and choosing what your skin needs that moment and customizing your routine based on that. I did masks every other day, as my skin skews sensitive.
I put together two sets of product that you'll see below, one more luxurious and the other more cost-effective. Personally, I tend to spend more on serums, creams, and cleansers because I notice the biggest difference in my skin in those particular categories. The rest of the products I find on the cheap.
My skin is as soft as a baby's bottom.
I can't stop touching it, and neither can my partner. My nose is soft, my forehead is soft, my lips are soft, my cheeks are soft, even my jawline feels soft. It makes sense—the premise of the Korean beauty routine is to drench the skin with hydration—and it worked.
Identifying the right mix of products for your skin is key.
As I mentioned, getting the right mix of products for your skin is crucial to seeing good results. In other words, don't use the K-beauty routine as license to ignore that your skin is sensitive. My best advice:
Rotate your masks and serums—if you're using brightening, clarifying, and detoxifying products, be sure to add hydrating and nourishing ones to your evening routine, or to the next day's routine.
Take a break from masking or exfoliating if your skin is feeling too stimulated. These steps don't need to happen every single day.
Feel free to incorporate products you know already work for your skin. Don't change everything at once! If you are looking to switch, do it one category at a time so you can clearly see how each product affects your skin.
I looked forward to the routine, versus dreading it, because it became a mini timeout from the day.
Every time I oil cleansed, I took 30 seconds to a minute to massage my skin. It doesn't sound like much, but the power of a brief face massage at the beginning and end of each day is mind-bending. It's an excellent way to wake up and the best way to wash the day away. Having to commit to this routine twice (which never took longer than five minutes, plus the mask) also punctuated my day with moments of reflection. How was I feeling in the morning? How did the day go? What can I be grateful for? These are the thoughts of someone who has committed to the K-beauty routine.
I did not achieve "dumpling skin" or "glass skin."
Dumpling skin and glass skin are two ways to describe skin that's so flawless, dewy, and clear that it appears almost translucent. Dumpling skin tends to look more glowy and uplifted whereas glass skin is dewy, crystal-clear, and nearly reflective. These K-beauty skin ideals are unrealistic in my book. With lots of treatment, dedication, and, frankly, money, you might be able to achieve a similar look, but much of the skin's destiny is genetic and not controlled by us. Me? I'll always have under-eye circles (to be honest, I kind of like them), forehead lines, and hyperpigmentation spots. The routine helped with hyperpigmentation, but I definitely didn't get glass skin in two weeks' time.
Brightness, clarity, redness, and glowiness improved.
However, my skin looked brighter, glowier, smoother, and clearer by the end of the two weeks—a huge win. I estimate it's due to the regular exfoliation (I exfoliated every other day), adequate hydration, and the treatment serums I chose. In addition to the ones mentioned below, I also included a brightening vitamin C serum.
While this experiment was far more enjoyable than thought, I won't be adopting the K-beauty 10-step routine indefinitely. It's a little too much for my psyche. However, I do believe it was an ideal way to transition my skin from winter to spring; it provided the refresh my skin was clearly craving. And with the face massage, the routine becomes a loving gesture of self-care to implement anytime you're in a rut and need some extra TLC.