6 Spiritual Rituals To End The Decade Feeling Restored & Empowered
mbg Contributor
By Barbara Biziou
mbg Contributor
Barbara Biziou is a spiritual life coach and two-time author of The Joy of Ritual and The Joy of Family Rituals. She holds bachelor's degrees in both Art History and Psychology from NYU, and has been featured in The New York Times, Chicago Tribune and Oprah.com.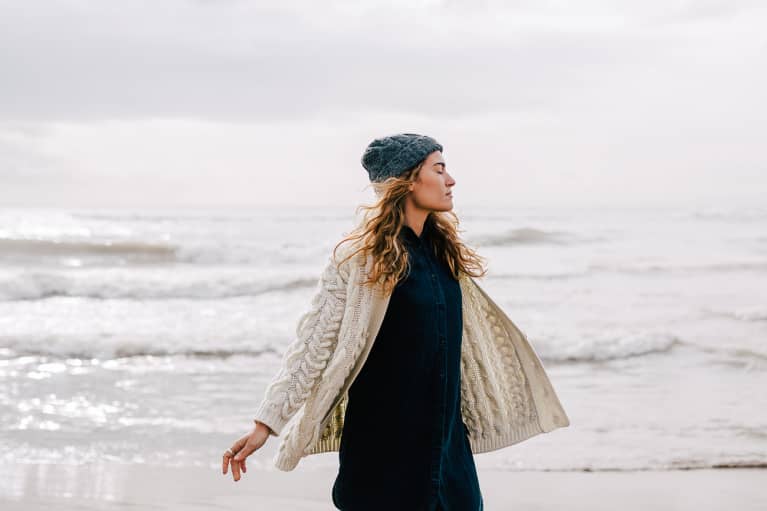 The year 2020 is not just another year. This new decade heralds in a rare alignment of the planets that provide an unprecedented opportunity to do things differently and welcome stability and security both for yourself and others. In numerology, it's also a "4" year, a supreme number of manifestation—the time to make things happen, be daring, and think big.
In summary, 2020 is not the time to patch your boat. It is a time to build a new one...a new foundation that will last for years. Use this time to prepare for the new decade with these six spiritual rituals inspired by traditions from around the world:
1. Hold a "Forget the Year" party.
Do your own version of this famous Japanese ritual that involves going out to a meal with friends, family, or co-workers to toast the year that has passed. Create a time to bid farewell to the problems and concerns of the past year and prepare for new beginnings. Let go of misunderstandings and grudges. Sweep out your house and imagine that you are sweeping out all the lingering negative energy.
2. Say, "Out with the old."
In Italy, the New Year is a time to take the things you want to give away and literally throw them out the window. That might be a little bit dangerous (not to mention unsustainable) for you, so consider decluttering your home and donating what's left over instead.
3. Give yourself a "success assessment."
At the end of each calendar year, I find value in taking inventory of its highlights and challenges. Spend time writing down your wins—both small and large. How did you overcome difficulties? What were your greatest achievements? What were you the proudest of? Then, be sure to pat yourself on the back! Taking the time to acknowledge your success builds a strong foundation for future accomplishments and reminds you that you're capable of dealing with life's unknowns.
5. Choose your colors wisely.
Adding certain colors to your home can serve as a reminder of your intentions. In color therapy, red represents passion, pink is gentle love, gold means wealth, blue is for clear communication, green is for healing, orange is for happiness and fun, yellow is for clarity, black is for protection, and white signifies peace.
This is my personal favorite prosperity ritual! To promote abundance in the coming year, some cultures throw money into their house the first time they enter it in the new year. If you are staying home, go to your front door any time after 12:01 and throw coins into the front doorway. Imagine that each coin holds an intention: health, love, a new project, fertility, financial freedom, etc. You can also do this for your office. Leave the coins for 24 hours, then give them all away. This affirms to the Universe that you have a mindset of prosperity instead of scarcity.