6 Spices That Will Add Vibrant Flavors To All Of Your Favorite Dishes
Contributing writers
By Unmi Abkin & Roger Taylor
Contributing writers
Unmi Abkin and Roger Taylor are both graduates of the California Culinary Academy. They are the authors of the book, Curry & Kimchi, and co-owners and chefs of the popular restaurant Coco and The Cellar Bar in Easthampton, Massachusetts.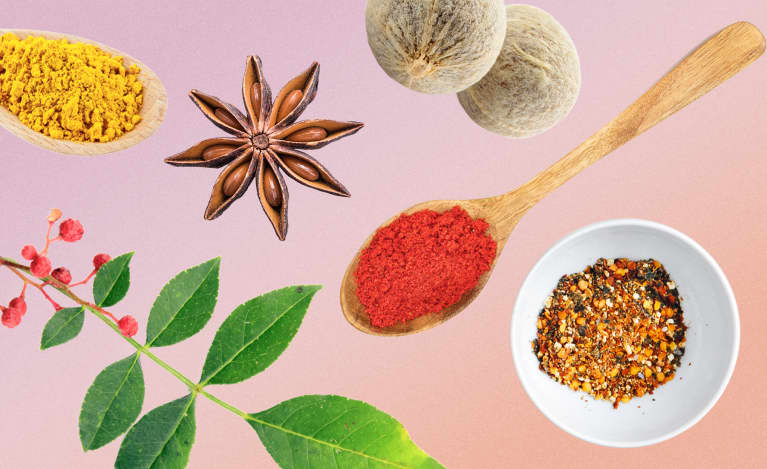 Our editors have independently chosen the products listed on this page. If you purchase something mentioned in this article, we may
earn a small commission
.
When fall arrives, there's nothing better than adding spices to your dishes to give them that cozy, cool-weather feel. Plus, different spices have been shown to promote
healing
and boost
energy levels
, and they'll make your kitchen smell nothing short of heavenly. Call it a win-win, if you will. For tips on the best spices to incorporate into your dishes and where to buy them, you'll want to check out this excerpt from
Curry & Kimchi
below.
First, where should you buy spices?
An important, and often overlooked, factor in creating powerful, vibrant flavors is the freshness of your spices. The difference between a fresh spice and one that has sat in a plastic jar at the supermarket for years is, without hyperbole, like night and day. When you find a supplier that can reliably provide you with spices that contain life and strength, keep going back to them!
We trust Oaktown Spice Shop in Oakland, California, without hesitation, and they have a robust and reliable online store. They know their trade inside and out, and they supply some of the country's greatest restaurants.
It is worth noting, however, that if you have independent specialty shops or international foods markets in your area, there really is no substitute for speaking face to face with someone who has firsthand expertise in the ingredients you want to use. These independent shop owners can answer questions on seasonality and availability, and they can order products to better suit your needs in a way that the large-scale internet retailers just can't.
A cornerstone of Korean cuisine, gochugaru is made by drying red chilies in the sun. Without it, kimchi wouldn't taste like kimchi, and we would not have gochujang! It is moderately spicy and has a sweet, smoky aspect as well.
Native to China but used throughout Asia, star anise has a licorice-­like flavor. The star-shaped pods are added whole during the cooking process and then removed before serving.
Also known as prickly ash, Szechuan peppercorns are a commonly used spice in certain Chinese cuisines. They have a truly distinct flavor, and if you've ever had spicy Chinese food that leaves you with a tingling, numbing feeling in your mouth, you've experienced Szechuan peppercorns.
This is a Japanese spice blend that contains red chili pepper, roasted orange peel, ground ginger, white and black sesame seeds, poppy seeds, nori, and Szechuan pepper. It has a slightly nutty, slightly spicy profile in oils and infusions. We use it to make a tasty crust on fish, or we even just sprinkle it on a bowl of rice.
This is a French take on curry powder. In addition to the normal cast of characters that you find in curry powder—like ginger, garlic, cardamom, and nutmeg—vadouvan curry contains dried shallots. It has a slightly sweeter, elegant, and almost whimsical profile as compared to other curry powders.
White pepper comes from the same plant as black pepper. The berries are just allowed to ripen further, and the outer husk is removed to reveal white peppercorns. White pepper is widely used in Asian, Indian, and Mexican cuisines and has an earthier taste.
Excerpted from Curry & Kimchi. Copyright © 2019 by Unmi Abkin and Roger Taylor. Reprinted with permission of Storey Publishing. All rights reserved.