6 Phone Apps That Make Sustainable Living WAY Easier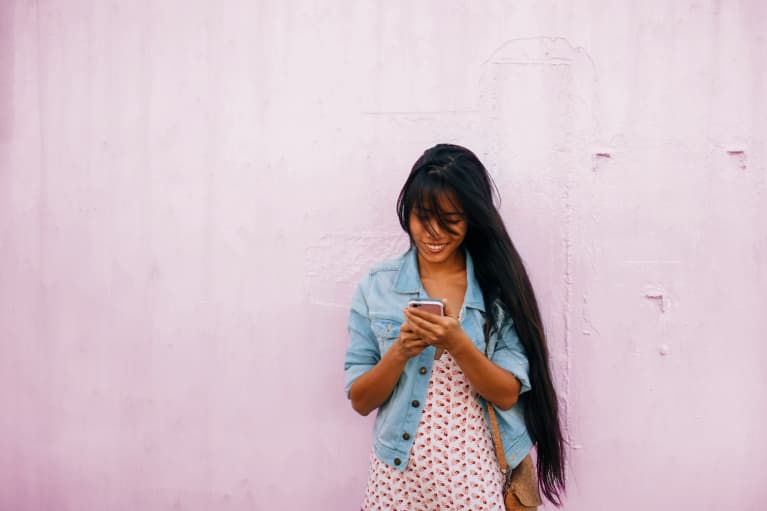 Making your routine more sustainable can seem daunting at first, but these phone apps break green living down into easy and, dare we say, fun actions. From reminding you of the ins and outs of recycling to helping you plan a dinner that reduces your food waste, they have every step of your day covered. Ditch Instagram and scroll through these instead; the planet will thank you.
Traditional grocery stores are packed with unnecessary plastic packaging, but Bulk app, the brainchild of zero-waste pioneer Bea Johnson, makes it easy to track down bulk bins in your area. Just open the app, type in your ZIP Code, and see what stores near you stock household items in bulk so you can cut down on plastic use. These days you can find an unpackaged version of everything from pastas and spices to cleaning supplies and wine, so the app lets you filter by category, too.
Populated with up-to-date information from Earth 911's database, this app puts everything you need to know about recycling (it turns out, there's a lot) in the palm of your hand. The next time you're not sure what bin something goes in, just type it into the app to see if it's recyclable in your area. iRecycle also lists drop-off locations for things like batteries, electronics, and plastic bags that would otherwise go in the trash.
How often do you buy some fancy ingredient only to come home and realize it's already in your fridge? Food inventory app No Waste keeps track of everything in your kitchen—and its expiration date—to keep you from buying more than you'll eat. It takes a little work to input everything at first, but from there it's relatively easy to keep up with. The app also lets you manage grocery lists and meal plans, and sends you a notification when something is about to go bad to cut down on food waste. According to the app, you can save up to $1,000 annually and waste fewer hours in the grocery store each year just by keeping better track of what you already have.
Jeff Kirschner created Litterati to mobilize people to clean up the world bit by bit, every day. Every time you pick up trash, you can log it in the app to help build out a comprehensive global database that's helping companies better package their products and communities better handle their waste streams. Just seeing the app on your phone screen is a good reminder to be more mindful of litter in your day-to-day.
Step one: Calculate your carbon footprint on Oroeco. Step two: Bring it way down. This app provides easy, personalized tips that can help you make your lifestyle less taxing on the environment. You can sync it up to Mint so it automatically updates with every purchase you make, or connect it to Facebook to challenge your friends and see who can reach the lowest score.
This digital green community is constantly being updated with little tips and challenges to get you to make every aspect of your routine more sustainable. Joulebug is useful for all levels of greenies from beginners to pros, and it gamifies environmental action to get users addicted to doing good.
Learn more about the inspiring founders behind some of these apps here and here.