Having A Rough Day? Here Are 6 Ways To Show Your Body Some Love
Contributing Wellness & Beauty Editor
By Lindsay Kellner
Contributing Wellness & Beauty Editor
Lindsay is a freelance writer and certified yoga instructor based in Brooklyn, NY. She holds a journalism and psychology degree from New York University. Kellner is the co-author of "The Spirit Almanac: A Modern Guide to Ancient Self Care," with mbg Sustainability Editor Emma Loewe.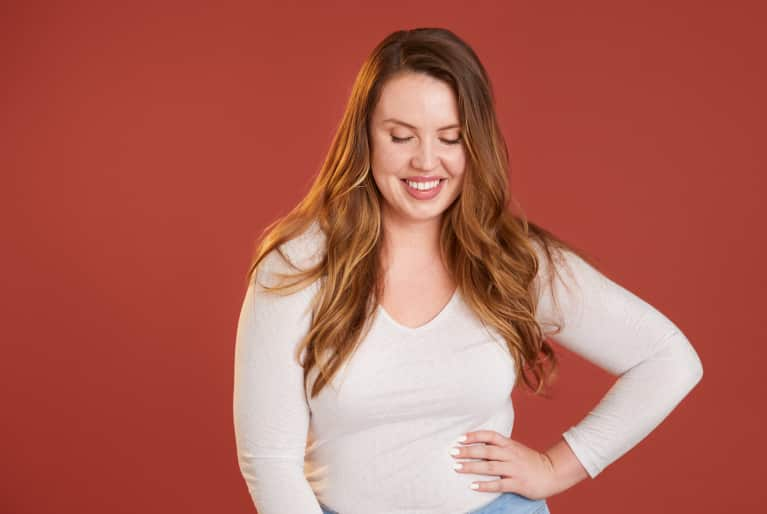 Here at mbg, we believe that beauty is uniquely yours. In our video series Bare Your Beauty, we break down various techniques, rituals, and how-to's designed to help you feel good in your own skin, whether your goal is to de-stress, update your skin care regimen, or try a new look.
We've all been there: Whether it's swimsuit season, trying on an old pair of jeans, or seeing a photo of ourselves that doesn't match the image we have in our mind's eye, feeling self-conscious about your body can ruin a good day or even an entire vacation. But hopefully not for long. Meet Meara Oberdieck, curve model, musician, blogger, YouTuber, and Instagrammer extraordinaire. Meara's heartfelt journey to body acceptance is hard-won—she had to learn how to show herself love by first going through the stages of shame, ridicule, and rejection. Unfortunately, she's not alone. Many of us can understand what it's like to want another body instead of our own, whatever the reason. In this video, she shares the best confidence- and mood-boosting tips for turning a down day into an opportunity to show your body some love.
If body positivity doesn't work for you, body neutrality may resonate—here's everything you need to know.