5 Ways To Reach True Success, According To Bestselling Author Ryan Holiday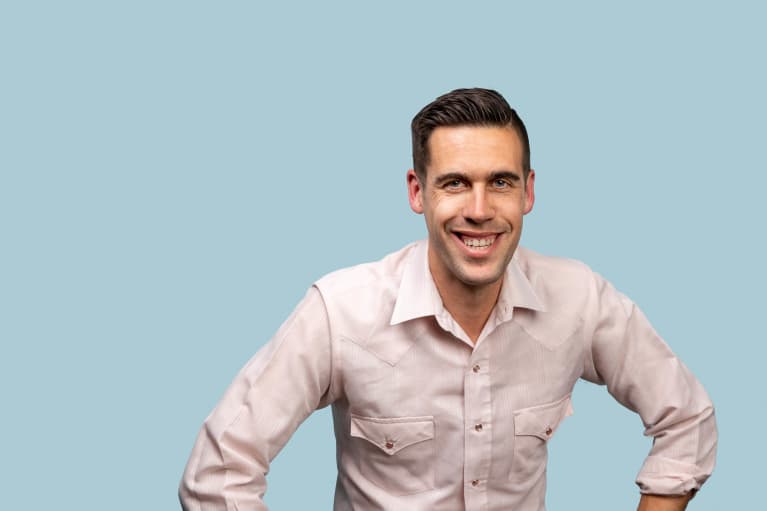 Our editors have independently chosen the products listed on this page. If you purchase something mentioned in this article, we may
earn a small commission
.
As the author of the No. 1 New York Times bestselling Stillness Is the Key, Ryan Holiday seems to know the road to success like the back of his hand. In addition to this esteemed accomplishment, he's written 10 other bestsellers (mostly focused on the philosophical concept of Stoicism) that have sold more than two million copies in 30 languages, and they're beloved by many influential individuals including NFL coaches, world-class athletes, TV personalities, and political leaders.
While the relationship between famous athletes and philosophy might not seem closely tied, according to Holiday, ancient philosophy has a rightful place in modern society.
"Ancient philosophy has been done a grave disservice by most writers. They treat it as an abstraction rather than a thing for real people in the real world," he tells me on this episode of the mindbodygreen podcast.
In fact, if we take advice from those famous philosophers, we have a much better chance of living a happier, more fulfilled, and successful life. Here are five philosophical tips you can use on your own road to success, straight from Holiday himself. With these tools in the back of your mind, you'll have a much better chance at reaching and maintaining long-term success. Check them out below:
According to Holiday, the road to success truly lies in the process.
"My goal isn't to write bestselling books, or to sell a certain amount of copies, or hit a certain bestseller list," he says. Rather, his goal is to write what he's passionate about and to enjoy doing so.
It's a little counterintuitive: If you focus on success as your main goal (whether it be money, a fan base, or a job position), it actually hinders you from reaching that success. On the other hand, if you truly love each mundane process of what you're doing, you're likely to live a successful life.
Holiday also mentions that if you love what you're doing (even if no one else does), you'll be satisfied with your quality of life no matter whether you reach those traditional markers of success.
He explains, "If your quality of life is dependent on a peak, you've now set yourself up to be disappointed. But if your happiness is the relationships and the process, you're in better shape."
2.
Acknowledge confidence vs. ego.
Confidence, Holiday notes, is earned—ego is stolen. It might sound rather philosophical, but Holiday explains that we have to acknowledge whenever we're sure of ourselves whether it's based on facts.
"On the outside," he mentions, "we often conflate someone who is very sure of themselves with being confident. But is that based on anything real?"
That said, if you want to reach true success, you have to check in with yourself and make sure your confidence is based on facts rather than egotistical tendencies. Holiday tells me that ego eventually brings down world leaders, athletes, CEOs, and the like—because if it's not based on fact, it certainly won't last forever. And when the success stops working, it can become catastrophic for some people.
3.
Be grateful for the undesirable.
"It's easy to be grateful for your friends, your family, and your location," Holiday says. "But I try to actively work on gratitude for the things I'm naturally not grateful for."
In practice, this looks like seeing the beauty in the ordinary, mundane things in life that most people might overlook. Once you practice this gratitude, you'll be prepared to celebrate small wins and be better equipped to reach success.
It can be easier for people to reflect on the process once they've reached major success and feel gratitude for all the hardships along the way (after all, most achievements in life come with roadblocks and obstacles along the way). But it's acknowledging those roadblocks and feeling grateful for the undesirable in the moment that paves the way for success.
"When you cultivate the ability to be grateful for the ordinary, and even the undesirable, you're strengthening the muscle," Ryan notes.
When Holiday wanted to write a book about Stoicism, he was the only one who was excited about the idea, let alone the only person who wanted to dedicate a whole title to the term. So when he persevered and took the risk to follow this passion, he was the only one on the market when the book took off.
What we can learn from Holiday's success, is to always strive to be unique. It may sound obvious, but Holiday notes that too many people attempt to copy what everyone else is doing.
"You're a totally unique person with unique DNA, unique experiences, and unique opportunities. Don't give away your edge by doing what other people are doing." Well said, Holiday.
5.
Respond, don't react to upcoming problems.
On the road to success, chances are you're going to reach a few roadblocks along the way. In addition to feeling grateful for these obstacles (as discussed in No. 3), Holiday also mentions that you shouldn't emotionally react to those problems. Reacting, he says, will only cause even more issues.
"Anger is not going to solve the problem. You have to be smarter. Rise above the easier immediate reaction and come from a more strategic, empathetic, and creative approach," he says.
While reacting emotionally with anger or frustration might feel natural in the moment, it takes a significant amount of mental strength to approach problems with a creative, strategic mindset. That strength will pay off in the end, says Holiday, as you might devise solutions that would help make a certain passion project even better. According to Holiday, empathetic problem-solving is crucial for success.
As you reflect on your goals for the next year (2020 is on the horizon!), keep Holiday's tips in mind to reach true success. With his advice, your success will be wholeheartedly yours for the taking—and you won't need anyone else's validation to achieve your goals.