How To Raise Polite, Mindful, And Responsible Kids
Author and Professor of Medicine
By Terry Wahls, M.D.
Author and Professor of Medicine
Terry Wahls, M.D. is a Professor of Medicine at the University of Iowa, where she conducts clinical research on the use of diet and lifestyle to treat brain-related problems. She received her master's in medicine from The University of Iowa, as well as her master's in business administration from the University of St. Thomas.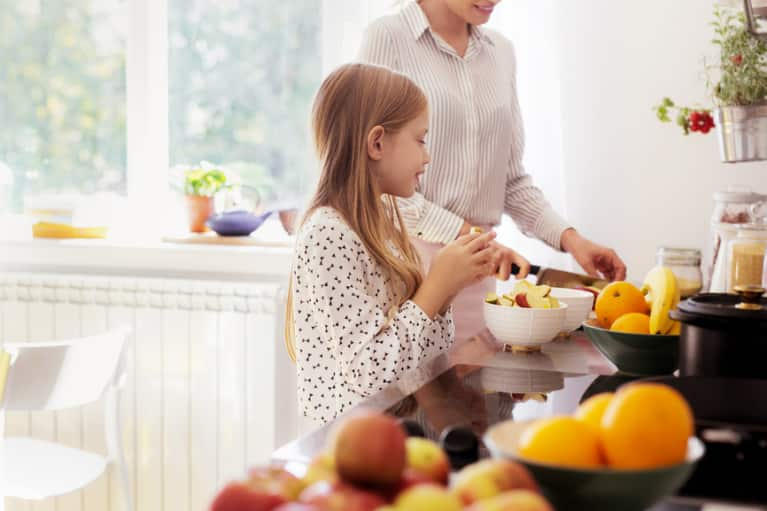 Our editors have independently chosen the products listed on this page. If you purchase something mentioned in this article, we may
earn a small commission
.
Every parent I know cares deeply about their children's future. So we enroll them in sports, music, theater, scouting, and other activities to help them become successful adults. Families run themselves ragged getting to and from all those activities, sometimes so busy they miss out on what I, as a functional-medicine doctor and mother, think is the most powerful influence on the health of the child both in the future and today: making dinner together.
I don't blame you: By the end of the day, we're exhausted! Pressed for time, rushing from work to a planned activity for the kids or ourselves, there's often no time to plan for or cook dinner. Instead, people stop by the fast food restaurant or whip up something processed. I've observed in my practice that fewer and fewer people are cooking at home, and families are spending less time together around the dinner table. Instead of learning how to plan and cook meals and manage other aspects of the household, they learn the habits of eating out and relying on fast food, snacks, and energy drinks.
A powerful gift we can give our children is engaging them in preparing meals at home for the family. Is your youngster playing video games? Does your child have a smartphone? Then he or she has the coordination and skill to help you in the kitchen. Of course you'll need to adjust the tasks to their motor skills, but there are plenty of basic jobs even first and second graders can do:
Setting and clearing the table
Making a list of foods needed for weekly menus
Collecting ingredients, measuring, and stirring
Reading some or all of the recipe
Helping more with the actual cooking as they become increasingly skilled and coordinated
What is the result of involving children in meal preparation and eating more home-cooked meals as a family?
1. They will eat more vegetables
Eating more vegetables is associated with lower rates of heart disease, cancer, diabetes, and all-cause mortality. Consuming more sugar, sweetened beverages, and/or fast food is associated with higher rates of obesity and heart disease.
2. Lower rates of childhood obesity
Getting children to help with meal preparation and eating at home is associated with lower rates of obesity. Achieving a healthy body weight markedly improves the long-term health of that child.
3. Higher levels of physical activity
Families who eat at home and have their children participate in meal preparation have higher levels of physical activity. Higher levels of physical activity as a child and young person paves the way for good brain health as an adult and lowers the future risk of dementia.
4. Better adult child interactions and relationships
Having meals together as a family increases social time and social bonding. It's also a whole lot easier to talk with your child or your parent as you do a task together. Spending time preparing meals together gives parents and children a good framework to start conversations that can explore important and serious topics, such as challenges the child is facing.
5. More confidence in their own cooking skills
Teaching our children how to cook increases the probability that they will make more meals at home when they move out and live independently from their parents. Young adults who cook for themselves are more likely to have a higher-quality diet including more vegetables, less sugar, less fast food, and less trans-saturated fats. Having better diets as young adults makes good health later on more likely; they'll have a better chance of not needing prescription medication for mood problems, heartburn, or other physical symptoms. It also reduces the likelihood that children will develop obesity, high blood pressure, heart disease, and other chronic diseases.
Cooking together is a lifelong practice.
In the Therapeutic Lifestyle Clinic that I led at the VA, we used diet and lifestyle interventions to treat mood problems, neurological problems, and medical problems quite effectively. We discovered that many people either never learned or have forgotten how to cook well at home. The program included cooking classes to help people learn new skills while improving the quality of their diets. Their children and grandchildren help create the menus and make the food. Many of our families observed that their children came to enjoy the process and became steadily more adventurous in trying new foods. Bonus: Patients' children's behavior and moods improved, too.
If you need inspiration, a lot of the recipes that have healed my patients and me are compiled in my cookbook. Modeling eating at home and teaching your children to cook is one of the best ways to favorably impact their health today and in the future.
For more on Dr. Wahl's wheelchair-to-walking story, and how food healed her autoimmune disease. Plus, this woman's take on raising boys when the future is female is especially moving.