5 Ways To Make Your Holiday Traditions More Sustainable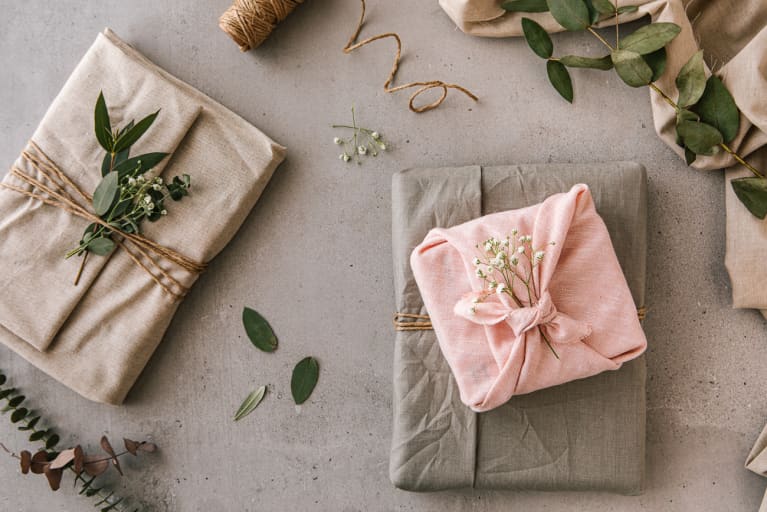 Our editors have independently chosen the products listed on this page. If you purchase something mentioned in this article, we may
earn a small commission
.
Last updated on December 21, 2021
Between the travel, gifting, and excessive use of twinkly lights, the holiday season can take a major toll on the environment. Here are five of the most resource-intensive holiday rituals, plus some ideas on how to lower their impact faster than you can say "pass the wrapping paper."
If you put up a Christmas tree every year, the real vs. artificial debate has probably played out in your head before. It turns out, most families (about 81% of them, according to Nielson data) are now opting to open presents around artificial trees. Fake trees are certainly easier to manage than their natural counterparts—but are they also easier on the planet?
The answer, it turns out, is complicated. Considering that artificial trees are usually made from virgin plastics (unless you go with a recycled option) and constructed overseas, they are more resource-intensive to source and ship than most real trees. The advantage of a fake tree, though, is that you can keep it year after year. So if you're going to go this route, make sure you find a tree that you'll stick with for the long run to whittle down its overall footprint.
If you move homes a lot or don't have room to store a fake tree, go with a real one and make sure to dispose of it properly. Trees, like most waste, emit harmful methane gas when they decompose in landfill piles that are low in oxygen. Avoid this trashy fate by poking around for tree composting or recycling programs in your community. Here in NYC, for example, holiday trees can be turned into wood chips to cover public parks.
You can also "rent" a live tree that still has its roots in place and can be replanted after the holidays. These are hard to come by depending on your climate, but check out The Living Christmas Company if you're in California, Potted Christmas Tree in Oregon, and Swansons Nursery in Washington state.
If you fly often, carbon-intensive airline travel probably makes up a sizeable chunk of your annual footprint. If you're flying to spend time with family this year, consider buying carbon credits to offset all of those emissions. For less than the cost of a sad airport salad, you can invest in carbon sequestration initiatives like reforestation or solar farms through organizations such as The Gold Standard and Cool Effect. And if you can get away with swapping your plane for a train or automobile this year, all the better!
Not to be a Grinch, but some holiday gifts just don't need to be given. When Finder.com surveyed 2,279 American adults after the holidays last year, 61% of them said they received at least one "unwanted" item. (Clothing and accessories were the least desirable presents by a landslide.) While a very small percentage of these presents were actually thrown away, they still would have gotten better use in another home.
This year, try to give presents you know the other person actually needs and will get use out of. That may sound like a somewhat boring gifting strategy, but according to Elizabeth Dunn, Ph,D, a psychologist who studies the drivers of human happiness, practical gifts and experiences actually tend to be the most joy-inducing in the end.
Whichever gift you land on, make sure to wrap it in eco-friendly paper or fabric. Think newspaper, magazines, maps, or calendars you have around the house, or reusable fabric wraps like Furoshiki.
Festive string lights spread enough holiday cheer to be seen from space. (Yep, their bright bulbs are detectable in NASA imagery!) Needless to say, covering your home in lights requires a fair amount of electricity, so consider switching over to LED bulbs and only turning them on for a few hours each day. Incandescent lights use 175 watts of electricity and cost $15.12 to run over the course of a season while LED ones only use 2.4 watts and cost 21 cents over the same time period, according to an analysis in the Washington Post.
When your outdoor lights are sorted, you can turn your attention inside and ask if you really need to buy yet another holiday figurine this year. If the answer is no, consider making your own displays out of natural treasures.
According to Joanna Maclennan, the photographer behind the book The Foraged Home, winter is a great time to forage your own pine cones, chestnuts, and berries for a thoughtful DIY wreath. "You can really collect this all from nature and create something unique and individual," she tells mbg, adding that wreath making is a fun activity for kids too. She recommends checking out designs from Kate Brew, Tracey Deep, and Layla Robinson for inspiration.
Holiday feasting leads to full bellies, happy hearts, and plates upon plates of leftovers. Cut down on your food waste this year by keeping a few recipes in your back pocket that will use up the odds and ends from your meal—be it a broth from vegetable and meat scraps or a cocktail made from citrus stalks. Or, take a cue from Henry Rich, the owner of zero-waste catering company Purslane, and display unused fruits and veggies as festive holiday table centerpieces before you cook them up at a later date.
This year, you can give the planet a present by keeping your tree out of the landfill, offsetting your travel, gifting sustainably, decorating using natural relics, and minimizing food waste at your feast.