5 Ways To Help Kids Build Focus In A World Full Of Distractions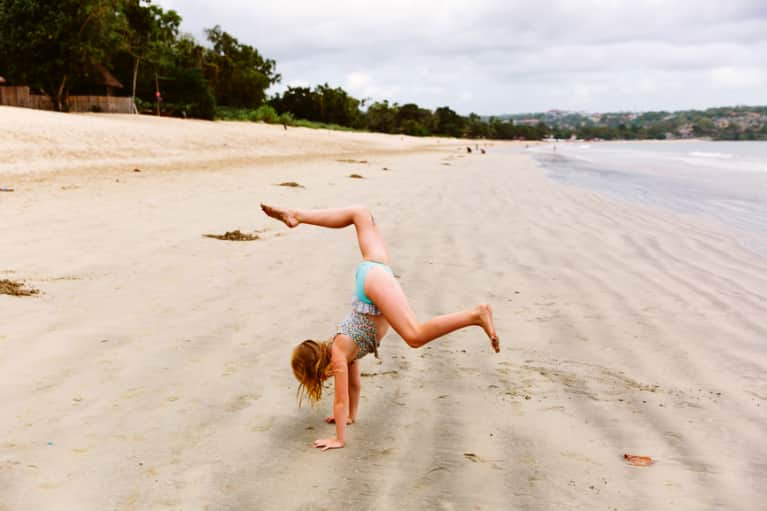 Our editors have independently chosen the products listed on this page. If you purchase something mentioned in this article, we may
earn a small commission
.
We're living in a world full of distractions. Text messages, TV ads, computer-screen pop-ups, social media notifications, and much more clutter the landscapes of our minds. One of the by-products of this pandemonium is a 43 percent increase in the number of kids who've been diagnosed with attention deficit hyperactivity disorder (ADHD) over the past several years. But all kids, to one degree or another, suffer from assaults on their attention in contemporary life. The question is: How do we help them deal with a short-attention-span culture? Or, to put it more positively, how can we assist our children and adolescents in becoming more mindful? In my practice, I've found a number of strategies that can help accomplish this goal. Here are five tried-and-true techniques:
1. Do a daily mindfulness meditation.
Derived originally from the Buddhist tradition, mindfulness meditation is helpful in combating everyday stress. Mindfulness meditation involves sitting in a comfortable position in a chair or on the floor on a comfortable cushion, closing one's eyes, and paying attention to one's breathing for a period of anywhere from five to 30 minutes or more. Meditators are instructed to focus on the passage of air through the nostrils or the rise and fall of one's diaphragm with each breath taken. Naturally, other thoughts, feelings, and sensations will arise, but the practice is to simply notice those interruptions and then return one's focus to the breath. Research suggests that the practice of mindfulness meditation can be useful in treating ADHD, reducing stress, combating depression and anxiety, and making the rest of us more attentive in our daily lives. Two excellent resources that promote mindfulness meditation for children and teens are Eline Snel's book Sitting Still Like a Frog: Mindfulness Exercises for Kids (and Their Parents), which comes with a 60-minute audio CD with guided meditations, and Dzung X. Vo's book The Mindful Teen: Powerful Skills to Help You Handle Stress One Moment at a Time.
2. Implement self-monitoring strategies.
Research indicates that helping kids pay attention to whether or not they're paying attention can assist them in becoming more focused learners. If your child or teen finds herself continually getting "off-task" while doing her homework, you can suggest that she get an app for her mobile phone that will randomly send vibrations or audio signals during her homework session. Whenever she hears the signal, she can ask herself the question: "Am I paying attention to my work right at this moment?" Apps to consider include MotivAider for Mobile (iOS, $2.99, Android, $1.99), Repeat Timer (iOS, Android, free), and StayOnTask (Android, free).
3. Download anti-distraction apps.
Living in a world filled with distractions can make homework and other focused tasks more difficult for children and teens according to some studies. There are a wide range of applications for tablets, laptops, and PCs that help cut down on pop-up ads and other distractions that are likely to get in the way of your child's or teen's ability to focus on homework using his computer. They include Dropcloth for Windows, which lays a solid color on the computer screen for all but the specific task at hand (e.g., math problems, a book report, etc.), and Self-Control for Mac, which lets the user block access to websites, mail servers, or anything else on the internet for a predetermined amount of time. Both applications are free.
4. Provide focus challenges.
You can have fun with your child or teen by challenging him to focus his attention exclusively for a given amount of time on a single object somewhere in the house and describe what he is experiencing. This will require him to pay attention to colors, shapes, reflections, shadows, and textures. Using a candle as an example, you might say, "What do you see? Feel the wax. Do you notice the orange part?"
5. Suggest a non-tech sport or hobby that requires focus.
Playing soccer, basketball, football, or other individual or group sports requires the player to focus closely on what's happening around her, and over time this builds mindfulness. Similarly, hobbies such as stamp collecting, model building, fashion design, artwork, or carpentry build the capacity to focus in your child or teen and provide a respite from all the distractions of an otherwise hectic day.
It's a fact of life that distractions will always be with us as long as we remain a part of the modern world. But by helping your child or teen spend time each day exercising his "mindfulness muscles" through meditation, focusing techniques, a pastime that requires focus, or other similar strategies, you will be at the very least providing an oasis of calm from the constant disruptions of daily life, and at best, you will be equipping your child or teen with a capacity to focus that will serve him well throughout his life.
Want more techniques to bring you into the present moment? Try out this artistic alternative to meditation or visualization meditation. If you're ready for a reboot, check out our 14-day meditation challenge.