5 Ways To Have Your Most Creative, Abundant Spring Yet
mbg Contributor
By Kaia Roman
mbg Contributor
Kaia Roman is a freelance writer and communications consultant for people, projects, and products working towards a better world.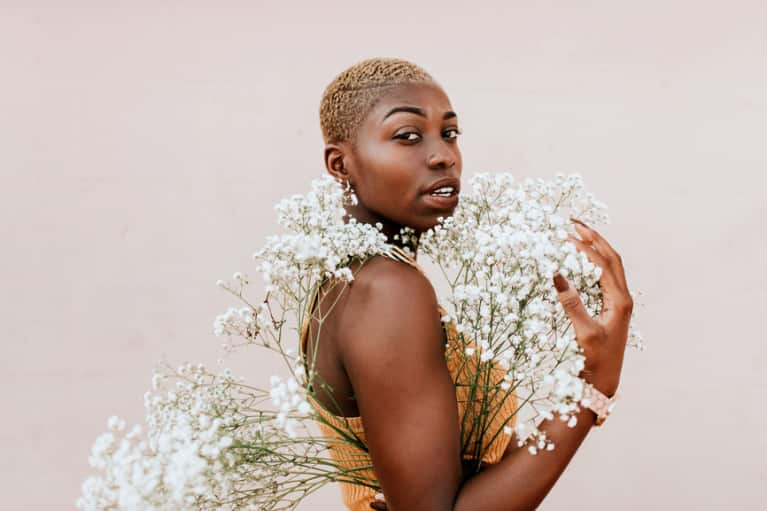 Spring is most definitely here. New shoots of life are sprouting forth from beneath the earth where they've been sleeping. The days are longer and lighter. And as nature wakes up, we're reminded that even during the longest, darkest nights, light is on its way. Spring is universally known as a time for birth—but not only of flowers and baby animals. It's also a time for the birth of our own creativity and growth.
It's a great time to ask yourself what's springing forth from inside. What new creative pursuits are you ready to embrace?
These five practices can help you usher in all that you're birthing this season—new projects, ideas, or anything that has been percolating quietly that's ready to rise to the surface. Just grab some art supplies and a journal, find a sunny spot to sit in, and tune in to your imagination.
1. Start a gratitude journal.
What are you grateful for? This simple question can have a profound effect on your brain. Gratitude is registered in the brain as optimism, which lowers the stress hormone cortisol, soothes the stress-sensing amygdala, and releases pleasure-inducing neurotransmitters.
Frequent focus on gratitude, through the daily process of writing about what you're thankful for in a journal, shifts your mind toward positive thoughts—a fertile environment for creativity.
A vision board is a collection of images that represents what you desire in life. It provides a visual reminder you can look at on a regular basis. To make one, grab a stack of magazines, old greeting cards, inspirational fliers, scissors, glue, and a piece of poster board. Or for a paper-free version, just log in to Pinterest.
Think about the new growth you're welcoming into your life and allow your creativity to flow freely. You may want to plan what your vision board will look like in advance or just let it evolve as you paste or pin the images that inspire you.
What new growth are you welcoming into your life this spring?
3. Go ahead and daydream.
Scientists have found that daydreaming can actually help you achieve your goals. Try to hold an image in your mind for a few minutes each day. Can you imagine that what you want is already real? If you can break a sweat while daydreaming, even better. Daydreaming while exercising seems to amplify the power of the brain to connect ideas in creative, new, and useful ways.
4. Make time for a daily practice.
Repetition is the key to forming neural pathways in the brain and thus new habits and creations in your life. If you don't already have a consistent daily mindfulness practice, now is the perfect time to start one. First thing in the morning is an ideal time to sit quietly, write in your gratitude journal, look at your vision board, and visualize your new creative pursuits. You may also want to set aside time for meditation right before bed.
Whatever time you choose, even if it's just five minutes each day, be consistent and committed. The results will follow.
5. Ask yourself questions.
Ask yourself the following questions, and let your inner voice answer with words, images, song lyrics, or whatever comes—even if it's an interpretive dance. Allow your creativity to flow freely.
What new growth are you welcoming into your life this spring?
What are you wishing for that you believe is already on its way to you?
If you don't believe that it's already on its way to you, can you imagine that it is?
What new, positive possibilities do you see for your family/inner circle, your greater community, and the world?
Can you hold an image of the possibilities you've dreamed up (both for yourself and others) in your mind for a few minutes each day?
By simply asking and answering these questions, you're already well on your way to harnessing your own creative power and the fertile energy of spring. Be sure to enjoy the process, and while you're at it, stop and smell the flowers and give thanks for the renewed vitality that this season brings. May all of your dreams grow and blossom!