Got A Zit? Here Are 5 Ways To Get Rid Of It, Stat
Contributing Wellness & Beauty Editor
By Lindsay Kellner
Contributing Wellness & Beauty Editor
Lindsay is a freelance writer and certified yoga instructor based in Brooklyn, NY. She holds a journalism and psychology degree from New York University. Kellner is the co-author of "The Spirit Almanac: A Modern Guide to Ancient Self Care," with mbg Sustainability Editor Emma Loewe.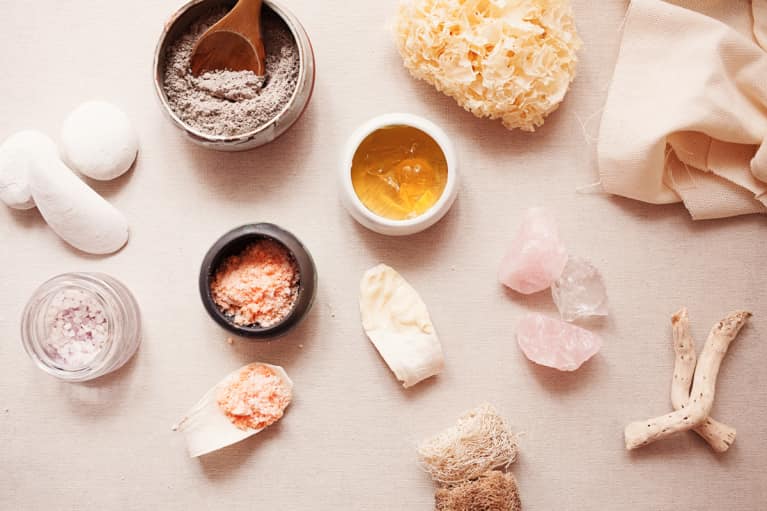 Our editors have independently chosen the products listed on this page. If you purchase something mentioned in this article, we may
earn a small commission
.
We've all been there: The morning of a big day, a pesky, pulsing pimple pops up. We all know the No. 1 rule of zits is not to pop them, but resisting the urge is borderline heroic. "Popping your zit is a surefire way to inflame and irritate and can even lead to future breakouts in the same spot," said Credo Beauty's natural and holistic aesthetician, Hannah Brady. Brady, dermatologist Cybele Fishman, M.D., and holistic facial massage expert and aesthetician, Britta Plug know their way around a blemish. Their go-to techniques for dealing with zits will ensure you never meet a pore you can't conquer:
1. Alternate spot treatments with enzymes and clay.
"If you want the blemish to vanish quickly, I'd recommend alternating spot treatments," Brady said. She recommends doing a mask with AHAs/BHAs first, which will help remove dead skin and debris from the pore, calm inflammation, and clear it up. She recommends Herbivore's Blue Tansy Mask because it contains exfoliating fruit acids and anti-inflammatory blue tansy. T
Then, she recommends spot treating with clay. "Start by mixing a small amount of clay powder with water to make a paste, and apply to the spot," Brady said. She recommends Fig + Yarrow's Black Clay Mask, which contains charcoal as well, which draws excess oil and impurities to the surface.
Don't stop during the day either: Try a spot treatment like Indie Lee's Blemish Stick or Tata Harper's Clarifying Spot Solution, and your situation should improve in 24 hours.
2. Get a cortisol injection.
Dr. Fishman, a dermatologist who balances Eastern and Western philosophies when it comes to her patients, maintains that a cortisol injection is the fastest way to get rid of one of those big, cystic, under-the-skin zits when time is of the essence. Cortisol is anti-inflammatory and stops the pimple in its tracks. In less than a day, swelling goes down, and the zit simply flakes off.
3. Use a hot compress and anti-inflammatory agent.
Both Dr. Fishman and Plug agree that a hot compress at home can work wonders, especially when you catch a zit early on.
"Try dipping a porcelain soup spoon, mug, or other small porcelain item in hot tea. Hold it to the pimple, a few short seconds on, a few seconds off," Plug recommended. Of course, test the mug or spoon on your wrist first to be sure not to burn yourself. She suggests following the hot compress with a spot treatment like Laurel blemish treatment.
Dr. Fishman, on the other hand, prefers to follow the compress with a sulfur-based treatment. Try mixing Acnomel, which has antibiotic properties and a drying component, if you're not allergic to sulfur, with a little 1 percent hydrocortisone to decrease inflammation. Both of these are available over the counter. She warns not to overdo it—"When they do, they get very dry and flaky around the pimple which looks worse," she said.
She also said that she recommends steering clear of salicylic acid, "which I find does not help the pimple much and irritates the skin around it terribly."
4. Treat it with Manuka honey with a 16 or higher factor.
If you prefer to treat it naturally, Dr. Fishman recommends Manuka honey. The key? "Make sure you use one that has the Manuka factor listed, which is a number on the label—go for 16 or higher," she said.
Plug agrees, citing the antimicrobial, antifungal, and anti-inflammatory benefits of honey, which can speed up healing. She also recommends following with a blemish serum, which can help brighten the dark pigmentation that a pimple leaves behind.
5. Use a purifying clay mask for smaller, widespread breakouts.