5 Ways To Change Up Your Green Smoothie Recipe For Fall
Contributing Food Editor
By Liz Moody
Contributing Food Editor
Liz Moody is a food editor, recipe developer and green smoothie enthusiast. She received her creative writing and psychology degree from The University of California, Berkeley. Moody is the author of two cookbooks: Healthier Together and Glow Pops and the host of the Healthier Together podcast.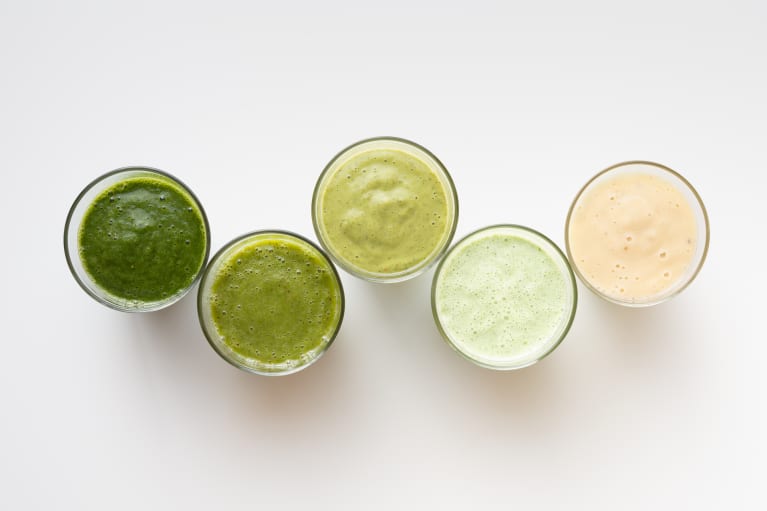 While we love a good fall breakfast as much as the next person, it's also no secret that we're huge fans of green smoothies here at mbg. They take just minutes to make and pack in a ton of vegetables—plus, made properly, they taste absolutely delicious.
That doesn't mean you have to miss out on the seasonal splendor. Here are five easy ways to shake up your green smoothie for fall:
1. Embrace seasonal produce.
All of that squash hitting the markets these days? It makes a wonderful base for smoothies. Just peel it, steam it until tender, then spread it out on a parchment-lined pan so the pieces aren't touching. Pop it in your freezer and freeze until solid (about four hours) then transfer to a reusable zip-top bag (this process keeps the squash from becoming one large, unusable clump!). You can also simply toss any leftover root veggies into smoothies, so raid your fridge each a.m. for anything that isn't covered in savory seasonings.
2. Play with fall flavor profiles.
Use all of that aforementioned squash to make a pumpkin pie smoothie by combining it with a big handful of spinach, pumpkin pie seasoning, a pitted Medjool date, some hulled hemp hearts, a splash of vanilla extract, water, and a generous pinch of fine-grain sea salt (all squash varietals and even sweet potato work reasonably well; no need to stick to pumpkin!). An apple pie smoothie is as easy as—well, you get the idea: Just combine spinach; raw, steamed or quickly pan-fried apple chunks; a Medjool date or two; a shake of cinnamon; a dash of vanilla extract; water; and some frozen cauliflower in a blender, and blitz until smooth.
3. Consider consuming it less chilled.
4. Try swapping your smoothie for a green soup.
In the fall and winter, sipping a warm, blended green soup can be a perfect alternative to a green smoothie. While it's not quite as quick to make, you can make a big batch every few days, and simply warm one serving at a time each morning. It can be fun to play with savory flavor profiles (some people say that starting off on a savory note helps combat sugar cravings as the day goes on), and the combinations are endless. To make your soup, simply sauté one chopped onion with whatever green veggies you have on hand (Swiss chard, kale, spinach, arugula, broccoli). Add in some flavor boosters (chopped garlic or rosemary, some harissa) and a generous pinch of salt, then top with veggie stock or bone broth and cook until the veggies are bright green and tender. Blend until smooth, then finish with a squeeze of fresh lemon or lime juice for brightness.
In traditional Chinese medicine, spices are a warming food, perfect for nourishing digestion during chillier months. They also add a ton of flavor and health benefits to smoothies, so rifle through your spice cabinet and play around with different combinations. Cinnamon, cardamom, ginger, and turmeric are all easy wins, but even out-there spices can be fun. Cayenne can play well with sweet potato for a sweet and spicy blend, while Chinese Five Spice adds a fun, fragrant note to any squash-based smoothie.