5 Things I Did To Heal My Acid Reflux Naturally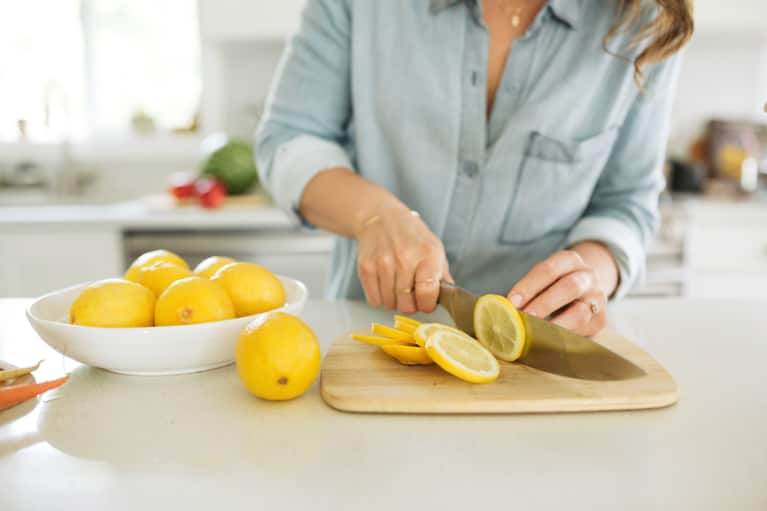 By the end of my first semester in college, after eating and drinking whatever I wanted, I was diagnosed with hypothyroidism and acid reflux. I was immediately prescribed a synthetic thyroid medication and told to take an over-the-counter drug for my acid reflux.
After a few months of taking two pills every single night before bed, I wanted to cut back on the medications. I was still suffering from acid reflux and wanted to get to the root of the issue. Here's how I was able to ditch the pill and heal my acid reflux naturally.
1. I listened to my body.
The first thing I did was limit a few things that are known to cause acid reflux: red sauces, wine, and chocolate. These three things were pointed out to me by my doctor, so I remained cautious of them while also listening to my body. If something gave me symptoms of acid reflux, I stayed away from it. If it didn't, then I would judiciously incorporate it back into my diet. I now eat organic dark chocolate every day with no problem, still avoid red sauces, and drink wine occasionally without an issue.
I made a strong effort to eat more whole foods. As a health coach, my best nutritional advice for healing is to stick to whole foods and prepare your food at home. I also started reading the labels on all packaged foods. At the time, I would read the ingredients and look for all-natural products, which is good, but it could have been better. I now look for organic products with extremely simple ingredients and, preferably, no added sugar.
3. I cut back on alcohol.
Being home and away from college, my drinking drastically decreased. Going out and drinking every weekend for months will of course take its toll on your body. So I took advantage of being home for the summer and took a break. I still drank moderately, but I did so much less frequently and much more mindfully. If I wanted a drink, I would only have one. If I didn't want a drink, I wouldn't have any.
4. I drank plenty of water (and still do).
At this time, I was working full-time as an outdoor lifeguard and running four miles four or five days a week. I always needed to stay hydrated. So I took a gallon of water with me to work and always had a 32-ounce water bottle in my hand. I made sure I was drinking 128 ounces of water each day that I worked and/or went for a run. On my less-demanding days, I drank half my body weight in ounces.
5. I cut back on sugar and packaged foods.
I began crowding out packaged foods and added sugar with organic whole foods simply by opting for whole foods more than anything else. I prepared all food at home and packed my lunch and snacks to take with me to work every single day. Not only do packaged foods tend to have too much sugar, but they may also be made with additives, preservatives, and unhealthy fats. Always read the label of packaged foods and choose organic whole foods whenever possible.
Ultimately, cleaning up my diet and listening to my body helped me ditch the OTC drug I was told to take every day to manage my acid reflux. But the most important thing I learned is that my deep desire to get to the root cause of the issue and heal naturally was the most powerful tool in my healing. Without that, everything I needed to do would have seemed either impossible or like an inconvenience. Actions are important and truly necessary, but for them to become long-term and lead to healing, they need to be fueled by something unwavering.
Intrigued? Here's what happens when you give up alcohol, dairy, and caffeine for a month. Or if you're looking for a challenge, check out mindbodygreen's no-sugar week.