5 Super Simple Ways To Support Your Local Food Scene Now
mbg Contributor
By Caroline Muggia
mbg Contributor
Caroline Muggia is a writer, environmental advocate, and registered yoga teacher (E-RYT) with a B.A. in Environmental Studies & Psychology from Middlebury College.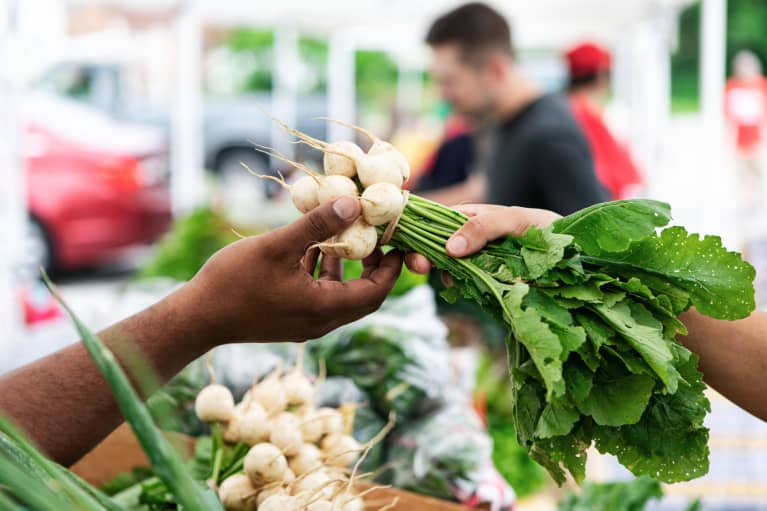 We all know that we should be eating local, yet it often falls to the bottom of the list—especially when we're busy and on a budget. But there's more than meets the eye with local food: It's more nutrient-dense, flavorful, and tastes better, not to mention you'll be supporting your local farmers who pride themselves on the quality of their product. We spoke with Wen-Jay Ying the founder and director of Local Roots, and chef Jason Hall, the Executive Chef of the NYC restaurant Legasea, to get the down-and-dirty on how to get more involved in your local food scene, without grabbing a trowel or blowing your budget.
1.
Go to a farmers market.
One of the easier ways to get a feel for what's happening in your area is to head to a local farmers market, said Ying. As a start, check out the USDA's national farmers directory to find out where there are markets in your area, and grab a friend and head out. It can be overwhelming to think about overhauling your food routine entirely and trying to go local all at once. To mitigate apprehension, Ying recommends spending some time walking around the market and noticing what the food looks like and how it may appear different from the food in your grocery store. Chances are the food at your local market is what's in season, and that means more flavor and more for your money.
Walk up to different stands and ask about where they grow their food and how they like to cook with it. It's a great way to get more engaged with the people who made the food possible, and it will fuel your curiosity. Just because you went out to the farmers market doesn't mean you need to buy the whole place out; it could be a visit to better acquaint yourself with the scene. If you're looking to get your feet wet, scope out your favorite veggie or fruit and notice the difference in taste compared to what you usually buy at the store.
If your farmers market has a composting station, take advantage of that too! "Participating in a full cycle of feeding your food (by helping to make good rich soil) is a simple, but important, way to start noticing how you as a human fit into the larger cycles of life on planet Earth," says Calla Rose Ostrander of the Marin Carbon Project.
When you choose to cook with seasonal veggies and fruits, chances are you'll be buying local because that's what's in season in your area. Hall learned how to cook using seasonal veggies. As for why he took this route? "It's an easier and more practical way to think about cooking; it is also an inspiring way to cook." He sees it as a way to celebrate the seasons and loves supporting smaller farms and local fisherman in both his restaurant and personal cooking. The USDA's Snap-Ed seasonal produce guide is a helpful way to find out what's in season and offers recipes and tips for cooking with the food. If you've ever felt at a loss for what to buy at the store or farmers market, going in with a list of seasonal veggies is always a great place to start.
3.
Volunteer at a CSA or co-op.
A CSA, or community-supported agriculture, is a system that is mutually beneficial for the farmer and consumer as the consumer supports the harvest of a farm or group of farms in return for fresh, local produce. Joining a CSA is a great way to better understand where your food is coming from and get access to local food regularly. If you're not quite ready to join a CSA, you may consider volunteering for a CSA similar to Local Roots. Check out some opportunities in your area to see if there are any CSAs or local food organizations looking for some helping hands.
Another informative option is to volunteer at a local co-op. A co-op is similar to a grocery store in that it's usually not outdoors like a farmers market but offers more local food, specialty items, and often has volunteer opportunities. Find out if you have a co-op in your area, and reach out about your interest in joining the efforts. Volunteering is an incredible way to get connected with people in your area who also care about local food and to better understand the initiatives already taking place.
While it could seem like there are no farms near you (especially if you live in a city), chances are if you're buying food from a farmers market or live near land, there's one nearby. If you're at the farmers markets, ask the farmers where they grow their food and whether they offer any opportunities for people to visit or volunteer at the farm. This way you can get a step closer to understanding how your food is being grown and see the process in action. You can also input your ZIP code into LocalHarvest, which will search for farms near you. This website provides contact information, lets you know where to find the farms' produce, and tells you whether they're a CSA and how to become a member. By getting closer to the source of your food, you may find even more delight in buying and cooking it.
5.
Get curious and get out.
With all of these tips and action steps, it really comes down to getting out there and asking questions. Hall recommends, "Identify some of your favorite stores, farm stands, farmers, and then show up and talk to people." The only way to get a better sense of your local food scene is to ask and engage with the people behind the food. Ying says it can be as simple as asking the following questions when buying produce—"What does this food look like when it's growing in the field? How was this food grown? How far has it traveled, and were pesticides used?" This type of inquiry will spark awareness and interest in purchasing food that aligns with your values and contributes to your health. By asking questions, you can become a more informed consumer and make choices about what you will and won't compromise on when it comes to your food.
It's important to remember that not all local food is grown organically or sustainably, so you'll want to ask about any additional certifications if these are things you prioritize. Starting on your local food eating journey is like any other lifestyle change that takes time. Taking small steps and getting comfortable before jumping in is always a good bet for finding success. As both Ying and Hall said, once you start eating local, your world opens as flavors and tastes become more vibrant and cooking becomes easier (the flavors speak for themselves!). We can't wait to head to our local farmers market this weekend and check out what's in season.