Spiritual Lessons We Can All Learn From Summer
mbg Contributor
By Erin Bruce
mbg Contributor
Erin Bruce is a lifestyle blogger based in Seattle, Washington with a bachelor's in Psychology and Sociology from Western Washington University. Her passion for connecting personal growth work to the transformational energy of the seasons inspired her to create The Seasonal Soul, where she explores meaningful ways to add a seasonal component to your spiritual practice and simple rituals to celebrate the solstices and equinoxes.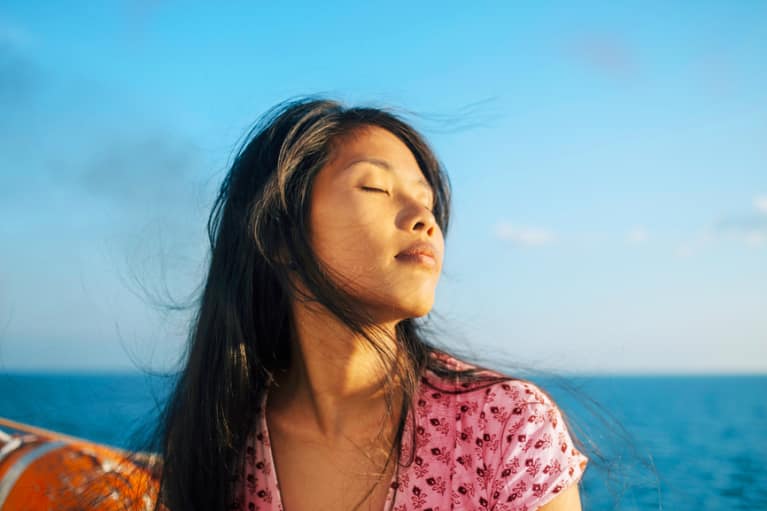 The cycle of the seasons perfectly portrays the journey we all take in our lives. If we watch nature, she tells us the spiritual work we should be doing at different points throughout the year. When we harness the seasonal energy, we can maximize our inner growth.
Here are five of the lessons summer's energy teaches us, and the inner work we should engage in this season.
1. Honor your inner fire.
Fire is the element of summer. The powerful fire of the sun will nourish all the garden's plants over the weeks ahead, and the autumn harvest won't come without it.
Just like Earth's powerful sun, we each have our own inner fire: a sun burning inside us that nourishes our hopes and dreams. Your inner fire is that fierce, powerful, badass part of you. Take some time to recognize her and acknowledge the important things she does for you. Express gratitude for that part of yourself in the same way we celebrate the summer sun that fuels our warm days.
Questions to ask yourself:
What has your inner fire helped you accomplish this year?
How does that part of you manifest in your life?
What blessings did your inner fire evoke this year?
2. When something reaches completion in your life, you have to let it go.
The summer solstice has a bittersweet quality about it. We are celebrating the arrival of summer (yay!), but we have also reached the longest day of the year, so the days will start slowly getting shorter again. The sun has grown as far as it can grow in this cycle and it now begins its slow descent inward again, as the darkness gradually begins to return. Every year the sun reminds us of this beautiful cycle of expansion, growth, and then returning inward.
Like the sun, there are ways you've expanded as far as you can this growth cycle. Now's the time to begin the process of letting go of the things that have reached completion in your life—the ways of operating that once served you but you've now outgrown. While it can be sad to let go of old relationships, jobs, and patterns, remember it's all part of a cycle of growth.
Questions to ask yourself:
What has reached its peak in your life?
What change and growth are you excited for?
Trust in the seeds that you've planted.
3. Recognize and celebrate your own divine masculine energy.
Summer is the season of yang masculine energy. This energy drives us to do, build, and create. It's passionate and expansive. It's bold and commanding. It radiates like the summer sun shining so fiercely and confidently this season.
Elements of feminine and masculine reside within all of us. Both are important and necessary. Culture tends to equate masculine energy with anger and aggression, but it is also protective and nurturing. When you are able to harness and direct that energy to build the life you desire, it becomes an incredibly powerful thing, so it's important to acknowledge your divine masculine and celebrate the ways it empowers you.
Questions to ask yourself:
How has the masculine empowered you this year?
What has required you to be bold, powerful, and loud?
What will you build this summer with that masculine energy?
4. Find balance between intense summer activity and idle hours of summer relaxation.
All that masculine yang energy makes summer a time of intense activity. The season tends to be jam-packed with plans, projects, activities, and adventure. Most of these are fun, exciting things we look forward to. But it's still a lot of going and doing.
At the same time, our spirits also yearn for long, lazy hours of sitting on the porch, sipping an ice-cold drink, and reading a really good book. It's important that we balance that intense activity with idle hours of rest and relaxation. Reserve some time to just soak in all of that warm, radiant, delicious, rich summer sun.
Questions to ask yourself:
How do you plan to be idle this summer? Make yourself a summer relaxation bucket list that includes books you plan to read, beaches you want to hit up solo, and places you'll simply lie in the grass.
5. Put in the hard work, then be patient and trust.
The summer fruit will ripen on the vines when it's time. You can't rush it. You can't control it. You have to just let go and trust. Trust in the seeds that you've planted. Trust in the hard work you've already put in. Just like the summer fruit on the vine, your dreams and intentions will ripen in their exact right, divine moment. The universe has already aligned to deliver you everything you've worked so hard for this year. You have to just be patient.
Questions to ask yourself:
What ideas or intentions have you planted that you trust will grow to juicy ripeness this summer?