It's Officially Spring & You Can Celebrate With These 5 Self-Care Rituals
mbg Contributor
By Barbara Biziou
mbg Contributor
Barbara Biziou is a spiritual life coach and two-time author of The Joy of Ritual and The Joy of Family Rituals. She holds bachelor's degrees in both Art History and Psychology from NYU, and has been featured in The New York Times, Chicago Tribune and Oprah.com.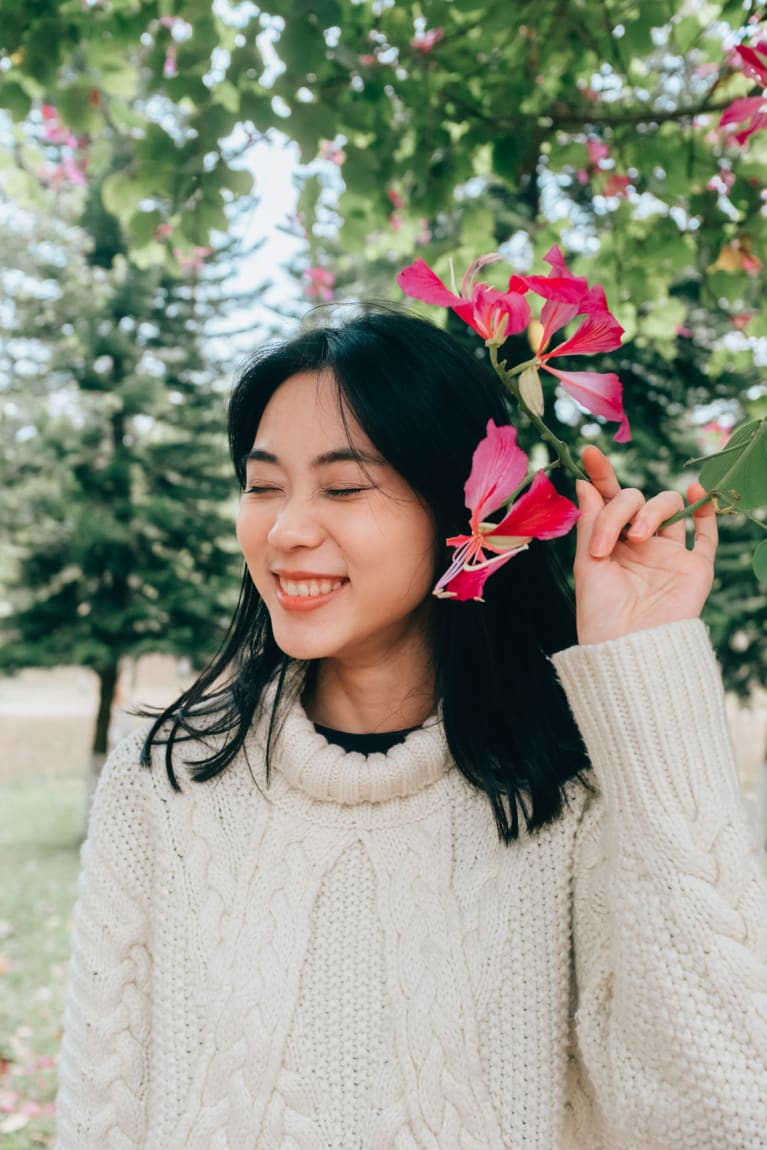 Happy New Year—again! On March 20, 2019, at precisely 5:58 p.m. EST, the Sun will cross directly over the Earth's equator. This moment is known as the vernal equinox (from the Latin vernare, "to bloom") in the northern hemisphere. It also marks the beginning of a new astrological year, as we are entering the first sign of the zodiac, Aries. For centuries, we actually celebrated the New Year at this pivotal moment at the end of March/beginning of April.
However, with the creation of the Julian calendar, the Romans changed the New Year to January 1. In rebellion, many people refused to acknowledge the shift and continued celebrating the New Year through the beginning of April. They were then considered "April Fools."
Doesn't sound very foolish to me! Here are a few ways to celebrate the sense of possibility and renewal that today's equinox brings.
5 rituals to reboot for spring:
Spring is a time for new beginnings—so why not give your home a fresh start too? Wash the floors. Discard any old items you no longer use. Clear out your closets. Give away anything you haven't worn in a year. Throw out the broken and chipped cups and plates. Then, commit to giving something away every time you receive something new for the rest of the year. I've found that this commitment helps us feel lighter and opens up new space for the Universe to fill.
Finish by opening the windows and spraying a mixture of fresh lemons or essential oils and spring water around each room to purify and uplift your space.
Calling all green thumbs! Planting physical greenery is a nice way to symbolically welcome growth into your life this spring.
Sit quietly, holding a container full of seeds. Visualize how each seed between your hands holds potential for your future and imbue each one with a desired outcome. Imagine them growing and blooming. When you are finished, plant them in your home, garden, or local park.
This week, if you can, make a point to go outside to watch the sunrise. Bathe your face in the early morning dew and breathe in the beauty of nature. It is said that if you bathe in the morning spring dew you will have beauty all year long. Hmm, can we bottle this?
4. Be a positive energizer.
Write positive affirmations on small cards and hand them out to strangers and friends. I love writing "You are enough," "Dare to dream," and "The Universe is on your side," for example. Little gestures like these make people smile, and they can have a domino effect. When people are happy, they are more likely to want to make others happy too.
5. Do a prosperity ritual.
This is my all-time favorite ritual for welcoming prosperity. I do it every New Year's, as well as with the coming of new seasons:
Get a bowl and fill it with coins. Step outside your front door and bless each coin with abundance and success. Now, throw them into your home. As silly as it might feel, keep them there for 24 hours. Then give the coins away to affirm the prosperity you have created. I like to put them in a pretty bag and give them to someone who has added to my life in some way.