5 Women On How They Really Feel About Ghosting
mbg Contributor
By Leigh Weingus
mbg Contributor
Leigh Weingus is a New York City based freelance journalist writing about health, wellness, feminism, entertainment, personal finance, and more. She received her bachelor's in English and Communication from the University of California, Davis.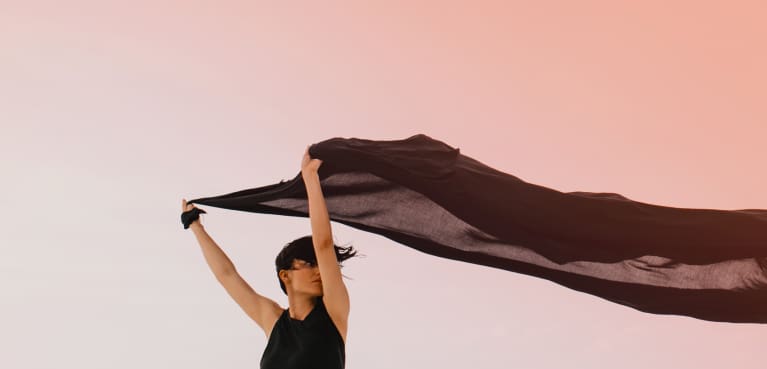 It's Halloween, and while many of us are donning our superhero and spirit animal costumes and stocking up on healthy halloween candy, others are worrying about ghosts—or more specifically, "ghosting." Ghosting—or falling off the face of the earth without any explanation after a few dates, or even a full-blown relationship—is still a popular way to end a romance in the age of digital dating. Some consider it the cruelest method of breaking up while others see it as letting someone down easy.
Wherever you fall on the spectrum, ghosting is still a hot topic of conversation, partially because ghosting is pretty common: One survey found that 26 percent of women and 33 percent of men have been ghosted at some point. In fact, the popular dating app The League recently conducted an in-depth survey to try to figure out exactly when its users should start worrying about ghosting (five days after initially matching, in case anyone's wondering).
But how do women really feel about ghosting in 2017? From doing the ghosting and regretting it to being ghosted and having a hard time moving on, these real-life ghosting stories will give you a better sense.
The way they leave tells you everything.
"I was on the way to meet a guy I had been chatting with and was excited to see again. I was under the impression that we were both on the way to a restaurant, but he never showed up, and I never heard from him again. Of course, I immediately assumed he got a flat tire in a place with no cellphone reception or Wi-Fi (because those still exist, right?), or just found out his grandma was in the hospital, or worse.
Obviously it was none of the above, and he was on social media the next day, fully living and breathing. It's easy to feel like someone ghosting you leaves things unknown or unfinished, but in other ways, it's the most definitive thing in the world—which is actually a nice reprieve in the confusing world of dating and relationships. I thought I'd be more upset, but instead felt a weird sense of freedom knowing I would never hear from him again. And even if I did, my crush was dead and I wouldn't be tempted. A few days later I read a poem by Rupi Kaur that says 'the way they leave tells you everything,' and truer words have never been spoken." —Lydia, 25
"In college, my long-distance boyfriend of almost two years ghosted me (I know, ouch). While we eventually talked and I got some closure, it was a solid week or so of zero communication. To say I was confused would be an understatement—what could I have done to make him want to completely ignore me? Looking back, though, I'm honestly kind of grateful for it. The fact that he was so childish just reminds me that I'm so much better off without him!" —Elena, 24
Sometimes it's necessary.
"I met this guy out at a bar once, and I thought he was really nice. It seemed like he just wanted to be friends, so we started hanging out. Then he started texting me nonstop. First thing in the morning, all day long, and right before I went to sleep. I started responding to one text out of every four or so, and finally I told him he was coming on too strong. He said he understood, but he still didn't stop texting me. So I just flat-out ghosted and eventually blocked him. Do I regret it? Nope." —Lena, 31
It showed me who he really was.
"I was seeing this guy who asked me to go to Vermont with him and a group of his friends for the weekend. We had such a great time, and he expressed multiple times that he was looking to finally settle down and how happy he was that he'd found me. It was seriously the best weekend ever, and when we said goodbye he gave me a hug and told me he would call me later. And guess what? I never heard from him again. After three weeks I sent a text in a weak moment, saying, 'I miss spending time with you.' He wrote me back the next afternoon saying, 'Thanks for the text. I'm sorry for being an asshole. I'm working on that.' It hurt, but it showed me who he really was." —January, 31
Hurting someone's feelings is tough.
"Yes, I've ghosted people. I think the main reason is because, at the time, it felt like a way to avoid hurting their feelings. The fact of having that conversation with a person to tell them you don't like them is extremely hard and will inevitably upset at least one of the people involved. Ghosting a person lets you skip that, because you never have to see them again!" —Maya, 26
Want to learn more about dating trends? Here are the biggest dating trends of 2017.