5 Genius Ideas For Your First Picnic Of The Season
mbg Contributor
By Leah Vanderveldt
mbg Contributor
Leah Vanderveldt is an author living in Brooklyn, New York. She received her bachelor's in communications and media from Fordham University, and is certified in culinary nutrition from the Natural Gourmet Institute. She is the author of two cookbooks: The New Nourishing and The New Porridge.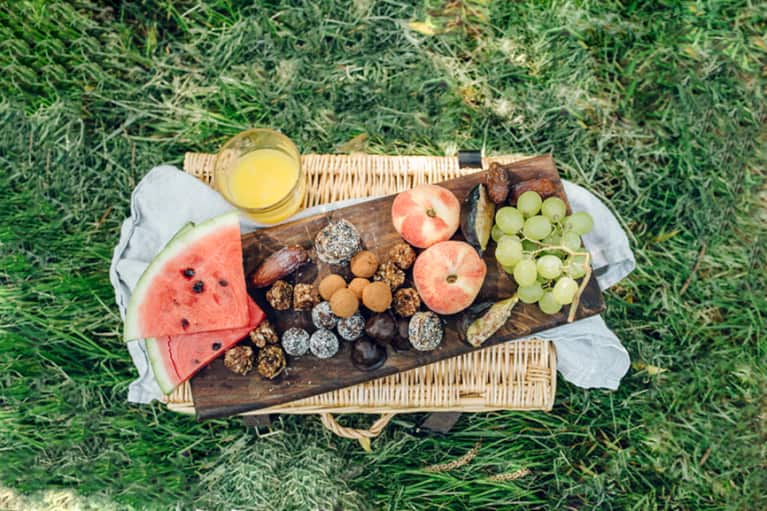 Our editors have independently chosen the products listed on this page. If you purchase something mentioned in this article, we may
earn a small commission
.
The new book A Year of Picnics: Recipes for Dining Well in the Great Outdoors by Ashley English, takes us through the seasons with menus and creative ideas for eating al fresco. All this talk of "farm-to-table" meals and woodsy locales has us itching to grab a blanket and a few friends and head outside. But before we do, here are Ashley's expert pointers for food and bug safety while dining in the great outdoors (natural insect repellent included). Read on for a simple guide to picnicking like a pro.
There are several ways of serving food warm at a picnic. If your house-to-site distance isn't that far, and you wish to serve something like a hot soup or stew, you can simply bring your dish to a simmer right before leaving and then serve it within one hour. Otherwise, you can transport it in a wide-mouth thermos, zip it into an insulated container intended for keeping foods hot, or place it in a cooler lined on the bottom with towels and/or kitchen cloths. If using the last option, cover the hot container with towels after placing it in the cloth-lined cooler because open-air space will quickly dissipate heat. Beverages stored in thermoses will stay warm for hours.
Insulated coolers are ubiquitous sights at picnics, and for good reason. They work expertly at keeping foods and beverages cold. After preparing any foods you intend to serve cold, allow them to cool to room temperature and then store in the refrigerator. Then, when you're ready to head out for your picnic, pack ice into the bottom of the cooler and set the food containers on top.
To make ice last even longer, first place a bag of dry ice on the bottom of the cooler, cover it over with ice, and then place the food on top. Keep the cooler lid closed whenever not in use, and store the cooler in a shady location at your picnicking destination. When you return home, if there is any ice left in your cooler, you can consider your leftover items safe to consume (assuming they were stored in the cooler the whole time); if the ice is all melted (and you didn't use dry ice), the food isn't safe to eat. Reusable ice packs are also especially nice to use, as they avoid the need to purchase new bags of ice each time. You can make homemade ice packs, too, by simply filling empty milk jugs with water and freezing them.
Frozen foods at a picnic? Is that even possible? Indeed, it is! With a bit of dry ice, you can bring along a frozen treat to enjoy on your picnic. Readily available at grocery stores in a separate bin adjacent to the frozen aisle, dry ice will keep frozen goods frozen for up to 24 hours. It can't be touched with bare skin, though, so be sure to wear gloves when handling it, or keep it wrapped in plastic (most dry ice comes in plastic bags anyway—just be sure not to touch any that might have escaped from the bag). Place the dry ice on top of any foods you wish to remain frozen.
By utilizing reusable serving ware and dinnerware, I'm able to keep trash generated at picnics to a minimum. Typically what remains can be recycled or composted. To that end, I often bring along a paper bag to store compostable matter in and a receptacle for holding recyclables (or I just store them back in the picnic basket, to be sorted later at home). Whatever you elect to do, keep in mind you'll need to bring something to transport waste in.
Bringing along a bottle of bug spray is essential. You may have found the perfect setting and have brought along the most delicious meal, only to have all your efforts foiled by stinging winged creatures. Pick up a bottle and have it always at the ready, or better yet, make your own.
You've put so much thought into the location, food, and activities, the last thing you want is to have your planning outdone by stinging, biting insects. This easy-to-make spray will help keep them at bay.
Ingredients
1 cup grain alcohol
Vodka or witch hazel (see note)
10 drops citronella essential oil
7 drops lavender essential oil
7 drops rose geranium essential oil
6 drops rosemary essential oil
Method
Place all the ingredients into a spray bottle (I prefer metal misters around 11 to 12 ounces in size). Shake well. Spray liberally over any exposed skin either before venturing outdoors or as soon as you arrive at your destination. Reapply if you get wet or are sweating heavily.
Note: You'll need enough vodka or witch hazel to fill the bottle after the grain alcohol is added; the amount will vary based on the volume of your bottle.
Excerpted from A Year of Picnics by Ashley English © 2017 by Ashley English. Photographs © 2017 by Jen Altman. Reprinted in arrangement with Roost Books, an imprint of Shambhala Publications Inc., Boulder, Colorado.