4 Workouts So Low-Key Anyone Can Do Them
mbg Contributor
By Krysten Peck
mbg Contributor
Krysten Peck is a freelance writer specializing in arts, wellness, brands, and visual storytelling. She received a bachelor's degree from Dickinson College.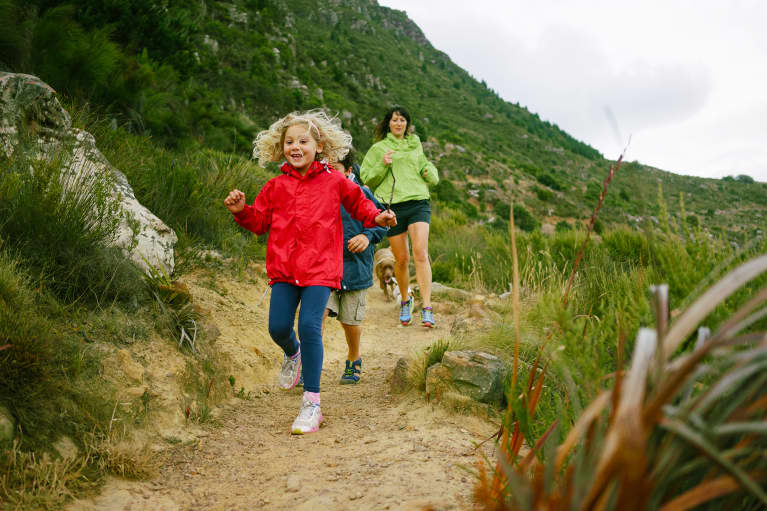 While Fourth of July plans vary, the basics tend to be barbecues, fireworks, beaches, and—of course—family and friends. The vibe may not be fitness-heavy, but it could be a good opportunity to show that workout-resistant friend or family member just how fun it is to move.
According to a recent report by the CDC, almost three-quarters of Americans don't get enough exercise. Sure, different factors contribute to these stats, but sometimes, all it takes is a little company and encouragement to inspire others to kick-start their wellness journey. So, serve up your Fourth of July festivities with a side of one of these group exercises, and tap into both the fun and ease of the season.
Grab a bike to experience nature's mood-boosting effects.
Biking in groups is an ideal way to explore a new environment and break the routine of walking familiar grounds. Outdoor biking can vary on the spectrum of intensity (hello, trail biking), so make sure everyone in your group feels safe and comfortable with the speed and distance. Biking comes with a host of health benefits like stabilized blood sugar levels and overall aerobic endurance. Plus, exposure to nature can mean a boost in mood and immune system—especially when on a bike. BikeShare systems are also popping up all over, making accessibility to biking less of an issue.
Break out into a dance session for cardio and better posture.
Dance skeptics, step aside: Dance can be just as beneficial as it is entertaining. Apart from giving you a general sense of well-being, dancing is a form of cardio, and the side-to-side movement can help shape weight-bearing bones (like your femur and tibia), which are crucial to supporting body weight and overall mobility. Certain movements can also help support your hip joints and lower back to better your posture.
Walk it out in the name of anxiety and longevity.
Do like the Italians and take a passeggiata after mealtime. Translation: Go for a walk. Walking is seriously underrated in the world of exercise, especially considering it's how a lot of people get around. In addition to extending life expectancy and reducing anxiety, walking is also a great entry point for people who don't exercise and want to start with something that's low-intensity. Plus, it's easy to track daily steps using fitness trackers, which can help keep people motivated and connected with friends and family, if they want extra encouragement.
Take a dip poolside for stress control.
Swimming might just be the quintessential low-key summer workout. Just like dancing, it's something many of us do anyway—and of course, it's fun. If you find yourself somewhere near a body of water this Fourth of July, try encouraging the swimmers in your life to do a couple of laps together. Swimming ranks high on the list of cardio-charged workouts that are low-impact enough to protect your joints all while improving stamina and breath control. It's also a major stress buster and concentration booster.
When it comes to post-workout recovery, foam rolling is the answer. Here's how to start.