To Make Any Workplace More Inspiring, Model It After Nature
mbg Contributor
By Amanda Gibby Peters
mbg Contributor
Amanda Gibby Peters is the voice and visionary of Simple Shui™. She's been teaching Feng Shui techniques and tips for over a decade.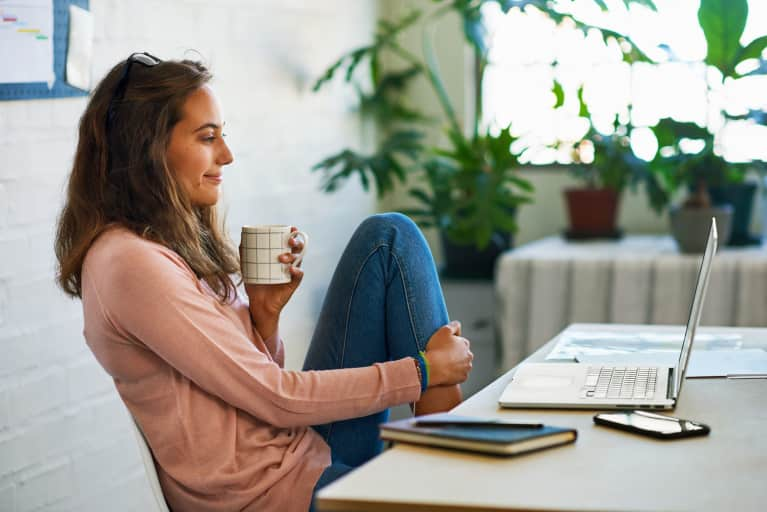 Whether you're away on vacation, at a beachside retreat, or at an off-site work meeting, every new landscape offers an escape from the ordinary. And I'm sure a lot of us can agree that when we step out of our familiar routine, inspiration tends to show up, new ideas download by the minute, and the potential for transformation lingers.
Inevitably, when we re-enter our familiar homes and offices, those blissed-out creative impulses tend to wane—but it doesn't have to be that way.
Living and working spaces have energetic patterns of their own. So if nothing changes in our immediate surroundings to match our newfangled optimism, history will repeat itself. Physical space reinforces our familiar habits and routines, despite our resolve for improvement and growth. When we are looking for any life change, it must be supported by our surroundings. Here are a few simple feng-shui-approved ways to make sure your office is a constant source of inspiration:
1. Play with your surroundings.
To stage success, our environment must look and feel connected to its reality. So make your intention the center of attention in your space. One well-placed item that triggers your enthusiasm is an exclamation point in law of attraction language. Also try moving things around regularly. Open space equals free thinking, so clear some room in a drawer, on the bookshelf, or on the desk. Bottom line: Metaphorical reminders keep us conversing with our goals, which accelerates their fruition, so turn your surroundings into an open book that is constantly changing.
2. Make the sky your limit.
The wide open space of the outdoors promotes similarly out-of-the-box thinking. (Perhaps this is why so many great writers enjoyed daily walks?) However, it's probably not realistic to take every brainstorming session onto the trail. Instead, look for a room with a high ceiling. In feng shui, lower ceilings cater to intimate conversations and social gatherings; tall ceilings encourage original, dare-to-be-different ideas. And if you don't have access to a high-ceiling area, follow nature's design cue and paint the ceiling a lighter color than its walls, separating heaven (ceiling) and earth (room).
Our interior world often consists of hard edges and straight lines, especially when we're in the office. Mama nature, on the other hand, has all the right curves. She's supple with flowy lines, textured surfaces, and asymmetrical angles. To soften our man-made interpretations of the environment, incorporate plants (they reduce concentration-induced fatigue!), swirling prints, natural elements, and colors to bring balance into your furnishings and surroundings. When a space feels alive, our well-being thrives—an essential ingredient for self-transformation and/or organizational expansion.
Fine art critic John Ruskin once said, "Genius is only a superior way of seeing," so find ways to "see" what it is you want to become. Natural wonders and trip talismans keep us connected to our past journeys and the inspiration they inspired. If your wall gallery has grown lackluster, consider a change. Prioritize possibility with personal touches and storytelling; play up those signature pieces that gush all about you!
Learn more tried-and-true feng shui touches for the office here.