4 Things That Happened When I Stopped Buying Fast Fashion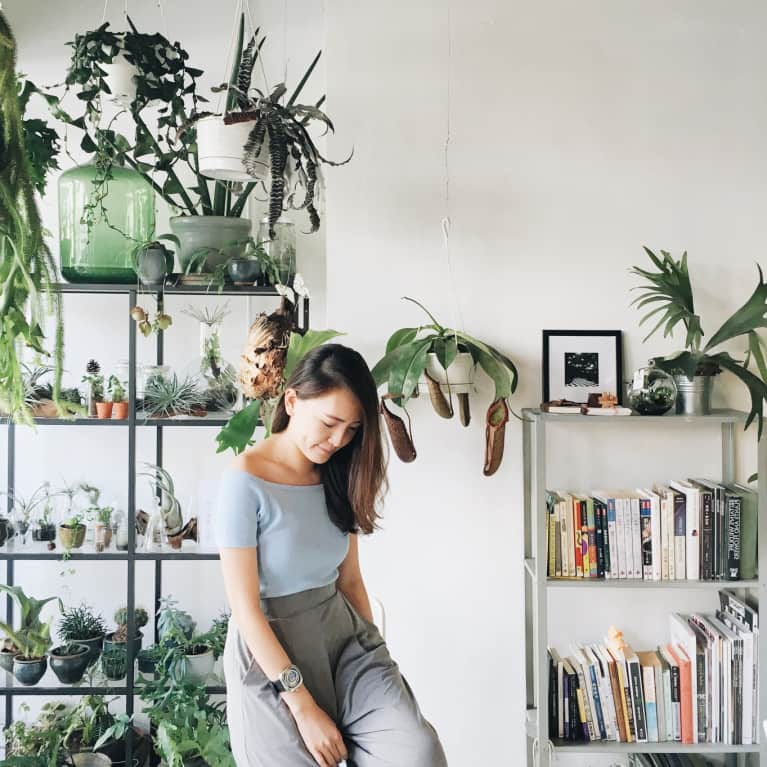 Around six months ago, I decided to stop buying cheap clothes.
At the time, I was adding a new piece to my wardrobe nearly once a week, never spending more than $15 at a time (and honestly, $15 was reserved for something I felt I truly couldn't live without). I hit Rue 21 or Wal-Mart frequently, buying several pieces that added up to around $10. Like most consumers, I was unaware of the real impact of cheap clothing. They're essentially designed to be thrown away after a few wears, which isn't sustainable in the long run when you consider the water and chemicals that go into them. Plus, when a garment is inexpensive, it can be a sign that the person who made it was not paid a living wage for their work.
As someone who's always been a bit frugal and was raised by several generations of the most frugal of people, it was hard for me to make the decision to actively spend more money. But I decided it was the right thing to do for our planet, and honestly, it's been one of the best decisions I've ever made. Here are a few unexpected perks of quitting fast fashion:
1. I've actually saved tons of money.
For starters, I'm buying a lot less. A $5 shirt doesn't really save you money when you buy 20 of them over the course of two months—plus three $2 tanks, four pairs of $10 pants, you get the picture. Plus, these cheap clothes would develop holes and tears after only a few months. They would stretch after the first wash and begin to fade shortly thereafter, even though I did my best to take the utmost care of them. I ended up replacing them just as often as I was buying them.
Since I only allow myself to buy nice, well-made clothing, I don't splurge or binge shop. I take my time to pick out something that I love and that I know will last. I've easily saved a few hundred at least.
2. I always have something to wear.
I used to be at a constant loss for what to wear even though I was gazing into a packed closet. (And I mean packed—I didn't need hangers to keep shirts in place...) I would change outfits multiple times before walking out of the house only semi-satisfied with how I looked.
Now, I have the opposite problem. I probably have less than half the options that I did before donating four to five garbage bags full of old clothes, but the only issue I have as I get dressed is that I want to wear everything. True story: I get super excited every time I shower thinking about opening my closet afterward.
3. My confidence has sky-rocketed.
I'm a firm believer in the fact that everything carries energy—and cheap, tattered clothes carry an extremely low vibration. Since I gave up these pieces, I've realized that they were subconsciously making me feel cheap and tattered myself. Nice, well-made clothes (or ones that have a purpose or cause tied to them) carry a higher vibration, which is exactly the kind of energy you want to surround yourself with.
High-vibe clothing has boosted my confidence and happiness, helping me manifest more abundance in my life. I'm not saying wearing nice clothes is going to help you manifest that Porsche, but it's a step in the right direction.
4. I support more causes.
I used to look longingly at the $50-plus T-shirt with the simple little panda on the corner or the elephant on the back. You know, the ones that are a bit overpriced because the whole point of the shirt is that you're supporting the cause that goes with them? Well, they're not only good for the animals they represent, but they're also great for your closet!
Wearing clothes from do-good brands like Ivory Ella or WWF makes me feel happy and vibrant because I know I'm supporting a good cause. (And the more we show the Universe we're in it for the greater good of all, the more it will reward us with opportunities for growth.)
I wish I had made this decision ages ago, and I'll never get excited over a $2 shirt again. Remember, you get what you pay for.