An Interior Designer On The 4 Zones Your Home Is Probably Missing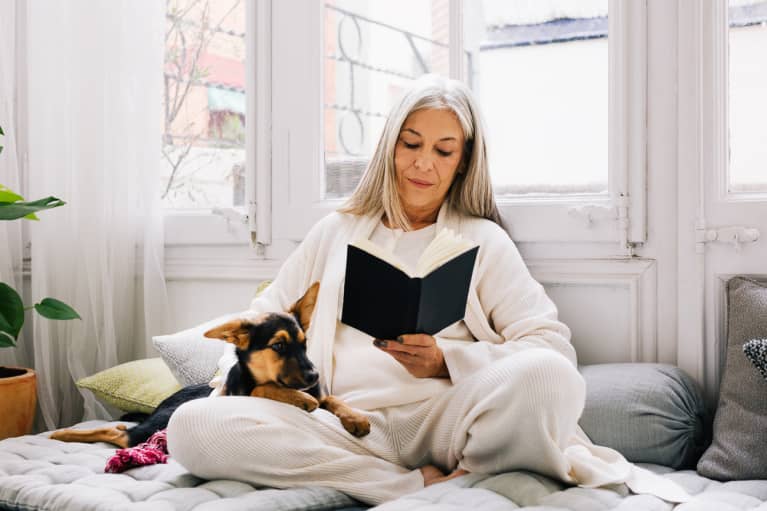 No matter what kind of square footage you're working with, your home can be more than just a place to eat, sleep, take baths, and watch Netflix. If it's set up correctly, your space can boost your productivity, your profitability, your habits, and how you feel on a day-to-day basis.
Over the years, I've expanded my interior design work to go beyond just the pretty parts and tap into exactly how our homes can help us live better. It's all about bringing the intersection of home and health together in a few key areas. Here are four such spaces to consider adding to your home sweet home:
Creating a space to detox, decompress, rest, meditate, and exercise can support you as you unwind from long days. Think of it as a Zen den or maybe a yoga corner you set up in your bedroom. The key is to make sure there is no clutter in this area! It should be a minimalist space accented with soothing touches like scented candles or essential oil diffusers (think lavender!).
In my home, I created a yoga room where I can go anytime to press reset and de-stress. I do yoga in there once per week, and it's become the space in my home where I can leave stress at the door and just find some deep relaxation.
Think about creating a space in your home that is distraction-free and that nurtures you to create your best ideas. It doesn't have to be an entire room; it could be a nook or an elegant chair you sit in. All that matters is that when you sit there, it's for the purpose of creative brainstorming.
I designed my morning routines around my favorite chair in my living room. In the winter, I turn on the fireplace, make my favorite bulletproof coffee in my favorite mug, and have my journal out. I feel so happy to start my quiet "me time" there every day. And often, this is when ideas start flowing and I take lots of notes that I can refer to later when I'm working.
What's GSD? It stands for Get Sh*t Done. This is where you work, whether it's a study, an office, or just a nook. Setting up an awesome GSD zone will entice you to sit down and get moving toward your goals.
You want to create a workspace that is attractive, so it draws you in and helps you create the habit of regularly showing up ready to work. Whether it's making your office attractive by adjusting the layout and décor or making your desk pop with fresh flowers, great office supplies, or a comfy chair, anything that you can do to make your workspace more enticing is going to do wonders for your productivity.
Ahhh...this is a space where you take care of you. When it comes down to it, all the actions we take in the name of self-care are really more about self-love. For me, this means making the next right decision moment to moment, not just getting a massage or taking a bath.
I've designed my home with self-love in mind, so each self-care area nurtures a different way I show up for myself, each and every day.
To take care of my body, for example, I go to my bathroom, which I designed to support my skin care routine. I keep a bathrobe and slippers nearby so I can feel comfortable and relaxed while I'm in this space. Sometimes I take a bath; other times I enjoy the feeling of washing my face and applying products.
I also go to my favorite comfy chair as the space where I journal and slow down. This is where I do most of my mindset work and put self-love into practice. For instance, so many of us learned that we had to struggle in order to be successful. But self-love is the exact opposite. It's asking myself: How can I accomplish this AND love myself more?
Spaces that feel luxurious and nurturing make us want to spend time taking care of ourselves—and that's a beautiful thing! We can absolutely set ourselves up for success by reducing stress and increasing wellness and productivity in our homes. But it doesn't happen by accident. You have to make this happen by design. So dig into assessing your space and see where you can create these four life-giving spaces.