4 Ridiculously Fun Outdoor Workouts To Do With Your Family
Registered Yoga Teacher and Personal Trainer
By Kristin McGee
Registered Yoga Teacher and Personal Trainer
Kristin McGee is a celebrity yoga + pilates instructor and ACE certified personal trainer. She has been featured in over 100 yoga and pilates videos and graduated from NYU's Tisch School of the Arts.
Being a mother of three boys under the age of 4, I most definitely need to keep them moving. If we all stayed cooped up in our apartment, there's no question that we'd go insane. Even when it's cold outside, we get bundled up and always find a way to get some exercise and fresh air.
I grew up in Pocatello, Idaho, where temperatures can easily dip below zero often. It's not advisable to go out when the weather is way too frigid, but if you have the right warm-weather gear, you can take advantage of wintertime fun and activity, even if it's 30 degrees out. As long as you're dressed properly, hydrated, and nourished, you can get great exercise outside during the winter months.
Here are some of my favorite outdoor workouts to do as a family:
Skiing is such an awesome sport, and it's killer exercise. I started my older son on skis when he was 2 years old. He didn't do much more than an hour, but we went up and down the magic carpet, and I held him between my legs as we skied down the mountain. He loved it, and what a crazy workout for me! I had to carry him clad in skis up and down so many times, and snowplowing gets the inner thighs big time.
Skiing can be pricey, but many areas have bunny slopes that are free for little kids. Look for discounts on the gear, or ask for hand-me-downs from friends and family. You can always rent skis and boots as well. If you're new to skiing, find a way to take a family lesson or do an adult lesson with your partner and enroll the kids in a children's class. They love getting hot cocoa with kids their age in between runs, and when you all meet up for lunch or at the end of the day, you'll have great stories to share. There's nothing better than taking off your boots after a long, hard day of skiing.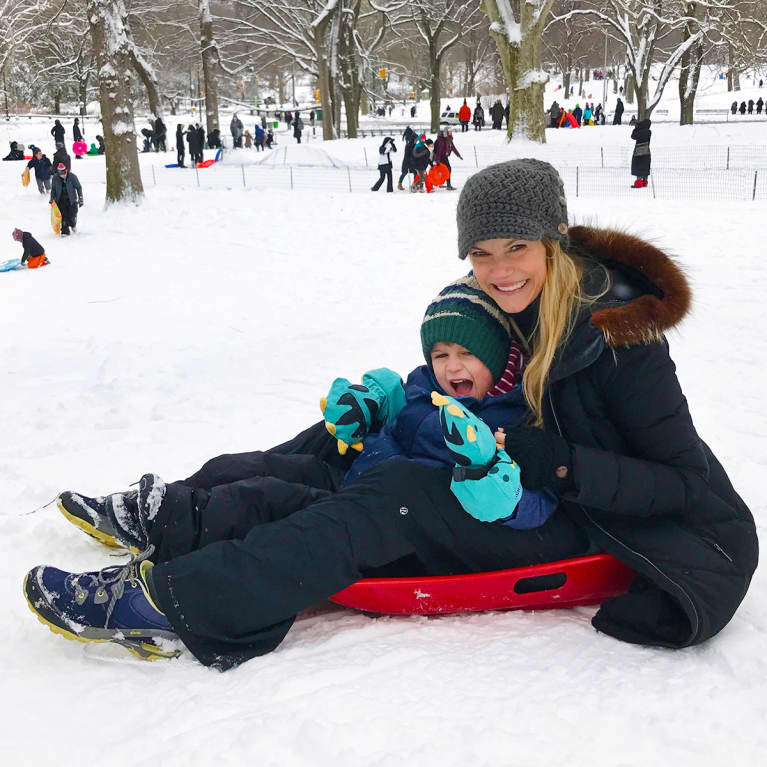 Trust me on this: Sledding is one of the toughest workouts I know of—seriously. Running up and down a big hill in the snow is a major quad burner. You're having so much fun, though, that you barely realize how much exercise you're getting. During the very first big snowfall, we head out to Central Park and sled. When I'm back home in Idaho, there is a huge sled hill that we all go to as well. My older son loves it, and I think the twins are at the age at which they will have fun on a smaller hill. Kids have a great way of making the most out of a cold day. If you have them in gloves, hats, and scarfs, they won't mind the snow or chill. Sledding is pretty much free of charge and a wonderful way to work out without feeling like you are.
You may laugh, but doing yoga in the snow can be quite fun. The snow makes for a soft landing if you're practicing inversions, and striking a tree pose with the kids or practicing warrior is great because you can balance a bit easier when your boots are secure in the snow. Dogs naturally do stretches and rub their noses in the powdery fluff, and I like to do the same and breathe in the fresh air. It's also reminiscent of making snow angels; you can do snow yogis and create shapes lying down as well. Have a contest with your kiddos and see who can make the coolest shapes or hold a pose the longest. Dancer is one of my favorite snowga moves. I feel like I'm celebrating being alive and taking advantage of the invigorating time of year.
Ice skating takes some yoga balance and core work to stay steady on two narrow blades. Most ice skating rinks aren't too expensive, and skating is a great way to teach your kids how to use their abdominals and find their center. I also think skiing and ice skating teach us patience and courage. When we take risks and fall, we realize it's not so bad after all. If you don't get enough speed in either sport, you'll never get better. I have to remind myself as an adult even to test my limits and keep going for it. I exercise caution to an extent but also challenge myself when I can. My husband always pushes me a bit since he was on the ski hill and ice rink growing up in upstate New York, and he makes it fun for the boys.
I truly love the winter, and I have always felt energized and excited by the snow and brisk temperatures. Our bodies burn more calories when trying to stay warm, and participating in winter sports is a great way to beat off the winter blues. My boys are a great example for me: They will stay out even longer than I will on cold days. I love to go skiing, sledding, or ice skating as a family and laugh and run and play. I also love doing yoga outdoors when we're having a snowball fight or building a snowman. I can't think of any better way to spend a day with my family.
Are you in a fitness rut? Consider running outside.