4 Flirting Tips Proven To Actually WORK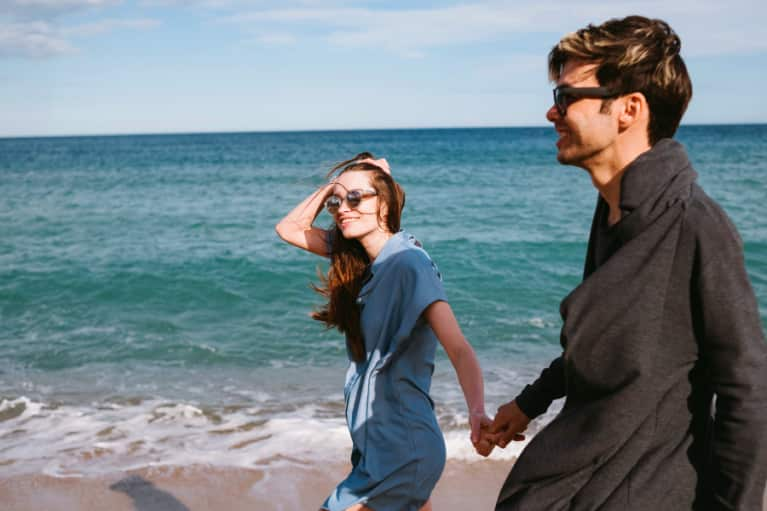 Our editors have independently chosen the products listed on this page. If you purchase something mentioned in this article, we may
earn a small commission
.
It's springtime and here you are, still single and not loving it. Even if you don't want to get married anytime soon, a summer romance might be nice, right? The good news is that in today's world it's not that hard to find someone thanks to all the dating and hookup apps out there, plus meeting people the old-fashioned way through friends, work, clubs, etc.
Sometimes the difficult part isn't finding someone, it's breaking the ice. This is where flirting comes in, and no matter how shy or out of practice you are, you can learn to do this effectively. Below are a few easily implemented tips:
Your face is the most expressive part of your body. Use it. If you see someone you like, regardless of whether you've met previously, make eye contact, allowing your glance to linger for a moment or two—long enough to establish interest but not so long that you look like a stalker. Another trick is to make eye contact, quickly look away, and then look back, holding the other person's gaze for a moment and giving a small smile, nod, or eyebrow raise.
2. Start with a sincere compliment.
Making small talk can feel uncomfortable, especially with someone you just met. But it's not that difficult. Start by saying hello and introducing yourself. If you need a lead-in to that, try complimenting the other person. It doesn't matter what the compliment is, as long as it's sincere and in good taste. This tactic accomplishes three things:
It puts the other person at ease.
It tells the other person you've taken time to notice and appreciate something about him/her.
It is a clear signal of your interest in starting a conversation.
After that, you can talk about where the two of you are and what you are both doing there. Or you can ask a few questions—basic get-to-know-you stuff like who they are, where they're from, and what they like to do for fun. If it turns out you have a mutual interest or two, the conversation will start to flow more easily.
3. Be aware of your body language.
After you've started talking, body language is as important as facial language and actual conversation. One trick is to make brief nonsexual physical contact, such as touching the other person's hand or arm. If you're clever, you can do this as a way to emphasize a conversation point. A touch that lingers is an obvious indication of physical attraction. Just don't get grabby or clingy.
Another great tip is to subtly mimic what the other person is doing. If he/she leans in or tilts his/her head, you should too. This is a refined yet unmistakable signal that you are interested in making a connection.
4. Don't take yourself too seriously.
Flirting is not a marriage proposal, it's simply an expression of interest and a fun way to say hello. If your efforts are reciprocated, that's great. If not, so be it. It's not the end of the world. Just find someone else and try again. I also suggest that if you don't feel an immediate spark, stick it out for a few minutes or maybe even a coffee date or two, recognizing that some people are not at their best when they first meet (nerves, lack of practice, etc.). This doesn't mean the other person is a dud; it just means he/she might take a while to find the groove.
The best-case scenario is that you'll spend time with someone that you (eventually) will think is really great who thinks that you are really great, too. The worst-case scenario is that you don't, and you keep looking.
Want more insights on how to level up your life? Check out your weekly horoscope, then try these three steps to getting out of your own way and finally getting what you want.