3 Rituals To Help You Detach From Technology
Contributing Wellness & Beauty Editor
By Lindsay Kellner
Contributing Wellness & Beauty Editor
Lindsay is a freelance writer and certified yoga instructor based in Brooklyn, NY. She holds a journalism and psychology degree from New York University. Kellner is the co-author of "The Spirit Almanac: A Modern Guide to Ancient Self Care," with mbg Sustainability Editor Emma Loewe.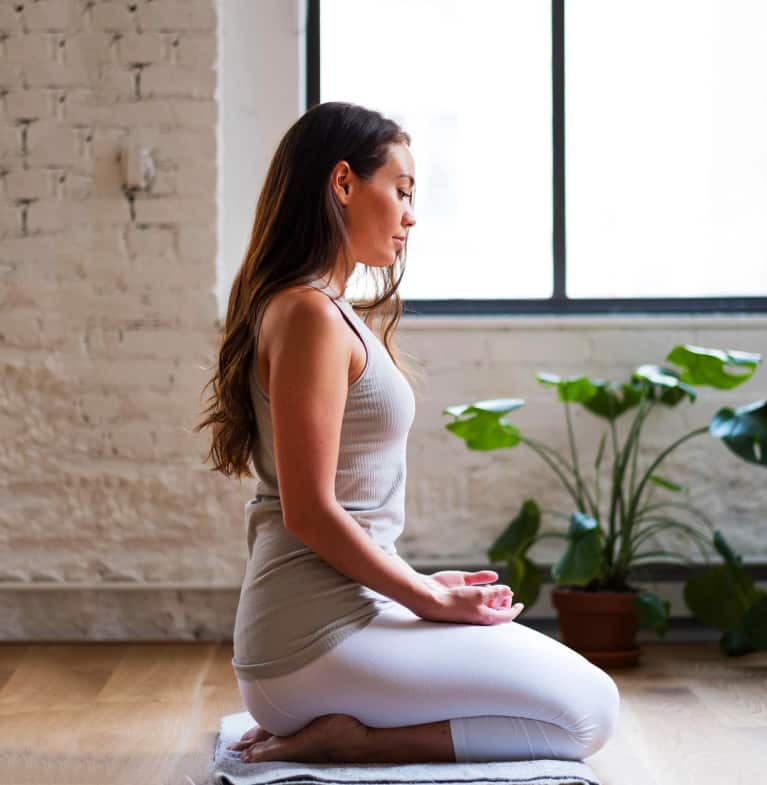 Rituals are foundational to the human experience. They're little spacers in the density of life, acting as potent reminders to be present. Not to be confused with routine, rituals are infused with meaning. You probably brush your teeth every day on autopilot, for example. That's a routine. But if you brushed your teeth and added an element that enhanced your sense of well-being, like a gratitude practice, the mundane is instantly elevated and brushing your teeth becomes a transformative experience.
It's the repetition of practice is that shapes us over time, and these days it's important to take some of these offline. If you're spending more time on Instagram than you are on the mat (no judgement, us too), perhaps its time to reassess. New York City-based yoga teacher Jenn Tardif a bonafide expert on ritual, aims to solve for just that with her wellness brand 3rd Ritual, launching today. Rather than digitizing the wellness experience, 3rd Ritual's mission is to help people honor their own personal rituals by making the experience of accessing inner well-being more enjoyable, attainable, and perhaps most importantly, totally analog.
Jenn Tardif's unconventional path from marketing to magic making.
After transitioning from a career in marketing, Tardif made her way in New York City as a yoga teacher. "A big part of my practice is about how to deal with the unexpected and develop resiliency" she said. "What I learned is that it's not about the hand you're dealt but how you play your cards."
She studied aromatherapy, led global retreats and teacher trainings, and found a niche hosting workshops that include some combination of yoga, meditation, breathwork, and, of course, sensory rituals. After testing the waters with these gatherings, she received overwhelmingly positive feedback from friends, students, and mentors. "We've poured so much time and energy into this offering, and it's truly the best of the best from everything I've studied, practiced and learned to date."
It doesn't suit my practice to come out of a sit with a notification—a thread that unravels into emails and Instagram, and who knows where else.
Instead of creating another mindfulness app, Tardif opted to take the road less traveled.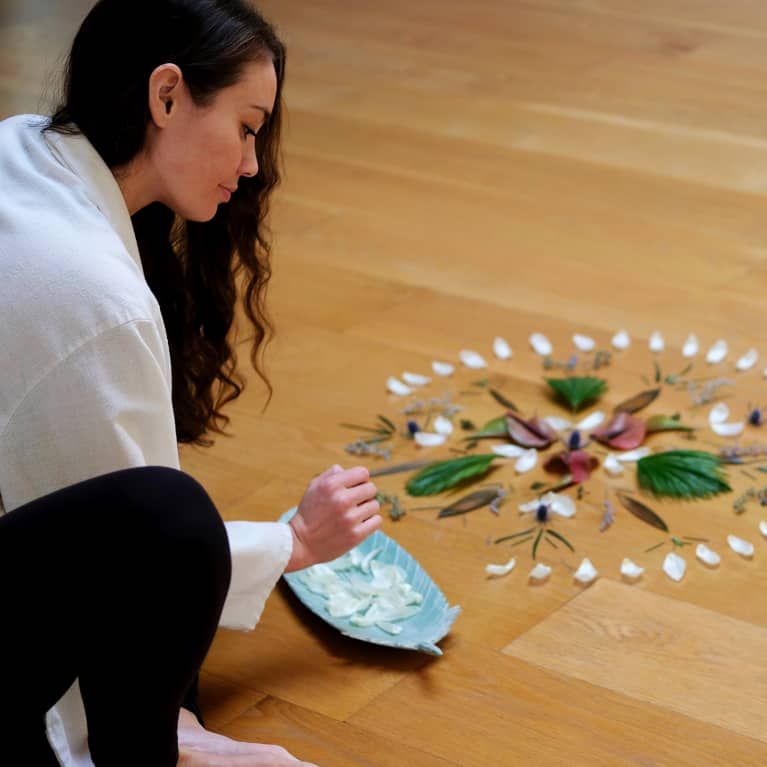 3rd Ritual makes wellness analog again.
"I wanted to move away from a mobile app. It doesn't suit my practice to come out of a sit with a notification—a thread that unravels into emails and Instagram, and who knows where else," Tardif said. Technology addiction is real, and it's a growing issue many people are facing.
When we put our apps aside, meditation like singing bowls, incense holders, or small finger bells come to mind. The BEL candle is the first analog meditation tool that actually helps you stay present, keeps the time, and does not talk back to you, or buzz, or beep. The BEL is beautiful unto itself, but when the candle is lit, the wax melts and eventually a pin will fall into its bowl, releasing a soft bell sound to signify the passing of time or the end of your sit.
In a world that's increasingly uncertain and chaotic, rituals can help us feel grounded in ourselves and, when done communally, connected with one another. If you want to experience the benefits, Tardif recommends trying these three rituals for any length of time, all of which you can do at home:
1. Take an aromatic bath.
"A bath is enhanced by Epsom salts, almond oil, a few drops of vitamin E (use your skin care or open up a vitamin E capsule), and a blend of your favorite essential oils. There's no wrong combination here; do whatever smells right to you or choose oils with a desired effect," Tardif said. Patchouli and frankincense are grounding if you're cold, eucalyptus is clarifying if you're congested, and bergamot and citrus are both bright and uplifting. "A nightly bath is like savasana at the end of a practice," she said.
If you have a moment alone—because it's for you, and it's not a performance—try dancing to your favorite song. Dancing is an excellent way to get your heart rate up. "It's nice to move your body in the morning, or whenever you have a moment of solitude and give yourself permission to move freely without inhibition. Put on a favorite song, let loose and if that doesn't come easily try closing your eyes." Tardif recommends tapping your body to unlock stagnant energy and help the vibration move through your limbs.
Journaling can be intimidating for anyone, writers and nonwriters alike. But the act of putting words to paper in a stream-of-consciousness way is sacred. It helps you see and realize the thoughts that are floating around in your head. Tardif enjoys gratitude journaling herself and recommends it. At the end of the day we're often left thinking about what didn't get done, so this exercise is about spending a few simple minutes documenting what did. Make a list of everything you're grateful for and remember there's nothing too small to celebrate.
Want more from Tardif? Check out her yoga flow to release tension, and the ultimate ritual for finding balance.