How This Psychotherapist Healed From An Eating Disorder & Trauma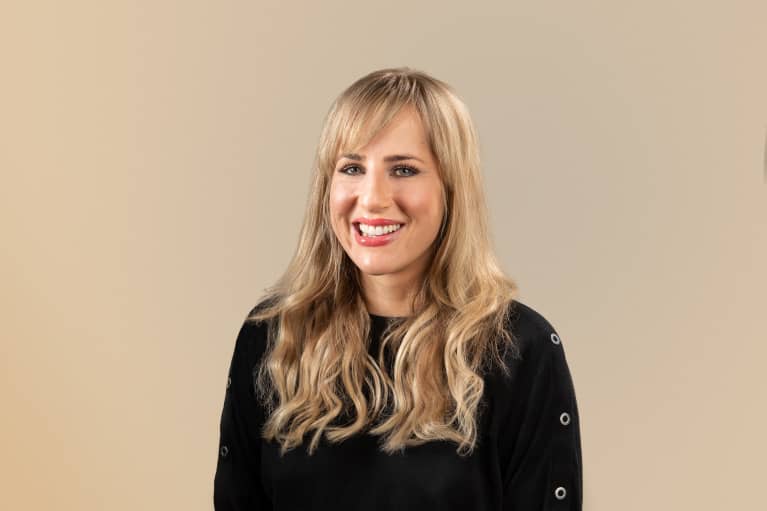 Our editors have independently chosen the products listed on this page. If you purchase something mentioned in this article, we may
earn a small commission
.
When it comes to inspiring professionals in the mental health field, psychotherapist and writer Megan Bruneau, M.A., has quite the impressive résumé: She has seven years of education in psychology, her own private practice, and was dubbed by Deepak Chopra as "the millennials' therapist."
But what you might not know about Bruneau is that she struggled with anxiety and eating disorders for a very long period of her life. "I was at rock bottom as I was completing my master's degree," she reveals to me on this episode of the mindbodygreen podcast. Along with the right doctors and therapies, there's one specific thing that Bruneau credits for her recovery: yoga.
Here are three ways Bruneau used mindfulness to help overcome her eating disorder and heal from the trauma associated with it. According to Bruneau, yoga was exactly what she needed to start her journey toward recovery:
1.
Yoga helped her overcome perfectionism.
"Perfectionism comes from a place of always wanting to be good enough," Bruneau explains. "But we also want to be perfect in our emotional experience, so we're not nice to ourselves. We're really self-critical."
What she means is her perfectionist mindset was making her incredibly hard on herself, to the point where she was terrified to try a new hobby or take healthy risks for fear of rejection or failure. Her perfectionism was at the root of her eating disorder as well, as she equated being thin with being "good enough."
Then yoga came into the picture: Bruneau started doing yoga after her doctor told her that yoga was the only workout she could do—she would experience serious injuries if she kept overexercising. At first, she was incredibly critical of how her poses looked during class. "I would fall out of a pose, and I would beat myself up," she remembers. But through this mindful practice, she was able to recognize these perfectionist tendencies and eventually stop comparing herself to everyone else in the yoga room.
"I started to be a bit kinder to myself. And I realized just how hard I'd been on myself," Bruneau states. "Through this process of healing and discovering Buddhism and spirituality, I started to actually step out of my comfort zone and do things that scared me, the things that I'd avoided for so long."
2.
Yoga helped her be in touch with her body (physically and mentally).
Bruneau explains that when people go through trauma, as she experienced with her eating disorder, they tend to dissociate with their bodies. Through mindfulness, Bruneau was able to get in touch with her own body, both physically and mentally.
She tells me that it was being "comfortable with her discomfort" that allowed her to connect to her own body again. Whether it was the physical discomfort from holding a difficult yoga pose or the emotional discomfort of experiencing grief or heartbreak, Bruneau was able to use yoga and mindfulness as a way to tune in to her own body rather than separating herself from it.
"I started to actually become in touch with the body that I had cut myself off from for so many years," she explains.
3.
Yoga helped her recognize secondary emotions.
Similar to being comfortable with her discomfort, Bruneau mentions that recognizing her secondary emotions was crucial for her recovery process. She defines primary emotions as those original feelings we experience in the moment, while secondary emotions are what we feel in response to those feelings (also known as the "Second Arrow" in Buddhism).
For example, if you were feeling depressed or anxious and then judged yourself for feeling that way, that shame from judgment would be your secondary emotion.
In Bruneau's experience, whenever she would feel discomfort—be it anxiety, grief, or depression—she would berate herself for feeling that way, creating secondary emotions of guilt and shame. But through mindfulness, she was able to recognize those secondary emotions and realize that her primary emotions are OK—in fact, every emotion exists for an evolutionary reason.
"I realized that when I was experiencing mindfulness, I was no longer creating secondary emotions by judging myself for having my primary ones."
Sometimes, being mindful of your own emotions can help you dispel the negative energy associated with them. It certainly helped Bruneau overcome her feelings of shame and spark her personal journey toward well-being.