A Toxicologist Explains Exactly How To Make Your Home Cleaner
mbg Editor-At-Large
By Olessa Pindak
mbg Editor-At-Large
Olessa Pindak is the editor-at-large at mindbodygreen. Formerly the executive editor at Prevention, she's worked at Condé Nast, Rodale, Martha Stewart Living Omnimedia, and more.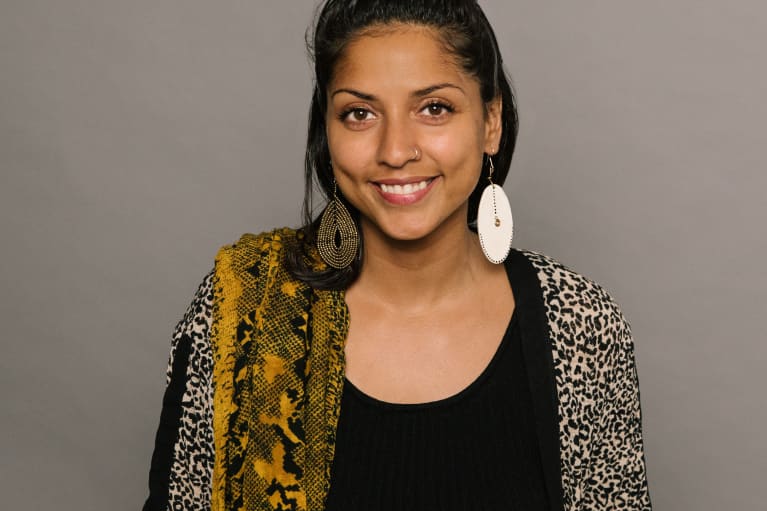 Our editors have independently chosen the products listed on this page. If you purchase something mentioned in this article, we may
earn a small commission
.
Love this? Want more? Stay up to date with the podcast by signing up for
our newsletter
. —The Editors
VOC's in our indoor air, flame retardants in our furniture—these are just two of the things that can make our living spaces less than healthy. I sat down with Rhea Mehta, Ph.D., molecular toxicologist, and the CEO and co-founder of Bowhead Health on the mbg podcast to talk about how to clean up our physical spaces for better health.
As a scientist with a Ph.D. in molecular toxicology and nutritional biochemistry, she's been trained to test different variables and monitor the reaction. For example, she encourages her clients to try out different products, let's say, nontoxic cleaning products, and then has them note any changes to their overall well-being. If you're thinking, "I've made the switch to cleaner products and didn't notice anything," that may be because the toxins have not accumulated enough over time to be causing issues, but they could be on the way. If you are struggling to find the root cause of a health issue such as adrenal fatigue, you may want to check if your home has mold in it, as these may be correlated, said Rhea.
It can be overwhelming to think about the sheer number of pollutants, dirt, and toxins that could be hiding all over, so instead of going through every single thing, Rhea makes it easy and shares her top three tips for lowering the chemical load in our spaces:
This may sound simple, but if you live in a cold area or go for air conditioning or heat, there's a chance you're not getting enough fresh air. Rhea mentioned that we're often breathing recycled air, so just having the windows open helps cycle the air and is an affordable thing we can all do.
2.
Clean up your products.
This could mean purchasing cleaning, laundry, and makeup products that are all-natural, or you may consider making your own cleaning products with naturally antibacterial ingredients. As with any overhaul in your home, it will take some time to go through your products, so start with one category and slowly work through them. Or each time you run out of something, think about if there's a greener replacement to try.
3.
Buy an air filter or air-filtering plants.
The air in our homes may be filled with volatile particles from burning candles with fragrance, perfumes, or the pollutants that come in from the outdoors. Rhea recommends either purchasing an air filter, air-filtering plants, or an essential oil diffuser to trap particles in the air. If you do go for an essential oil diffuser, opt for oils that are energizing and naturally antibacterial.
We can't always pinpoint what may be contributing to our health issues, especially when it comes to tiny particles in the air, but these steps are a great place to start if you're looking to clean up your home. For those of us with complicated health conditions or for those hoping to find out exactly what's going on with our toxin levels at home, there are companies that can test the air and water quality, so you can get a complete analysis. At mbg, we believe our home is an extension of our self-care and can't think of a better time to get started on giving it a little TLC.