3 Ways To Help Save Wild Animals—No Matter Where You Live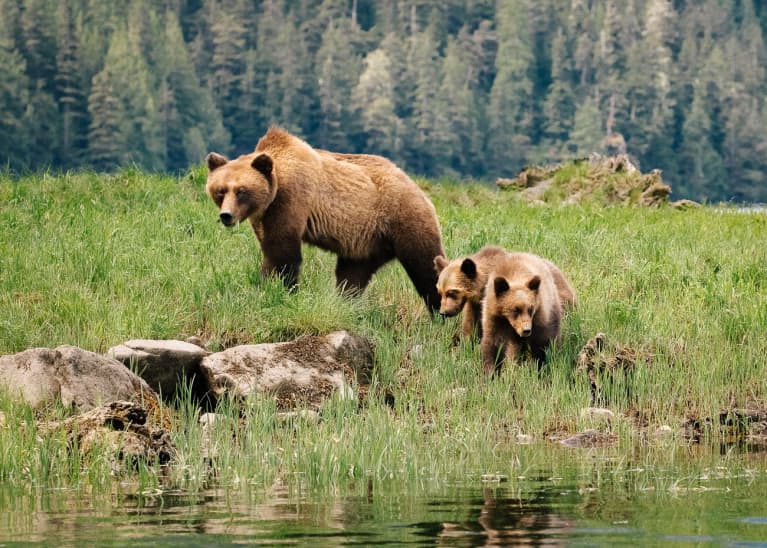 Our editors have independently chosen the products listed on this page. If you purchase something mentioned in this article, we may
earn a small commission
.
Grizzly bears once ranged all throughout the western United States and Canada and south into Mexico. In fact, the Interagency Grizzly Bear Committee estimates that there were about 50,000 bears when Lewis & Clark explored the West. By the time the 1970s rolled around, though, only 600 to 800 grizzlies lived in the Lower 48, and they were confined to areas around Yellowstone and Glacier National Parks.
Threats of extinction are far from limited to grizzly bears; wildlife populations are plummeting across the world. In October 2019, the Audubon Society reported that North America has lost one in four bird species in the last 50 years. According to the Earth Day Network, populations of elephants, frogs, primates, and marine mammals are also in rapid decline. In her book The Sixth Extinction, author Elizabeth Colbert writes that more than 99% of all species that have ever lived on Earth are now extinct. "[I]n the light of this," she notes, "it is sometimes joked about that all of life today amounts to little more than a rounding error."
We are undergoing the sixth extinction, but grizzly bear recovery is a sign of hope.
Grizzly bears are an incredible success story in the age of mass extinction. Thanks to legal protection as an endangered species and extensive recovery efforts by federal and state agencies and their partners, their population has doubled in the last 50 years.
It's worth noting that grizzly bear recovery remains controversial as bears continue to interface with humans. (Recently, grizzlies have had run-ins with trains, killed cattle, and broken into garages.) Interest in grizzly hunting in Montana and Wyoming has also stirred debate about whether federal protection should continue. The Fish and Wildlife Service recommended delisting the grizzly, but that decision has been tied up in litigation. Despite the challenges ahead, the Grizzly protections thus far demonstrate that policy and science matter, and there is hope when we take action together.
While wildlife conservation may feel like a faraway field, especially if you live in a dense city, there is plenty you can do to help species like the grizzly bear thrive into the future. Here are a few ideas to start with:
1. Support organizations doing good work.
2. Spend more time surrounded by wildlife.
Ultimately, caring for and protecting wildlife could make us better, kinder humans. Emerging research—much of which is outlined in author Richard Louv's new book, Our Wild Calling: How Connecting With Animals Can Transform Our Lives and Save Theirs—show that spending time in nature and connecting with wildlife reduces stress, promotes compassion, and inhibits loneliness.
And as it turns out, you don't necessarily need to be in an animal's presence to feel compassion for it. Consider this National Geographic video of Yellowstone grizzlies taking a bath: It's hard not to chuckle while watching these majestic animals play. If people can connect to bears like this, they might become more likely to care about preserving the ecosystem in which bears depend.
3. Get involved in your community. 
To get more involved in conservation no matter where you live, consider joining a local chapter of a conservation organization like the Sierra Club or the Audubon Society, or volunteer at a nature center. These organizations are active in cities and rural areas across the country. You can also use the National Park Foundation's #findyourpark for ideas on how to support and explore your local public lands. If you have kids, consider taking them along on the journey since research shows that children and young adults who spend time in nature are more likely to end up with a lifelong conservation ethic.
Can we save ourselves and the creatures that depend on us? The grizzly comeback shows us the answer is yes, but it will require all of us to step up and protect wildlife and the planet.