3 Ways To Avoid Harming Animals When You Travel, According To WWF
mbg Contributor
By Bonnie Culbertson
mbg Contributor
Bonnie Culbertson is an Ohio-based freelance writer and ethical travel consultant. She has a bachelor's in strategic communications from Miami University.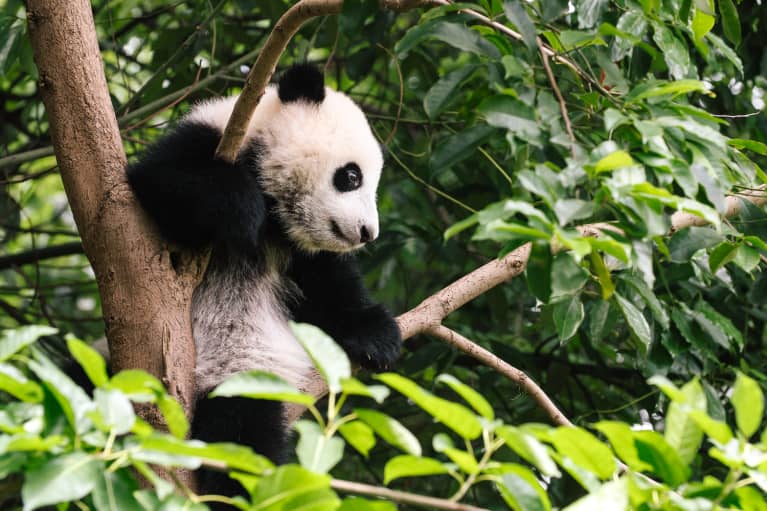 Today more than ever, many travelers are seeking unique experiences in far-off lands where they can be inspired by the local culture, scenery, and wildlife. But unfortunately, some of the resulting Instagram photos of seldom-seen (and rapidly disappearing) wildlife may be doing more harm than good.
The fact is every trip we take has the potential to help or hurt local wildlife and the communities that surround it. (Case in point: A recent study found that protecting areas where wildlife can flourish can positively affect the well-being of nearby humans.)
In honor of World Animal Day, I sat down with the World Wildlife Fund's vice president for conservation travel, Jim Sano, at last week's World Tourism Day Forum to discuss three ways we can all make sure our travels are animal-friendly:
Sano acknowledged that it can be very difficult for the average traveler to figure out the right itinerary, thanks to greenwashing and the misuse of the word "eco" (his least favorite word) in travel-related advertisements. So what's a confused traveler to do? "One of the shortcuts for a traveler is to go with a tour operator that sets a high standard and explains that [standard] on their website," he said.
Take, for instance, Intrepid Travel—a recently B Corp–certified travel company. It became the first to ban elephant rides from its programs after research done in partnership with World Animal Protection revealed that tourism was fueling an increase in elephant poaching.
Another thing to consider is whether a company endorses the standards set by the Global Sustainable Tourism Council. A searchable directory of member organizations and tourism companies can be found here, and companies that meet the standard criteria should have a GSTC-certified emblem on their site.
2. Listen to your guides, and put the needs of the animals first.
Sano explained that when tourists are in proximity to wildlife, safety should always be their top priority—especially in an Instagram-obsessed age, when people are literally dying for the perfect selfie. Whenever you're traveling to a destination where wildlife observation is on the itinerary, make sure to listen to the safety advice given by park rangers, biologists, or other animal experts on staff.
And remember that the needs of the animal should always come before the desires of travelers. During a recent safari, Sano saw what can happen when this isn't the case: "The safari guides are all connected by radio, and they're all incentivized, or simply pressured, by their clients to see the 'iconic' wildlife species." After happening upon a mother cheetah and her two young cubs, a call went out over the radio, and soon Sano's Land Rover was joined by 35 other tourist-bearing vehicles. Needless to say, it was a distressing experience for the cheetah family, and the kind of thing that can severely disrupt their natural behavior. "In an ideal world, there are park regulations that prohibit this sort of thing," he said.
To do their part, the WWF creates resources and "best practice" guides for tour operators such as its recent Responsible Shark & Ray Tourism Guide, created in response to a global rise in shark and ray tourism.
3. Avoid products that play into animal trafficking.
This week is one of the two busiest travel seasons in China, and an expected 200 million travelers will head to places like Hong Kong, Thailand, Vietnam, and Japan—all of which have active markets for products made from pangolin, ivory from elephants, and other endangered species. Despite a now two-year ban on ivory in China, it seems that consumers are still demanding it. For those of us heading to these countries from the U.S., it's best to play it safe and avoid any souvenir of which you are unsure of the origin. If you are planning to shop for souvenirs, check this helpful "Buyer Beware" guide before you do.
Until animals learn how to point out when we are annoying, angering, or even endangering them, it's up to us to do our due diligence before embarking on any trip where there's wildlife involved.