3 Ways To Pick A Houseplant, From Someone Who Has 1,100 Plants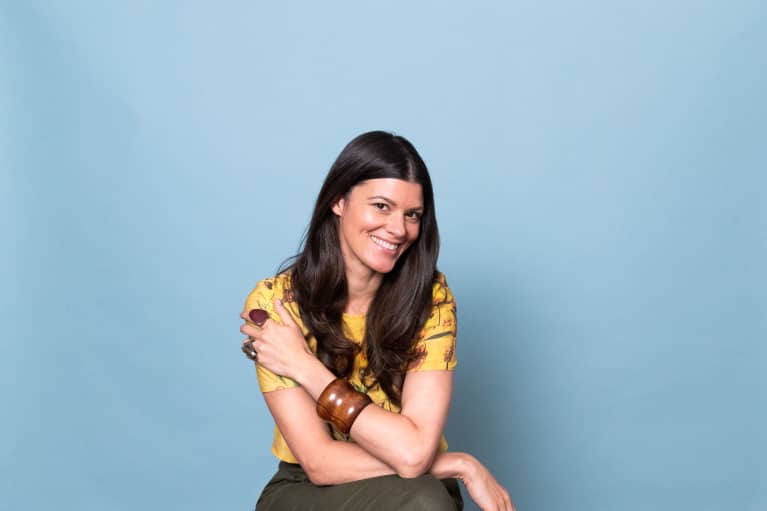 Our editors have independently chosen the products listed on this page. If you purchase something mentioned in this article, we may
earn a small commission
.
Summer Rayne Oakes, a bestselling author and environmental activist, has a pretty enviable green thumb. She keeps over 1,100 plants in her 1,200-square-foot apartment (that's around one plant per square foot!), tending to each one with individualized care. Oakes fosters relationships with every species that lives in her "green womb" of a home, as she lovingly calls it.
On this episode of the mindbodygreen podcast, I sat down with Oakes to discuss the best ways to care for houseplants, as well as what newbies should look out for before committing to a plant pal.
While surrounding yourself with plants has been associated with physical benefits like stress reduction (yes, really!), Oakes argues that there are less-acknowledged mental benefits of caring for greenery as well. Tending to plants can get you out of your own head for a little, and she says that the process of cultivating and nurturing your surroundings can be soothing.
In fact, taking care of houseplants is a lot like tending to your relationships with other people, Oakes says. It can be stressful at times, frustrating at others—but always rewarding. Here's Oakes' cheeky take on why purchasing a houseplant can actually feel pretty similar to going on a date. Could horticulture become the new dating culture?
1.
What kind of person are you?
Before even walking into a plant store, Oakes recommends that you take a moment to reflect on what kind of person you are. This notion is strikingly similar to online dating, as people typically decide what qualities they want to highlight on a certain app before starting to swipe.
She notes, "When you're starting an online dating profile, you think, 'What type of person am I? What kind of qualities do I need to put on my profile?' Well, if you had a dating profile with plants, you would have to think, 'Am I somebody who's a helicopter plant parent who likes to water my plans 24/7? Or am I somebody who travels a lot and is really hands-off when it comes to plants?"
Before jumping into the commitment that is plant care, you might want to reflect on your character and what kind of plant owner you'd be. Just like in dating, it's important to showcase the real you! After all, there's a plant for everybody out there.
2.
What qualities are you looking for?
After reflecting on what type of person you are, you want to determine exactly what you're looking for before embarking on any blind dates. In terms of plant care, being clear about your motives is also key. Are you looking to buy a plant simply for its aesthetic in your home? Or are you looking to cultivate a relationship with that plant, putting time and effort into fostering its growth?
"Some people want to take a pretty picture, post it on Instagram, and then call it a day," Oakes says. "It's no different from going on Tinder and having a very perfunctory one-night stand with somebody, as opposed to somebody who you want to actually develop a relationship with or get to know."
While there's nothing wrong with either of those scenarios, it's always better to be transparent about what you're looking for—in a partner and in a houseplant.
3.
Enjoy the companionship!
Overall, Oakes states that the reason people are drawn to plants is similar to why they might want to dip their toes into the dating pool: companionship. As humans, we thrive on social interaction, and Oakes believes we can experience those same feelings of support from our greenery.
"We want to be able to nurture something, especially if we can't have animals or if we're not prepared to have children," she says. "A plant is a wonderful creature to have in your home."
Oakes even states that plants are a great resource for people who might not thrive in social situations: "I think that sometimes interacting with people one-on-one or in groups can actually be really challenging," she mentions. "I think people have found a lot of peace and tranquillity with plants."
According to Oakes, whatever stage of life you're in or whatever type of relationship you're looking for, there's a plant for that. Now, if only there were dating apps for people seeking succulents!