3 Steps For Volunteering In Your Community If You Don't Know Where To Start
mbg Contributor
By Caroline Muggia
mbg Contributor
Caroline Muggia is a writer, environmental advocate, and registered yoga teacher (E-RYT) with a B.A. in Environmental Studies & Psychology from Middlebury College.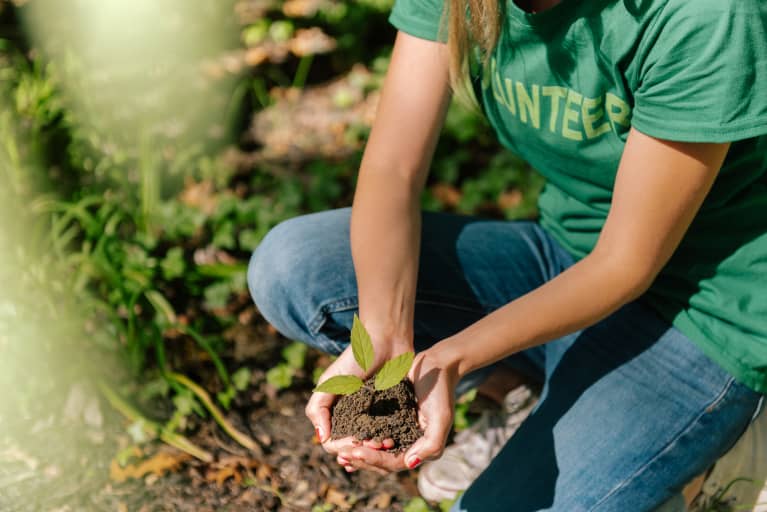 Helping others in need feels good and may even help us heal. Even so, it's not always easy to know where to start when it comes to supporting your community. As spring rolls around, we're looking for ways to start fresh and act on some of those intentions we've had for a while—like volunteering in our community. Here are some helpful tips and resources for getting started.
1.
Think about what you care about
We're more likely to follow through and put in hard work when we care about why we're doing something. Life is busy, and sometimes we can forget to zoom out at the bigger picture and take inventory of where we'd like to be a part of the solution. A helpful way to identify what's truly important to you is to close your eyes and envision the problem you'd like to solve if you had all the money and resources in the world. This way you won't be inhibited by doubts or worries about feasibility. Imagine what helping this cause would look like and write down your experience on paper. You may be thinking, well, my dream is to stop world hunger, and I cannot do that from where I sit today. Yes, that's probably true but what the exercise showed you is that food insecurity is an important issue for you. There's no need to hop on a plane and start running around trying to fix this issue; there's a good chance that people struggle to put food on the table right in your neighborhood or nearby.
2.
Seek out others with a similar mission
Now that you've identified a cause that's important to you and you're willing to explore it further, you'll want to research who's already doing the work you want to do in your community. You can start by talking to friends, colleagues, and people at local shops and letting them know where you'd like to help. You may unexpectedly find that a friend is part of a group that cooks meals for food-insecure families once a week or that a local restaurant owner is involved with providing leftover food to shelters. If this doesn't do the trick, you can consider signing up for VolunteerMatch, a free online service that helps match you with volunteer opportunities in your area. On the flip side, you may be ready to dive and start an initiative on your own or with family and friends. With all of these options, you'll need to do some research and be open to unexpected possibilities.
Searching for volunteer opportunities can be exciting as well as overwhelming. There's so much to choose from, and sometimes you can get paralyzed by making a decision. Remember that if you're new to volunteering or the particular organization you're considering, you won't have all your questions answered right away. While you'll always want to research and ensure you're connecting with a group you trust, once you feel comfortable with going for it, lean into the uncertainty of the process. The group will appreciate your help in any capacity, and there shouldn't be pressure to do it the right way.
Discovering ways you can support your community and enjoy it at the same time is rewarding and can create a ripple effect. We hope these tips help take a little bit of the guessing out of it and get you out and into your community sooner!