The 3 Best Skin Care Tips This Beauty Editor Does Daily For Healthy Skin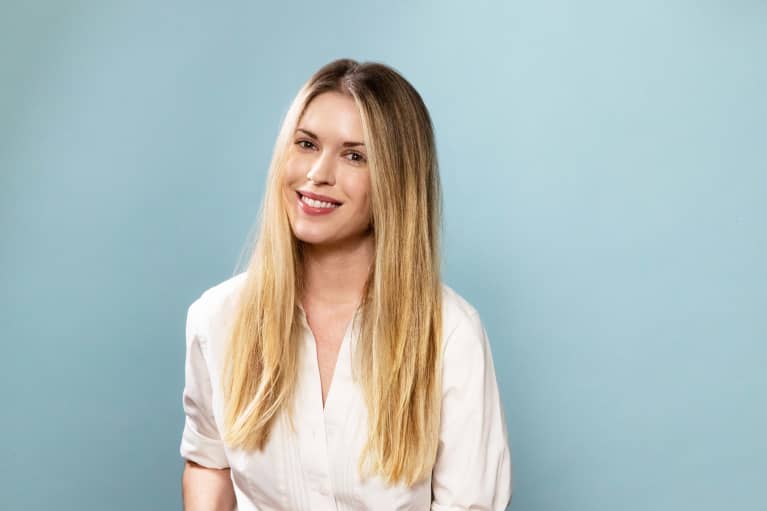 For a beauty editor—who has an impressive number of products, treatments, and tips at her disposal she's encouraged to try—I actually keep my final routine fairly edited. I'm not necessarily one to fawn over overly complicated processes, million-step treatments, or the like. I typically default to the simpler, the better.
I must stress, however, that just because I default to simpler routines does not mean I'm not looking for hard-core efficacy. I want products that work hard, keep my skin looking youthful and supple, and don't waste my time. That means I need to be smart about my routine: Since I'm not using a ton of products and treatments, what I actually use needs to tackle a lot.
Here, three things I swear by:
Here's what I love about smart skin care supplements: They help you worry less about the day-to-day of it all. Of course I do stick to my morning and night routine fairly diligently (even if it is basic), but when I'm aiding my skin cells internally, I don't need to stress as much about the external.
mindbodygreen's nr+ tends to skin via a few pathways. First there's the namesake's nicotinamide riboside (NR), a form of vitamin B3. When ingested it turns into something called nicotinamide adenine dinucleotide (NAD+). And NAD+—at least for healthy-aging researchers—is kind of a big deal. NAD+ is a coenzyme found in all living cells, and it plays a vital role in energy metabolism and maintaining proper cell functioning. Levels of NAD+ also happen to decline significantly as we get older, and these declining levels apparently drive the aging process. Supplementing with NR is clinically shown to help maintain natural levels of NAD+ in the body.*
There's also astaxanthin, a potent antioxidant that neutralizes free radicals.* Phytoceramides support skin moisture levels, plump fine lines, and support the skin barrier.* Finally there's rhodiola, an adaptogen that can help the body manage oxidative stress, which can lead to premature aging.*
2.
A high-tech vitamin C serum
No matter what the rest of my skin care routine looks like, I always have a vitamin C serum. See, sometimes I'll toggle between a gentle foaming cleanser (usually a summer go-to); other seasons I'll delightfully use a cream wash (often during the winter). Or I'll adjust the thickness of my creams based on how my skin is feeling. Essentially, my routine can come with a few variables.
But I always stick to a vitamin C serum. Vitamin C is a skin care workhorse, as it brightens dull skin, aids in the collagen synthesis process (as well as stabilizes your existing collagen), and fights free radicals protecting skin from environmental damage. I also always make sure my vitamin C du jour is formulated with vitamin E, as the latter vitamin supports the former by "recharging it" and stabilizing it. (The downside to vitamin C is that it is quite finicky and breaks down with the smallest of disruptions.)
Sometimes the best, most trusted techniques are those that have been around. Facial rolling, gua sha, and the like, aren't just a pretty, rose-hued indulgence touted on your Instagram feed: Facial massage techniques of all kinds have been around for ages, and they are beloved by skin care experts because they improve skin health, immediately and in the long term.
Studies show that facial massage techniques actually encourage circulation and blood flow to the face, which brings vital nutrients to the skin. This can help skin cells produce vital structural components like collagen, elastin, and ceramides. Not only that, but it can help relax facial muscles, encourage lymph flow, and overall tone your face.
As a beauty editor, I am lucky in that I get to try it all. I love that aspect and thoroughly enjoy seeing all the new products that come to market. That being said: My personal beauty philosophy is less is more—and that less should work harder. I'm able to master this routine by leaning on a smart skin care supplement that takes care of my skin from the inside out, so I can worry less about the other stuff.