What The World Could Look Like In 2040 — If We Took Climate Change Seriously
mbg Contributor
By Bonnie Culbertson
mbg Contributor
Bonnie Culbertson is an Ohio-based freelance writer and ethical travel consultant. She has a bachelor's in strategic communications from Miami University.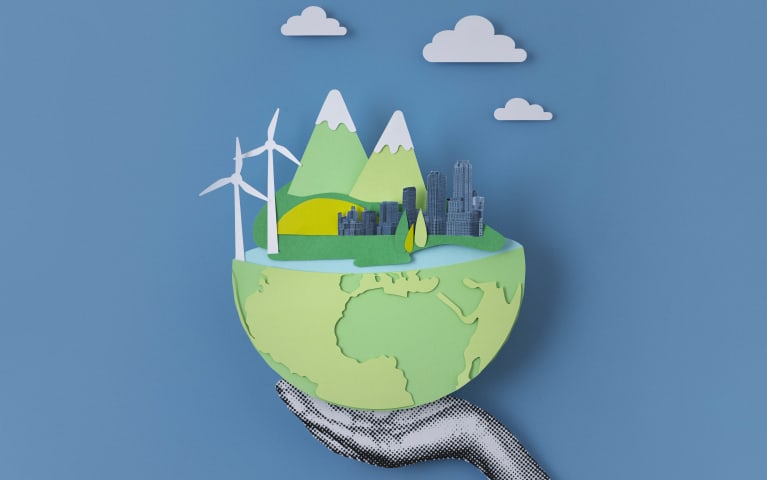 "We have enough things to fight against; let's start looking for a world we can fight FOR."
These words, spoken by director Damon Gameau at a screening for his film, 2040, really hit home for me. As a writer who is passionate about sustainable living and climate crisis education, it's hard not to be overwhelmed and depressed in the face of all that is going wrong with our world. I know I'm not the only one who feels this way.
This new film tells a different story—one that I feel is much more impactful. Gameau, who created the documentary as a love letter to his 4-year-old daughter, Velvet, wanted to show people what her future (our future) will look like if we start to implement climate solutions that exist today. The film paints a compelling vision for a better tomorrow: one that we already have the technology to make a reality. With the right infrastructure and political backing (ahem, something to consider next time you head to the polls), here is what our world could look like by 2040.
Entire communities would be run on solar-powered grids.
Direct-to-consumer solar panels are coming to rooftops across the U.S., but companies like Bangladeshi startup Solshare and Africa's Solar Sister are leapfrogging over our outdated, centralized energy grids by using solar power to build up entire communities. These companies put the implementation, distribution, and use of energy into the hands of the community members via microgrids and neighborhood solar exchanges. By 2040, Solshare managing director Sebastian Groh, Ph.D., believes the rest of the world can embrace the 5 D's that are fueling this new energy movement, "a decentralized, decarbonized, democratized, digitized, and fully disrupted [system]."
A portion of our farming would move from land to sea.
Climate change, overfishing, and plastic pollution have ravaged our waters and increased ocean temperatures and acidity levels globally. Marine Permaculture, the cultivation of kelp and seaweed, is one potential fix. Investing in ocean farming can help us store carbon, grow food, and allow marine life to flourish in places where it's started to die off.
This blue agriculture is already starting to come to life: B-corp-certified tourism company Intrepid, one of the major financial backers for 2040, launched a partnership with The Climate Foundation earlier this year to fund marine permaculture research. So far, their scientists have identified certain kelp populations that are more tolerant of warming waters. They are now lab-breeding them to eventually be replanted in the field.
On land, regenerative agriculture would be the norm.
As we restore the seas through marine permaculture, hopefully we'll also turn our attention to restoring our soil using regenerative agriculture. Today's massive farms are stripping our land of nutrients, and a switch to more regenerative practices would strengthen soil health and, in turn, vastly improve our health and our ability to feed a growing planet.
Our cities would be hot spots for green space.
As urban populations become more dense, a new urbanism movement is budding to make our cities happier, healthier, and more prosperous for residents. One pillar of this movement that the film explored is the shared economy: In the future, we could stop owning our own cars and start sharing self-driving vehicles with neighbors, using them only when needed. This shift would allow us to convert huge swaths of city land once used for parking lots and highways into areas that would positively affect our health and happiness, including parks, urban gardens, and paths for walking or biking. Remaining highways and bike paths could also be upgraded to power-generating solar roads, like The Ray in Atlanta or SolarRoad in the Netherlands. Imagine: By 2040 we might actually start to enjoy our daily commute!
Women and girls around the world would be empowered to make their own decisions.
Thanks to the 2040 film and Paul Hawken's important book Project Drawdown, we now know that one of the most impactful things we can do to combat climate change is empower women and girls. Rather than leaving school and getting married once they hit puberty, girls who are able to complete their education are more likely to have children on their own terms. They are also better equipped to save money and take a more active role in their communities, making choices that are not just better for themselves but the environment too. That's why Gameau and the 2040 team created the Do It in a Dress Campaign to raise money and awareness for girls' education programs in Africa.
These are just some of the future-facing solutions we can start to fight for with our voices and our dollars today. And there are so many others! With the right support, initiatives like building with carbon-storing bamboo, using in-home plastic recycling machines, and creating financial incentives for plastic trash collection can help lead us into a cleaner and healthier future.
The climate crisis conversation has become incredibly overwhelming, and, unfortunately, when humans feel overwhelmed, they start to shut down. These solutions from 2040 gave me a renewed sense of hope and purpose. I hope they do the same for you.