It's All Happening: Here's What 2020 Has In Store For Your Zodiac Sign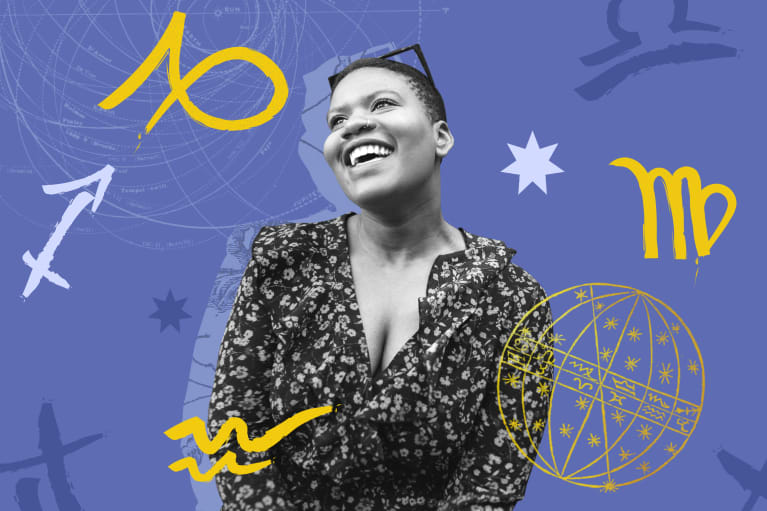 Our editors have independently chosen the products listed on this page. If you purchase something mentioned in this article, we may
earn a small commission
.

For Aries, nailing the elusive work-life balance will be a worthy challenge in 2020.
Moral of 2020: Make a blueprint for success.
Whoever said Aries are better at starting projects than finishing them hasn't met the 2020 version of you! This could be your most successful year in over a decade—provided you make the right moves. Your Aries 2020 horoscope is a success blueprint that revolves around setting one or two epic goals and giving that mission all of your blood, sweat, and tears. Resist FOMO and narrow the field, Aries. That's how you'll finish out the year with a fedora full of feathers!
Can-do Jupiter has officially joined disciplined Saturn and transformational Pluto in Capricorn, and this persevering trio supplies the unwavering focus to take it all the way. Since Capricorn rules your 10th house of career, you'll be obsessed with figuring out your soul purpose. If you're already marching along your path, scale up your mission or expand into new territories. Long hours at the office won't bother you at all. You might just set up a workspace at home this year so you don't have to sacrifice all your family time to achieve your goal.
That said, nailing the elusive work-life balance will be a worthy challenge in 2020. With three final eclipses hitting the Cancer/Capricorn axis between January and July, you could get pushback from loved ones if you skip too many family gatherings—or bring your laptop to the kitchen table so you can work through dinner.
With all this high-profile energy afoot, renegade Rams will have to set aside punk-rock ways and learn to play by the corporate rules…at least some of the time. But from March 21 to July 1, sensei Saturn lunges into rebellious, team-spirited Aquarius, giving you a chance to bend (or rewrite) a few of those laws. Before you go there, push yourself to gain a fundamental understanding of these directives. They do have a purpose, even if you consider it archaic. Saturn will return to Aquarius again from December 17 until March 7, 2023, so don't get overly hung up on changing the game this year. It's more important that you learn how said game is played—and what makes the players tick!
On December 19, 2020, daredevil Jupiter will join Saturn in Aquarius until December 29, 2021. Just in time for the holidays, your popularity shoots through the roof. You'll find yourself at the center of a buzzing community of activists, thought leaders, and disrupters. (Home, sweet home!) Your charitable holiday donations may be heftier than usual, as this Aquarian energy stokes your idealistic nature.
Romance gets a revamp for everyone in 2020, too. Venus turns retrograde from May 13 to June 25, a cycle that happens every 18 months. This time, the love planet backs through Gemini and your friendly, flirty third house. Lines could blur in ways that are both beguiling and a tad troubling, so don't let your rash nature guide your moves.
The third house is the realm of co-workers and neighbors, two groups of people you should think twice about fooling around with. What might feel like a convenient spring fling could leave you feeling beyond awkward around your office or apartment complex. On a positive note, Venus' backspin could give you the courage to admit that your feelings go beyond friendship for someone who makes you swoon. Coupled Aries can use Venus retrograde to strengthen communication. Are you insisting on autonomy at the expense of harmony? See where you can compromise and cooperate more.
If love feels like a low-priority (or sidelined) agenda item in the first half of 2020, no stress! On June 27, your ruler, lusty Mars, pops off an extended tour through Aries that lasts all the way until January 6, 2021! Your "sex magick" will be a strong brew, Aries, and without even trying, you'll have fans clamoring for your attention. Use this magnetism judiciously. The goal is to attract multidimensional people into your orbit—the types who won't bore you once the flattery wears off.
Besides, Chiron (the "wounded healer" comet) is spending its first full year in Aries, where it will hover until April 2027. Since April 2018, when Chiron briefly popped into your sign, you've been deepening your connection to your shadow nature, learning how to powerfully turn some of your so-called stumbling blocks into your own healing gifts. For this reason, it's even more important to surround yourself with people who won't let you get away with being anything less than your fullest, truest self!

This is the year to be a student of life, Taurus, opening your mind to discoveries.
Moral of 2020: Your reinvention tour begins.
Check your rearview mirror, Taurus. Can you see your comfort zone fading to a distant blur? 2020 could bring unprecedented growth and freedom…if you can get more comfortable taking risks. You'd better start adding spontaneity to your steadfast equation in 2020. Then, fasten your seat belt and get ready for a wild and exhilarating ride!
With a trio of planets—Jupiter, Saturn, and Pluto—journeying through Capricorn and your nomadic ninth house in 2020, "citizen of the world" could become your new handle. They might also push you to scrap your meticulous 10-year plan or cash in on an investment before it's reached full maturity.
This is the year to be a student of life, opening your mind to discoveries. Since Jupiter is the galactic gambler, your play-it-safe nature won't hold you back when it's time to leap. Risky moves you would never have considered in the past might seem sane and logical in 2020. Both Jupiter and Uranus have a teenage quality to them, and in 2020, you could feel as fearless (and frisky) as a 15-year-old!
Simultaneously, structure-obsessed Saturn and control-freak Pluto will travel alongside Jupiter in Capricorn, providing some semblance of a safety net. These powerhouse planets have been settled in Capricorn's realm for a while—Saturn since December 19, 2017, and Pluto since November 27, 2008. Fear not, Taurus, you haven't lost all touch with your common sense. Even if you do have moments when you just want to escape off the grid, status-conscious Saturn and Pluto won't let you give up all worldly possessions to follow a guru across the globe. (A three-month stint in an ashram, however, is not out of the question in 2020.)
It doesn't hurt that career-focused Saturn is heading to the top of your chart, activating your professional "true north." From March 21 to July 1, the ambitious planet darts into Aquarius and your 10th house for a quick warm-up before retreating into Capricorn and taking a final lap. This three-and-a-half-month preview will get you thinking seriously about the direction of your future. And (huzzah!), since Saturn is naturally at home in the 10th house, this short spell will re-energize your planning powers, giving you one of the best windows of 2020 for getting a profitable mission off the ground.
Since Venus is the ruler of love, she'll institute a firm "no romance without finance" policy this year. If your love interest has no plans for building a stable future, it's an instant "bye!" Between April and August, coupled Taureans could come into cash as a result of your S.O.'s good fortune, through their income, an inheritance, or a mix of both. Serious talks about spending, saving, and investing must be had in 2020. Fortunately, Venus is the cosmic diplomat, which makes it easier to discuss the "taboo" topic of money.
And should all the fast-moving energy of 2020 necessitate a major life change, courageous Mars has your back. The warrior planet will hold an extended pose in Aries and your 12th house of healing, transitions, and endings from June 27, 2020, to January 6, 2021. During the retrograde phase, which lasts from September 9 to November 13, you may need a timeout to grieve a transition. What's a fantasy, and what's an illusion? You could spend time grappling with this question in the fall. Want to pen a poetic farewell? You'll be a regular Rumi in the second half of 2020. Just be careful not to let guilt overtake you! Mars in Aries hastens your departure. When it's time to move on, you simply must, Bull, or else you'll stagnate. Instead of thinking of this as the end, how about, "until we meet again?"

The world will hum at a Gemini frequency until January 2022.
Moral of 2020: Money, sex, and power.
As the zodiac's Twins, sharing is a basic instinct. But are you ready to go all the way in? In 2020, you could create deep bonds, from soul mates to financial mergers...but there's a catch. At moments, your urge to merge will be insatiable. Other times, you'll want oceans between you and anyone demanding a commitment. Superficial relationships are a no-go in 2020, and it will be impossible to hold loved ones at arm's length this year.
On December 2, 2019, expansive Jupiter embarked on an extended night swim through Capricorn and the mysterious, alluring waters of your eighth house of joint ventures, perma-bonding, and sexuality. With intrepid Jupiter exploring this esoteric reef until December 19, 2020, you'll discover hidden dimensions of your own psyche. Although your popularity will soar, hosting this cosmic trio in Capricorn and your intimate eighth house can bring out your rare introverted streak. Set up a sacred oasis at home—your own Virginia Woolf–style "room of one's own." You'll need to have your own little retreat center where you can journal, meditate, and create when you need a cathartic outlet from the intense feelings that planets in the eighth house can churn up this year.
Financially, sharing assets and joining resources can help you stabilize...and flourish! With three eclipses in Cancer and Capricorn activating your money axis in the first half of 2020, you could drum up capital from surprising sources. An investor might offer to put dollars behind your dreams. Maybe you'll explore a business loan or crowdfund a campaign. If you need to repair your credit or get a handle on debt, these eclipses speed up progress.
Fueling your charm offensive in 2020 will be vivacious Venus. From April 3 to August 7, the celestial seductress takes an extended tour through Gemini, ratcheting up your sensuality and sex appeal. Normally, Venus hovers in a single sign for four weeks, but she's posted up in Gemini for so long because from May 13 to June 25, the love planet will take her biennial retrograde. With the cosmic coquette reverse-commuting through your sign for nearly six weeks, there could also be crossed signals in the game of love. During the backspin, be careful not to rush into a commitment, make assumptions about your S.O., or invite a toxic ex back into your life. If you play your cards right, Venus retrograde can be a bountiful time, helping you find diplomatic ways to work through conflicts with the ones you adore. Ultimately, Venus wants peace, love, and harmony—but that doesn't mean making an emotional bypass over tough issues.
On May 5, the lunar North Node will shift into Gemini, its first visit to your sign since April 2003! This special point in the sky directs our collective destiny. The world will hum at a Gemini frequency until January 2022—a huge advantage for Twins! Your stellar intellect and communication skills will give you the leading edge. And with your first house of identity lit, you could "rebrand" yourself with a fresh career path or a totally unprecedented style (or both). This is a time to develop your gifts and invest in personal growth.
Another nudge toward independence comes from March 21 to July 1, as Saturn darts into Aquarius and activates your ninth house of travel, expansion, and higher learning. You'll begin breaking free from suffocating entanglements during this three-and-a-half-month window, but it might take until the end of 2020 before you truly liberate yourself. On December 17, 2020, the ringed planet shifts into Aquarius until March 7, 2023. Two days later, on December 19, jovial Jupiter will join Saturn in the Water Bearer's realm—and on the winter solstice, December 21, they'll make an ultra-rare connection at 0º29' Aquarius.
This tête-à-tête, which astrologers have dubbed the Great Conjunction, happens only every 20 years. Power up for a major mission, Gemini! With Jupiter activating your enterprising spirit and Saturn providing the structure to bring big ideas to life, this day is like a launchpad for your dreams. With your global ninth house in the Great Conjunction's crosshairs, you might need a plane ticket or an international visa to get this one into orbit. Have vision, will travel!

Two of the year's six eclipses land in your sign, Cancer, activating your first house of autonomy and individual expression.
Moral of 2020: Relationships rule.
Ready for your best year for love in over a decade? In 2020, your dynamic duos will be on fire and you'll be more risk-tolerant when it comes to relationships—willing to take chances on partnerships that come with complex circumstances, like living in different cities, states, or countries!
Throughout the year, Saturn, Jupiter, and Pluto will mix and mingle, meeting up at exact degrees of Capricorn and Aquarius, where they'll combine their formidable strengths in your intimate relationship zones (the seventh and eighth houses). These cosmic combos are extremely rare: The Saturn-Pluto meetup, which occurs on January 12, 2020, happens only every 33 to 38 years. This year's three Jupiter-Pluto connections (on April 4, June 30, and November 12) occur every 12 years, and the "Great Conjunction" of Jupiter and Saturn this December 21 takes 20 years to repeat! Just one of these planetary power-couplings in a single year would be jaw-dropping. Having all three marks a unique moment in astrological history—even if some uncomfortable stretching is required to maximize the benefits.
Need to set better boundaries, Cancer? Or, for the more tenderhearted among you, learn what a boundary actually is? Loving Venus will spend an extended cycle in Gemini and your sacrificial 12th house from April 3 to August 7. Because of a retrograde from May 13 to June 25, the congenial planet will linger here four times longer than usual. Melody Beattie's Codependent No More could become a dog-eared, yellow-highlighted bible on your nightstand as you learn how to rein in some of your enabling ways. Do you struggle to stay centered when others are close? Learn about the four main attachment styles (Amir Levine and Rachel S.F. Heller's Attached is a must-read) and find out if you've been an "anxious" attracting "avoidants" or vice versa.
Relax, Cancer, you'll still enjoy some sacrosanct solo moments in 2020. Two of the year's six eclipses land in your sign, activating your first house of autonomy and individual expression. The inaugural full moon of the year, on January 10, is a Cancer lunar eclipse—an auspicious way to launch the new decade! You'll enjoy rapid manifestation as this lunar lift corresponds to the galvanizing solar (new moon) eclipse of July 2, 2019. On June 21, the final Cancer eclipse in this two-year series pairs with a new moon. This solar eclipse is like a ribbon-cutting ceremony for your important dreams, maybe one that you've been developing since as far back as July 2018. But wait, there's more! In 2020, you get a "bonus" new moon in your sign. On July 20, a second new moon in Cancer will echo the themes of the June 21 eclipse, giving you another launchpad for your one-Crab missions.
The power of partnership extends to your career, especially between March 21 and July 1, when Saturn darts forward into Aquarius, lending gravitas to your eighth house of investments and joint ventures. The ringed taskmaster hasn't visited this part of your chart since January 1994, but his arrival will get you serious about creating long-term wealth. The eighth house is the sexiest sector of the zodiac wheel (sharing similar qualities to Scorpio, the eighth sign). Gaining command over your finances will make you feel like one powerful vixen! But Saturn is slow-moving and deliberate, so forget about turning into the Wolf of Wall Street. This spring and summer may find you focused on paying off old debts and balancing your books. When Saturn springs back into Aquarius for a longer tour, from December 17, 2020, until March 7, 2023, you'll be ready to start playing the market and building your portfolio. And you'll get a helping hand from fortuitous Jupiter, who joins Saturn in Aquarius from December 19, 2020, to December 29, 2021.
Another boon for your career comes on June 27, when maximizer Mars lumbers into Aries and your 10th house of success. Normally, the red planet visits here for seven weeks every other year. But due to a biennial retrograde from September 9 to November 13, Mars lends a potent charge to your ambitions that lingers through January 6, 2021! Build as much momentum as you can between June 27 and September 9, then handle backstage developments during the reversal. You could have something awe-inspiring to launch after November 13. Is leadership calling? Mars in aggrandizing Aries calls for boldness. If you've earned your stripes, step forward as an expert or authority in your field before the year is through.

This year you'll need to get honest: Where are you 'leaking' energy, Leo?
Moral of 2020: Put yourself first.
Efficiency is the name of the game if you want to reach your lofty goals, Leo. Your yearly horoscope encourages you to organize everything from your closet to calendar, scale back caretaking, and get creative. Are you tending to yourself, mind, body, and spirit? In 2020, you could become a meditation maven, a plant-based practitioner, or a guru of all things green, clean, and serene.
Get honest: Where are you "leaking" energy, Leo? With two final eclipses hitting Cancer and your boundary-challenged 12th house on January 10 and June 21, and one more in Capricorn and your systematic sixth on July 5, you'll need to draw sharper lines with people in your world. If you don't, your magnanimous nature could infect you with resentment—never a good look for a sunny Leo!
Thankfully, a socially supportive star map is also ahead in 2020. From April 3 to August 7, convivial Venus embarks on an extended tour through Gemini and your 11th house of community, technology, and activism. Get out and circulate, even if your Instagram and Facebook friend lists runneth over. The zodiac's jungle ruler can never have too many acquaintances...as long as they can match your generosity! While Venus is retrograde from May 13 to June 25 (an every-other-year event), you may have to banish a few energy vampires from your realm.
With love goddess Venus logged into your tech-savvy 11th house, April through August could bring some lucky swipes on the dating apps. (And maybe the Return of the Disappearing Tinder Date during the May 13 to June 25 retrograde. Proceed with cautious optimism!) Coupled Lions should circulate more as a power couple, knitting together your friend groups and organizing dinner parties, weekend trips, and other fun for the people you both adore.
But you may feel like getting, ahem, un-hinged, starting June 27, when lusty Mars moves into Aries for an extended tour through your worldly, independent ninth house that lasts until January 6, 2021! The red planet will also pivot retrograde in 2020, from September 9 to November 13. During that time, even happily partnered Leos will have to navigate some fiery emotions. Pro tip: Absence makes the heart grow fonder! Waiting for your partner to join you on an adventure could mean missing out on a life-changing opportunity. Don't limit your own expansion, Leo. Do your thing, and you can share all the magic with your mate when you return to the lair.
Relationships will take a turn for the serious from March 21 to July 1, when enduring Saturn settles into Aquarius and your seventh house of committed coupling. Lighthearted love affairs could hit a "Will we or won't we?" turning point, and you won't be content to play the field. On December 17, the ringed planet will park in Aquarius for a longer spell (until March 7, 2023), putting partnerships through some endurance tests. Thankfully, jovial Jupiter will keep the spirit of romance alive, joining Saturn in Aquarius from December 19, 2020, until December 29, 2021.

Professionally, 2020 serves up both passion and productivity for you, Virgo.
Moral of 2020: Embrace your inner showstopper.
The pleasure principle is alive and fully operational for Virgos in 2020 as a planetary posse sashays down the step-and-repeat of your fifth house of fame, decadence, and heart-thumping romance.
Saturn leaves the Capricorn party for a short window, lunging forward into Aquarius and your sixth house of work and wellness from March 21 to July 1. You'll have your nose to the grindstone—and your feet in statement sneakers—as you pound the pavement, hustling to achieve your grander ambitions. A movement practice could get you in fighting shape, whether you do sun salutations or spin. Saturn is the taskmaster of the skies, and while he tours this industrious zone, you run the risk of burning the candle at both ends. Thankfully, a two-year Gemini/Sagittarius eclipse series begins on June 5, helping you create better work-life balance.
Professionally, 2020 serves up both passion and productivity. While celestial charmer Venus takes an extended tour through Gemini and your career zone from April 3 to August 7, you'll be living proof that it's all about who you know. Strategic socializing helps you dart ahead of the competition, and you'll be keen to collaborate with other creatives. This is a power-couple cycle, so pairing up with another luminary (perhaps even the one who shares your bed) could bring a huge win! Just make sure you don't step on their toes when Venus backs into a challenging retrograde from May 13 to June 25.
With driven Mars also on extended tour through your eighth house of investments from June 27, 2020, to January 6, 2021, you could leap on a fortuitous opportunity, like buying real estate in an emerging neighborhood or funding a startup in exchange for stock that quickly rises in value. Be mindful during the red planet's retrograde from September 9 to November 13, however, because this shadowy nine-week period could bring sketchy deals and fast-talking hucksters.
Your romantic palette expands in colorful ways, as dazzling Jupiter and seductive Pluto dance cheek-to-cheek three times this year: on April 4, June 30, and November 12. Presently unattached? Since Jupiter is the galactic globe-trotter, it's anyone's guess on which coast or continent true love awaits you. No matter your GPS coordinates, the landscape of your love life will be punctuated by romantic highs. Attached? This is the year to tick that epic "baecation" off your shared bucket list.
The only catch? Heavenly heartthrobs Venus and Mars both turn retrograde in 2020. These are less-than-optimal periods for planning anything romantic, from that trip to Fiji to your destination wedding. Black out May 13 to June 25 while Venus is in reverse, and September 9 to November 13 while Mars is off course. Already booked the chapel or the romantic getaway? Forewarned is forearmed, so be prepared to navigate a few curveballs if you do anything ceremonial during those dates. If marriage is on the docket during Venus retrograde, plan on renewing your vows in 2021 at your one-year anniversary. Since the cosmic lovebirds only go retrograde every other year, rest assured that the renewal ceremony will not suffer a fault in the stars.

Bottom line, Libra? This year will bring tons of exciting developments, especially with the people in your life.
Moral of 2020: Home-based adventures.
Matters of home and the heart will be Libra's priority in 2020, as your planets weave in and out of your low-key fourth house and your luxurious fifth! This year, your lair will be the place to kick up your feet—and maybe even swing from the chandeliers with a titillating guest of honor!
Chateau Libra will be a buzzing hive of activity this year, too, since vibrant, venturesome Jupiter will also be in Capricorn until December 19. How can you set up your home so that it supports all your visionary dreams? Your kitchen table could become the birthplace of a thriving home-based business. Some Libras will start a family-owned company, and since Jupiter rules travel, you could work with people (even relatives) overseas. Three eclipses on the Cancer/Capricorn axis will accelerate any such events in January, June, and July.
Your career will be #blessed by this eclipse series, so get ready for some well-deserved rewards for the past two years of hard work, especially near the January 10 lunar (full moon) eclipse in Cancer. On June 5, a new 18-month series of eclipses in Gemini and Sagittarius begins to rock your communication axis. You'll feel moved to get your message out to the masses—or at least to your corner of the world. Is there a book, workshop, or documentary series bubbling around in your head? Maybe you've thought about becoming a coach or a teacher. Start exploring ways to share your vast knowledge with the world.
A new wave of energy comes in on March 21, when serious Saturn ambles into Aquarius and your fifth house of fame, fertility, and true love until July 1. Some Libras could meet a long-term partner—for songwriting or baby-making—or finally commit to next steps. But don't stress if you get more mojo from the muse than you do from Cupid. This is an "advanced preview" of a longer circuit that begins on December 17, 2020, when Saturn flows into Aquarius until March 7, 2023. Even better? On December 19, no-limits Jupiter will also enter Aquarius, pushing you into the limelight or a lover's arms...or both! If you're already living the dream, professionally and romantically, you'll be ready to manifest a bold and exciting new phase.
Mark your calendar for the winter solstice: December 21 is a power day. For the first time since the year 2000, Jupiter and Saturn will meet at the same degree (in Aquarius), sparking an event called the Great Conjunction. As these two heavy hitters exchange love notes, you could figure out how to map the elusive mix of excitement (Jupiter) and stability (Saturn). Yes, Libra, the two can coexist in a healthy, empowering way.
Your ruling planet, coquettish Venus, puts you in fine flirting form—and just in time for the spring. From April 3 to August 7, the galactic goddess of love and beauty zips through Gemini and your adventurous ninth house. Amore may arrive with a seductive accent, or you could finally book that "baecation" with your one-and-only. The catch? Venus will be retrograde from May 13 to June 25, which could bring mixed messages and blasts from the past. You won't want to leap capriciously during this challenging six weeks, but you might sign up for a few couples' therapy sessions or block your distracting ex's number.
Bottom line? This year will bring tons of exciting developments, especially with the people in your life. But with so much planetary action in Capricorn galvanizing the foundation of your chart, you need deep enough roots to keep yourself grounded. From a peaceful home base to a supportive family (whether chosen or blood-related), remember, Libra: You don't have to do this alone!

Make fun your focus in 2020, Scorpio.
Moral of 2020: Share your message.
At times, this year will feel like a roller-coaster ride—but eventually the full story will reveal its pattern. Stay engaged, even when you're frustrated. It's hard for your savvy sign to remember this, but here goes: You don't have to have it all figured out. Surrender to the unknown and let 2020 take you on a magical mystery tour.
The year 2020 is certainly going to be more entertaining than last year! From November 2018 until early December 2019, expansive Jupiter was grinding away in Sagittarius and your second house of work and daily routines. The perks may have included a new job and better pay. But the responsibilities of your new revenue streams also left your nose fixed to the grindstone—there was no free lunch in 2019! If your social life withered on the vine as a result, it's no surprise.
On December 2, 2019, jovial Jupiter merged lanes into Capricorn, joining stoic Saturn and your ruler, magnetic Pluto, in your convivial, mercurial third house. In 2020, these three planets are involved in a sweet choreography, gliding in close (and at some points, exact!) contact with each other all year. But since their energies are so different, figuring out which planet is leading could feel like an eternal dance-off inside your head. Should you be effusively friendly (Jupiter) or play it cool (Saturn)? Or maybe be alluringly esoteric and make them come to you (Pluto)?
Instead of fixating on this, make fun your focus in 2020. For your serious sign, this can be downright revolutionary. Could it be that...simple? Yes, Scorpio, it can. And if you open yourself up to experimentation instead of trying to find "the thing," this could be the most buzzworthy year you've had in over a decade! As one of the zodiac's four fixed signs (along with Taurus, Leo, and Aquarius), you pride yourself on being the expert and authority in your field. As such, you tend to focus intently on one thing at a time. Switch up your strategy this year because 2020 is all about logging a library of new references and experiences into your powerful memory bank.
Any sort of intellectual stimulation will be a major turn-on this year, and single Scorpios will bore quickly of people who can't match your brains and wit. A sapiosexual connection, however, will be a huge aphrodisiac. And while you'll be an unrepentant flirt, don't forget that you are a Scorpio, and you have a baseline need for stability and security.
With love planet Venus fluttering through Gemini from April 3 to August 7, you'll be in your erotic element this spring and summer. Single Scorpios could magnetize a mate who is both delectable and devoted. Surprise! An old flame could be rekindled while Venus is retrograde from May 13 to June 25. But if you sense this might turn into a Dumpster fire, keep that door firmly closed.
Thankfully, there will be some grounding action going on at the bottom of your chart this year, in Aquarius and your fourth house of roots. From March 21 to July 1, stabilizing Saturn hunkers down in the Water Bearer's domain. You may feel some early rumblings of domesticity this spring and summer, but don't rush into apartment-hunting yet! Wait until Saturn returns to this realm for a longer trek from December 17, 2020, to March 7, 2023. Toward the end of the year, lucky, expansive Jupiter joins the nesting expedition, flowing through Aquarius from December 19, 2020, to December 29, 2021. Near the holidays, you could make an important decision about your living arrangements or a meaningful family matter.

In many ways, you'll feel guided by a mystical force come May, Sagg—which might feel like a heavy responsibility at times.
Moral of 2020: Your big money year is here.
Ready to activate abundance and a solid source of income? Your Sagittarius 2020 horoscope gives you a clearly defined flight path after a year of extreme exploration. This could be your wealthiest year in over a decade.
You're very much on the ground floor in 2020, which means your focus should be on building a rock-solid foundation for your future empire. Your life may look more like a construction site than a dream home this year. But before you bring in the metaphoric cranes and wrecking balls, work like a master architect. Get crystal clear about what you want your final product to be. Holding that vision will get you through those slow-as-molasses moments that test your Sagittarius (im)patience. Then, run the numbers. What time, energy, and resources will be needed to pull this off? With lucky Jupiter in your financial zone until December 19, you'll be fired up about fundraising, should you discover that pulling off your dream will be more expensive than anticipated.
And while Saturn will spend a good part of 2020 in Capricorn, from January 1 until March 21, then again from May 10 to July 1, the cosmic taskmaster also darts forward into Aquarius and your cooperative, communicative third house for a short spring stint. Then, on December 17, 2020, Saturn will officially call Aquarius its home until March 7, 2023. This is the ringed planet's first dip into the Water Bearer's well since January 1994! During this three-year cycle, you'll learn to separate the wheat from the chaff in your personal life. Relationships with siblings, neighbors, co-workers and other peers go through a renovation process. You may team up on a serious project that necessitates a formal contract. As the saying goes, people are in your life for a season, a reason, or a lifetime. With enduring Saturn writing the rules of engagement, people will have to earn their loyalty points if they want to share your generous bounty!
The December 21 winter solstice could bring a watershed moment. That day, Saturn will make a rare (as in once every 20 years), exact meetup with Jupiter. They'll unite at 0º29' Aquarius—an event called the Great Conjunction. As 2020 draws to a close, you'll see clearly who should play a starring role in this emerging new chapter of your life. Surprise! Some people may be quiet supporters who are more traditional or conservative than the folks you tend to gravitate toward. As Saturn lumbers through Aquarius until March 7, 2023, test collaborative ventures on a project-by-project basis. Know this: With such a process-driven planet at the wheel, it might take a few missions to get your work styles aligned and your respective roles defined.
Don't hit the snooze button on 2020 yet, Sagittarius! There will be some frissons of excitement to keep your blood pumping. On June 5, a fresh, 18-month-long eclipse series erupts across the Sagittarius/Gemini axis, with two more following on November 30 and December 14. These momentous moonbeams light a fire under stalled passion projects while expediting relationship developments. The last time eclipses landed on this lunar axis was between December 21, 2010, and May 25, 2013. Flip back in your calendar to see what was happening then if you can recall. Similar themes may recur between June 5, 2020, and December 3, 2021.
Along with the eclipses, the lunar nodes, AKA the "cosmic destiny points" will also shift from the Cancer/Capricorn line to the Gemini/Sagittarius axis on May 5, 2020. The last time the nodes were in this position was between October 14, 2001, and April 14, 2003. With the South Node in Sagittarius and your first house of self-expression until January 18, 2022, your karmic gifts will be called to the fore. In many ways, you'll feel guided by a mystical force come May—which might feel like a heavy responsibility at times. And yet, Archer, there's no avoiding your "soul work." Heed the call!
Simultaneously, the moon's fateful North Node will dwell in Gemini and your seventh house of partnerships from May 5, 2020, until January 18, 2022. A soul mate (or soul friend) relationship could emerge, adding a powerful dimension to your life.
Love planet Venus also takes an extended tour through Gemini and your seventh house of partnerships from April 3 through August 7. Due to a retrograde from May 13 to June 25, Venus will hover in this sign four times longer than she does on the average year. While this may drive up some buried issues within your closest relationships, the planetary peacemaker and diplomat is here to support you. Don't just smooth over rough edges! Use the retrograde to get to the root of any recurring breakdowns. Then reconstruct your most important bonds according to a new, shared vision.
Mars will also turn retrograde from September 9 to November 13—a cycle that happens every other year. In 2020, the backspin takes place in Aries, which is the red planet's home sign. As a result, Mars will linger in the Ram's realm for six months, from June 27, 2020, until January 6, 2021. Since Aries governs your fifth house of fame, romance, and creative expression, this extended transit lends a large dose of sizzle and glamour in the second half of the year. Along with that may be intense anxiety since Mars in Aries can ratchet up stress levels. Life is not a performance, Sagittarius; it's an interactive and immersive experience. Bring your most authentic self to the "show," and watch your loyal fan base grow.

One day to highlight in neon pink is July 5, Capricorn.
Moral of 2020: Your lucky year is here.
New decade, new you! If anyone has dibs on that mantra, it's you, Capricorn. 2020 is your luckiest year in over a decade—provided you're willing to embrace the unfamiliar. Don't forget to trust your instincts along the way! You really learned how to do that in 2019, and it's a skill to bring into this new year.
In 2020, worldly Jupiter will soar through your sign, its first visit since January 5, 2009. You may already be shining like a breakout star this New Year's Day, since the red-spotted planet made landfall in your sign on December 2, 2019. Keep the momentum going! Jupiter will continue to bless you with its abundant beams until December 19, ensuring your Capricorn 2020 horoscope reveals a banner year for growth and expansion.
Pluto will put all Capricorns through paces in 2020. This may involve releasing a few more material-world attachments. Since 2008, changes surrounding money, marriage, career, status, and family relationships (all things you hold dear) have felt like tectonic plates shifting beneath your feet. At the same time, you're undergoing an undeniable spiritual transformation. Fading away is the Capricorn people-pleaser who feels pressured to be the rock for everyone in your midst or to play every game according to society's rules. And as you release the need for outside validation, you're becoming a seriously self-authorized Sea Goat! Your unflappable power will continue to emerge and amaze in the year ahead.
On January 12, CEO Saturn and transformational Pluto will mash up at the same degree of Capricorn, which could see you stepping out and stepping up, perhaps as the face of a new (green) movement! Jupiter and Pluto will dance cheek-to-cheek on April 4, June 30, and again on November 12. Warning: You might not have total control over what's revealed near these three conjunctions. Make sure you can stand behind all of your choices, past and present. Are there skeletons rattling in your closet? (If you're breathing, the answer is probably yes.) If you're worried yours may come back to haunt you, get ahead of the curve by exposing the story yourself.
One day to highlight in neon pink is July 5, when the full moon in Capricorn arrives as a lunar eclipse—the last one in a series that began striking your sign on January 5, 2019. Eclipses reveal hidden opportunities, the kind that may be so far off of your radar that it takes some provocative (even shocking) developments to get your attention. The good news is that whatever jaw-dropping events occur in early July may bring much-desired closure—or a milestone moment that you've been waiting to celebrate for more than a year.
In 2019, a rare trio of eclipses landed in your sign, which already set these plans in motion. Look back to events that initiated near the solar (new moon) eclipses on January 5 and December 26, 2019. You may launch the next leg of this mission around July 5, 2020. Did something come to fruition within a month of the July 16, 2019, lunar (full moon) eclipse? History may repeat itself, but with an upgraded twist. Or, a missed opportunity from last July could present itself again. This time, be ready to carpe diem!
Radical Uranus is officially buzzing through Taurus for its first full year, activating your fifth house of romance, glamour and fierce self-expression. Can love and freedom go hand in hand? That's a worthy exploration! During this eight-year Uranus cycle (which lasts until 2026), you won't take kindly to anyone trying to tamp down your individuality. Some Capricorns may embrace their single status wholeheartedly, while others will want to balance sacred solo space against time spent with a significant other. With two Cancer eclipses firing up your relationship house, on January 10 and June 21, a partner may demand clarification and exclusivity. Those eclipses can also jailbreak Capricorns from any confining relationship agreements that have you feeling more suffocated than sexy.
Adding to this, love planets Venus and Mars will turn retrograde in 2020. While these reverse commutes can feel like setbacks at first, they are also blessed timeouts that allow you to review the way you "do" relationships. First to snooze will be peacekeeping Venus, who retreats through communicative Gemini and your sixth house of structures from May 13 to June 25. Time to negotiate new terms with your partner? You're a creature of habit, Capricorn, but a romance may hit the rocks if you're simply going through the motions. Drop the assumptions and get into dialogue about what each of you wants. Yes, you need your daily RDA of work time, exercise, relaxation and so on, but you may want to shift your schedule to accommodate the one you love.
Mars shifts into reverse from September 9 until November 13 in Aries and your fourth house of security, family, home and roots. Tension under your roof could mount, especially if you don't have enough privacy and space for yourself. A love interest could pressure you to move in together, or if you already cohabitate, you may decide to rent a studio/work space outside of the house so you can have what Virginia Woolf dubbed, "a room of one's own." A little absence can definitely make the heart grow fonder as long as you don't go AWOL on your peeps.

Where to expand and where to contract? Major insight will come by the year's end, Aquarius.
Moral of 2020: Reality shifts.
Ready for a transformational year? For Aquarius, 2020 is a giant cleanup mission, as you inspect and reinvent every cluttered corner of your life. You'll straddle two worlds this year: the old one that you're leaving behind and the new multiverse that's slowly forming in front of your eyes.
On January 12, 2020, Saturn and Pluto will host an ultra-rare meetup at 22º Capricorn, a conjunction that happens only every 35 years. Together, they set your agenda for 2020: Let go so you can grow! There's no more time for chin-scratching and intellectualizing.
We're not trying to traumatize you here, Aquarius. It's just that we know you're ready to make all those shifts that you've been talking about in your moon circles, therapy sessions, and online masterclasses. That means picking up the pace and packing up the old stuff. Yes, it will be emotional. There will be losses to grieve, bittersweet farewells, "WTF am I doing?" moments—especially while Jupiter and Pluto team up on April 4, June 30, and November 12. But on the other side of this turbulence lies a beautiful blank canvas that's begging to be painted upon with this next chapter of your life!
Thankfully, you'll get solid support from jovial Jupiter. On December 19, the red-spotted planet will join Saturn in Aquarius, helping you joyfully embrace the learning curve. Highlight December 21 in orange highlighter! The winter solstice is also the date of the Great Conjunction, as Jupiter and Saturn meet up at 0º29' Aquarius and combine their powerful energies. This event happens only every 20 years—and the last one occurred on May 31, 2000. Where to expand and where to contract? Major insight will come by the year's end.
Yes, Aquarius, this might all sound rather formidable. But take heart! There will be plenty of uplifting transits happening in 2020. On May 5, the lunar North Node heads into Gemini and your festive, flirtatious (and fertile!) fifth house. This 18-month destiny driver will be a creative renaissance for many of you. The stage will call Aquarius performers. Bring down the house at an open mic night or go slay an audition.
Romantically, the North Node's tour of Gemini, which lasts until January 18, 2022, could bring epic developments. You might meet the love of your life, get engaged, or have a baby—or achieve some other self-styled milestone in the game of love. (You write those rules, Aquarius!) A new eclipse series on the Gemini/Sagittarius axis will also galvanize your relationships, beginning with the full moon on June 5. Also, amorous Venus spends an extra-long time in Gemini and your fifth house, from April 3 to August 7. Energetic Mars blazes through Aries and your social third house for nearly half the year—from June 27 until January 6, 2021, to be exact. Although both Venus and Mars will have retrograde phases in 2020, your social calendar will be booked with stimulating rendezvous, both with new people and folks from your past.

Get out and mingle like it's your job this year...because it might just be, Pisces.
Moral of 2020: Review your crew.
New you, new crew? There's power in numbers in 2020, and collaborating could take your brilliant ideas to amazing heights.
Get out and mingle like it's your job this year...because it might just be, especially near January 12, when power brokers Saturn and Pluto make an exact conjunction in Capricorn for the first time since the 1500s. When it comes to money-making missions and creative projects, this is the year to tap the hive mind and assemble a power posse. On June 5, a new series of eclipses will ripple across your home and career axis, touching down in Gemini (your domestic fourth house) and Sagittarius (your ambitious 10th). Consider this another push from the stars to nail the "work-life balance" thing...which may require you to delegate and collaborate. Teamwork makes the dream work in 2020!
Speaking of dreams, yours could be wilder and more intuitive than ever from March 21 to July 1 as Saturn advances into Aquarius and your oracular 12th house for the first time since 1994. During this brief spell, powerful mentors may arrive to sherpa you along a spiritual journey. Some old hurt and baggage might rise up to be healed, but the good news is that Saturn helps you dress those wounds in something much more effective than a Band-Aid, allowing you to fully recover. Yes, you'll have your karmic work cut out for you, but this is something your deep-diving sign happens to relish. Plunge in!
This short Saturn cycle is a preview of what's to come in the last two weeks of 2020. On December 17, the ringed guru parks in Aquarius again until March 7, 2023. Two days later, optimistic Jupiter joins him there, embarking on a yearlong cycle through Aquarius. Then, fanfare: December 21, 2020, marks a monumental mashup of Jupiter and Saturn at 0º29' Aquarius—an event astrologers call the Great Conjunction—which occurs only every 20 years. Free-fall down the rabbit hole, Pisces! It's the perfect day for a vision quest, a creative jam session or whatever can bring epiphanies. Expect violet-light insights and inspired downloads unlike any you've had for years. You may also realize that it's time to set limits with people and situations that are draining your energy reserves.
Romance could take a back burner to the "one love" vibes of your friendship groups this year. But that doesn't mean Cupid's gone AWOL. Coupled Fish should find a "school" where you both feel comfortable swimming, which could literally involve signing up for a workshop series together or something more active, like crewing a sailboat or joining a summer lawn bowling league. Single Pisces could make that fortuitous right swipe on a dating app. You might even reconnect to an old flame when Jupiter meets up with seductive Pluto during a dual retrograde on June 30.
Speaking of which, both of the "love planets"—Venus and Mars—have a retrograde spell in 2020. First up is Venus, who will reverse commute through Gemini and your sensitive, domestic fourth house from May 13 to June 25. During this time, your nesting instincts go into overdrive, and you'll crave a lot more private one-on-one time with your S.O. Did you give a "nice person" the cold shoulder? Regrets could lead to recourse and a possible romance now. If you're doing any home renovations, Venus will be on an extended roll through Gemini from April 3 to August 7. Just cross out the retrograde dates...or get plans in motion before May 13! Since Venus guides our values and how we spend our cash, this cycle can get you serious about building your nest egg.
Mars is the lusty force that also drives our ambitions and will be thrusting through Aries from June 27, 2020, to January 6, 2021. The Ram rules your sensual-but-sensible second house, which is also the sector of values and income. Your tastes could fluctuate wildly—in everything from Tinder dates to job titles—while Mars emboldens you to try new things. But when the red planet flips into retrograde from September 9 to November 13, rein it in and find your center. Then, as the year draws to a close, you can stretch without snapping.