The Complete Zodiac Guide To 2018. What's In The Stars For You?
mbg Contributors
By The AstroTwins
mbg Contributors
Ophira and Tali Edut, known as the AstroTwins, are professional astrologers based out of New York and Seattle. Their work has been featured in The New York Times, Elle Magazine, Vogue and Good Morning America and they are the authors AstroStyle, Love Zodiac, Shoestrology, and Momstrology.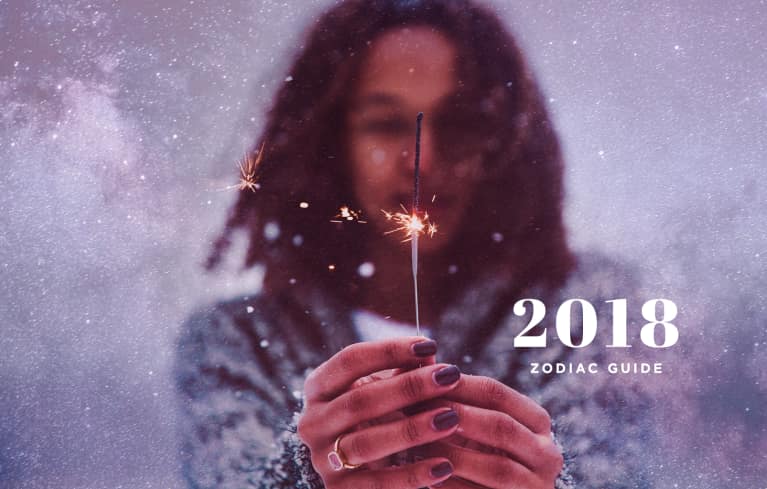 Happy 2018! Here's what mbg's trusted astrological guides, the AstroTwins, have to say about the year ahead. And here's a breakdown of what this energy means for your particular sign.
Could sweet stability be in the stars in 2018? We're cautiously optimistic, after the last few years of cosmic chaos. But a peek upstairs reveals a little more quiet than we've had in recent times. Will that echo down below? Here's hoping.
The slower-moving outer planets, which shape the larger trends that affect us all, will spend the bulk of 2018 in receptive, reflective "yin" (earth and water) signs. This could herald a calm period, but it can also make people passive at a time when action is needed.
Representing the steadying earth element, Uranus will move into Taurus, while Saturn and Pluto are both in Capricorn. The other two outer planets are in emotional water signs: Jupiter spends most of 2018 in Scorpio while Neptune is in Pisces all year.
By mid-November, three planets (Jupiter, Saturn, and Neptune) will be rooted in their "home" signs—meaning they will travel through the zodiac sign that they govern—a cycle that will last until December 2019. Effusive Jupiter will be in its native Sagittarius from November 8, 2018, until December 2, 2019; staunch Saturn is anchored in Capricorn until December 2020 and watery Neptune is in Pisces until 2024.
Planets are empowered when they're stationed at home base, so if we're lucky, this could bring a more balanced energy to the world. But it's also like getting a double-strength dose of what each planet rules—the good and the bad. We'll get twice the helping of Jupiter's optimism and global focus; a dual hit of Saturn's pragmatism and rigidity; an extra round of Neptune's compassion and its unseemly secrets.
Jupiter in Scorpio & Sagittarius: Redefining power.
In 2018, the little things matter—a lot! Big-picture Jupiter will be in micro-focused Scorpio until November 8, training our attention on the details. Themes of life and death, real estate, long-term finances, sex and power fall under Scorpio's domain. Russia, North Korea, the European Union, the United States: Changing alliances will further reshuffle the global power structures. With truth-telling Jupiter in secretive Scorpio, we can expect more leaks and shocking reveals of "classified" information. The widespread revealing of sexual misconduct and harassment has corresponded to Jupiter's visit to Scorpio.
When Jupiter returns home to Sagittarius on November 8, international issues will take the spotlight. This entrepreneurial energy will also be a boon for startups and solopreneurs, as we'll all crave more freedom. Travel, publishing, and multicultural relationships will also be hot-button topics. Moving from Scorpio to Sagittarius is like changing your viewfinder from detail-focus to wide-angle. We'll emerge from the intense depths and focus on broader, more worldly topics.
Work & money in 2018: Jupiter, Saturn, Uranus & Pluto step in.
Get ready—the economy is going to go through some serious reforms in 2018. Several of the outer planets will travel through signs related to finance, power, corporations, and shared resources, shifting the way business is conducted in some fundamental ways.
Structured Saturn and shadowy Pluto will both spend the year in patriarchal Capricorn, ruler of big business, banks, the government, and hierarchy. Saturn is here until December 2020, while transformational Pluto is touring Capricorn from 2008 to 2024. As these planetary power players inch along in the same sign, we may see a rise in monopolies but also a crackdown on scandals. Saturn is the "integrity cop" of the cosmos, exposing shady business.
This year may also bring leaner times and corporate cutbacks. However, old-school Saturn in hardworking Capricorn could revive a bootstrapping work ethic. Will all of those promised manufacturing jobs return to the United States? We'll find out in 2018. The Great Depression occurred while Saturn was in Capricorn from 1929 to 1932, and here's hoping that we learn from the mistakes of yesteryear and keep our expectations—along with the stock market—grounded in reality.
Meanwhile, generous Jupiter hovers in Scorpio, the sign of joint ventures, mergers, and pooled resources, until November. The sharing economy may boom, possibly out of necessity, as people look for creative ways to consolidate and cut costs. Real estate and lending are ruled by Scorpio. Housing prices could soar, making it a seller's market. But with over-the-top Jupiter, the bubble might burst—and Scorpio's influence could bring some sketchy deals back to market. From balloon mortgages to "no money down" loans, homebuyers should be careful not to get in over their heads or repeat the mistakes of the 2008 crash.
Economic reform could be in the stars as revolutionary Uranus enters Taurus, the sign of money and daily work, for the first time since 1942! The side-spinning planet visits each sign for seven years, and it will be here from May 15, 2018, until April 2026. Unpredictable Uranus will shake up business as usual, revamping the way we spend, earn, save, and invest. Innovation and technology will play a role—for example, we may see the rise of "cashless" businesses and the growing automation of artificial intelligence (AI) replacing human labor. Uranus was in Taurus during the 1850s Gold Rush and again from 1934 to 1942, a historical era that included the Great Depression and World War II, but also the Social Security and unemployment policies that are in effect to this day.
Neptune in Pisces: Artistic & spiritual renaissance.
Countering all of this money and work-driven energy, dreamy Neptune continues floating through its home sign of Pisces from 2012 to 2026. Neptune's touch is evident in the booming wellness movement. Yoga, meditation, crystals, retreats—all things "woo" have become decidedly mainstream as Neptune nears the halfway point of its journey. (Anyone for a $14 cold-pressed, gem-infused juice brewed with activated charcoal?) Creative, compassionate Neptune champions the arts and spurs social activism. The shadow expression of Neptune is secrecy and illusion. From brewing political scandals to genocide to ISIS, this cycle has also exposed some hidden horrors in the world.
Jupiter-Neptune trine: Global healing and compassion.
Could peace finally come to our world—at least, in some small way? An awakening of higher consciousness and compassion might arise this spring, when cross-cultural ambassador Jupiter unites in a harmonious trine (120-degree angle) with soul-stirring Neptune in May of 2018. The duo will both be traveling through emotional and receptive water signs (Jupiter in Scorpio and Neptune in Pisces) most of the year, opening our hearts.
The exact trine will culminate on May 25, but they'll be in close contact from May until August. This rare and unifying cycle reminds us that, while we may be "divided" by cultures and nations, we are all one. This could be a banner moment for love, with merging-minded Scorpio and starry-eyed Pisces in the mix.
Numerology in 2018: An 11/2 Universal Year.
Come together! After three transitional years, a unifying numerological cycle arrives. The "2" vibration inspires partnership, and this year is especially potent because it also contains the master number "11." Universal years are calculated by adding the digits of the year (in this case 2+0+1+8 = 11; 1+1 = 2). Working together, compromising and choosing high-vibe alliances will be a strong and much-needed theme. That said, 11 is a double vibration of 1, so we can expect another year of rapid-fire change and independence, even as we move toward greater cooperation.
Year of the Earth Dog: Loyalty rules.
After a year of the fastidious Fire Cock strutting around keeping order, the Year of the Earth Dog begins. Dog energy is playful, happy and loyal.
But to whom does that loyalty belong? Dogs are pack animals who follow a strong and decisive alpha figure. During this Chinese zodiac cycle, we must be careful not to be seduced by strength alone. Might does not make right, and the Dog Year reminds us not to be obedient followers who succumb to authority. Praise and a pat on the head feel great, but the world needs critical thinking, not blind devotion (or seduction by biscuit).
The Dog is associated with the Western sign of Libra, a lover of beauty and grace. Lavish entertaining and formal events could make a comeback, and we may see a renaissance for the design industry. The best traits to emerge from these Dog days will be humble service, friendship, and kindness, and we could all use a little more of that! For an even deeper dive into the cosmos this year, check out our Planetary Calendar for 2018 (mbg readers get 20% off with code MBG!).
Psst...we're in Capricorn season until January 19. Learn what this sign's energy could mean for you (and your love life) here.