A 16-Free Polish Line Just Dropped At Target & My Mani Lasted 2 Weeks

mbg Beauty Director
By Alexandra Engler
mbg Beauty Director
Alexandra Engler is the Beauty Director. Previously she worked at Harper's Bazaar, Marie Claire, SELF, and Cosmopolitan; her byline has appeared in Esquire, Sports Illustrated, and Allure.com.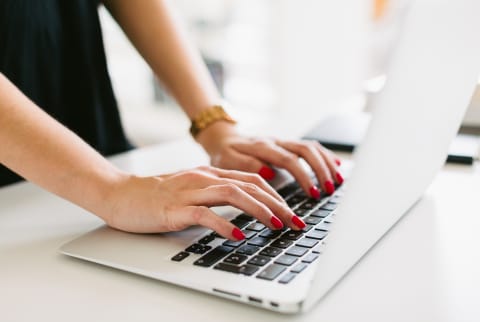 Image by BONNINSTUDIO / Stocksy
November 25, 2019
Polish leaps off my nails—sometimes it feels like even a small gust of wind will give me an unsightly chip. If I paint on a coat midday there is no guarantee that I'll have a full mani by that evening. I have accepted this as my fate, and continue my life, disheveled nails in all. So when a mani sticks around for nearly two weeks? I write about it. When that polish is 16-free, under $9, comes in 30 classic hues, and available at Target? Well, here we are, dear readers.
A few weeks ago I got to try out Sally Hansen's new (and first!) plant-based, vegan polish line, Good. Kind. Pure., and it's one of the most impressive forays into clean polish I've seen yet—especially impressive since this is a mass brand.
Advertisement
This ad is displayed using third party content and we do not control its accessibility features.
The collection is formulated without the major concern-causing ingredients like formaldehyde, formaldehyde resin, toluene, phthalates (including DBP and DPHP), camphor, and parabens—but also synthetic fragrance, silicone, and glycol ether. (And a few other additions to this list; it is 16-free after all.)
As plant-based, clean beauty becomes mainstream, we love to see a classic beauty brand enter the space. Sally Hansen launched over 50 years ago—by the Sally Hansen herself. It's an iconic Americana beauty mainstay, and the No. 1 nail company in the U.S. So to see the brand embrace a new chapter says something. But hailing from an innovative founder like Hansen (she's a woman who first founded a company in 1946, after all), perhaps not so surprising. She's even quoted as saying, "You can do something about anything. You can and must improve constantly," to a paper in 1934—so change almost seems inevitable.
What's the polish like?
I had an event the night I first tested it out, so I went with a vampy deep red (it's called Cherry Amore, which feels very oh la la). It's a rich, dense shade that screams look at me. It was a wild deviation from my normal mani aesthetic, but it felt right and went with the look. The other 29 range from a neutral ballet pink (Rose Petal) to metallic silver (Soothing Slate). Most of the shades lean neutral, but the fruity pops of pinks and yellows keep the more daring among us satisfied. (Although you can find stark neons or matte moody hues, if that's your thing.) They all also have fun, cheeky names like Coconut Milk and Eco-rose.
After surviving said event, the mani powered its way into the weekend and the next work week. One week later the only flecks and imperfections I saw were tiny nicks along the tip. But given my track record with polish, that's nothing. It wasn't until almost two full weeks later that I endured the first major peeling situation.
Along with their color collections, they'll be offering a clean Hardener and Top Coat. The Hardener fills in ridges and protects against splitting—so it's perfect for those who skip polishes but want healthy looking tips. I gave it a whirl after my vampy red, and my nails feel the healthiest they've been: They make that click, click, click sound when I drum them on the desk. (Also: ever wonder why you hardly see these hardening polishes in the clean space? The main ingredient in traditional options is formaldehyde, and it's actually not that easy to create a clean version. But this botanical blend works.)
Most of the brand's polishes hover around $5, so this is a more premium collection, but still more affordable than high-end polish brands. (You'd be hard-pressed to spot a difference in the quality between the two.) And it comes with a new plant-based brush designed to hold and apply the new formula with ease: it's wide-brimmed and flat with a slightly curved edge. It's the type of brush even the most novice of beauty fans could master—and has clean pull so you're less likely to make mistakes when you use your non-dominant hand.
Advertisement
This ad is displayed using third party content and we do not control its accessibility features.
Heal Your Skin.
Receive your FREE Doctor-Approved Beauty Guide

Alexandra Engler
mbg Beauty Director
Alexandra Engler is the Beauty Director at mindbodygreen. She received her journalism degree from Marquette University, graduating first in the department. She has worked at many top publications and brands including Harper's Bazaar, Marie Claire, SELF, and Cosmopolitan; her byline has appeared in Esquire, Sports Illustrated, and Allure.com. In her current role, she covers all the latest trends and updates in the clean and natural beauty space, as well as travel, financial wellness, and parenting. She has reported on the intricacies of product formulations, the diversification of the beauty industry, and and in-depth look on how to treat acne from the inside, out (after a decade-long struggle with the skin condition herself). She lives in Brooklyn, New York.